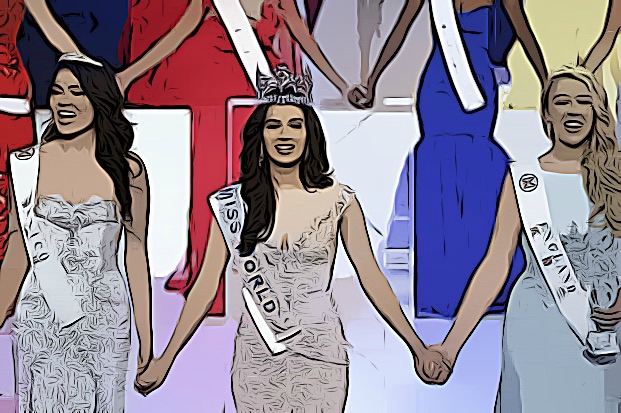 On a Mumbai monsoon morning, I was pottering around my apartment looking for a computer charger. My roommate was a total nerd, and he'd have one I figured. He wasn't home, but there was a girl on his bed whom I didn't recognise. She was lying in front of his television, covered in bandages. A few months ago, she had won the Miss India pageant.
Even in her sweats, and surrounded by bottles of painkillers, this girl was gorgeous. She still is. We started talking (and that is also when I found out she was that year's contestant for Miss World.)
"How exciting that must be," I said when she told me. My day job was that of a corporate lawyer, so a life of glitz and glamour and people wanting to take pictures of me sounded terrific.
"It is exciting…" she said, but her tone made the words not very convincing. Five minutes later, she asked me to get her a glass of water. We lived in a Khar 3-bedroom flat, so you know the fridge was less than five feet away. My friend couldn't walk to fetch her glass because she was healing from several body enhancement surgeries.
"See this," she pointed at the bandages on her upper thighs. "That's where they sucked out all my fat."
Only she was nothing but skinny. Her face was angular to the point where her cheekbones and jawline could've cut glass. I could've encompassed her waist with my hands.
"Where did they even find any fat on you?" I asked.
She looked at me with the wry smile. "They always find something. I hear this —" she indicated towards her swollen bandaged thighs, "— is the least of it."
"Did you want to do this?" I asked her.
"Did I really even have a choice?" she replied.
That was understandable to me. I was skirting puberty when Aishwarya Rai and Sushmita Sen won their titles. "That's going to be me someday," I said to my mother, who nodded encouragingly at the idea while snatching a can of Pringles from my hand. Even then, at twenty-five, I could imagine undergoing surgical procedures to get ahead in a career.
But, let me ask you this: besides these two names above, can you name an Indian beauty queen? Do you remember watching a defining moment of pageantry on television? There are none. Pageants have run their course, and it is time to do away with them.
The very idea of beauty pageants — an event that by definition judges women by their looks and still has swimsuit rounds — sat unevenly with me before this incident. But, after meeting this girl, I can honestly say they are revolting.
Right now we are all celebrating a medical student Manushi Chillar for winning Miss World. When Chillar received her crown, India gained its little title. We are currently a country at par with Venezuela in winning this title. India can now celebrate being on the same level as a country that, in 2014, ran out of breast implants because the demand was so high.
Yay….?
To be fair, India has already surpassed Venezuela in the number of plastic surgeries that take place each year in each country. A June 2017 survey found that 878,180 procedures take place annually in India. I'm willing to bet most of these are on women. We are the world's seventh highest consumer of body-morphing operations.
I do not know if Chillar underwent any plastic surgery. It's my sincerest hope that she was not subjected to that shit without her actual consent — not exploited consent like my friend's. But, it's hard to get excited about anyone winning this crown, because it makes them slaves rather than royalty.
Let's see what an average contestant would have to do (and we don't even have to bring in the plastic surgery though we can never forget that:)
1. She's had to walk around a runway with people ogling at her
2. She's had to smile — and often taught how to smile "correctly" so she appears more "approachable."
3. She's coached in how to sit, how to talk, how to stand in a particular way that is considered attractive.
In short, she's furthered every stereotype that women all across the world are marching against.
All of this to win a crown that could be snatched off her head should any "untoward" behaviour come to light. Who defines untoward, you ask? It's not the contestant or the winner, and what's worse than that?
Beauty contestants across the world have had their titles stripped for the stupidest things. In 1984, Vanessa Williams (yes, the singer) had to give up her title because Penthouse announced it was publishing photographs of her that had been taken two years before she entered the Miss USA pageant. So, legit, she was made to step down for the same reason she won: she was FINE!
This year, two beauty queens were dethroned for conduct unbecoming. Miss Lebanon lost her crown when the country discovered she had visited Israel the previous year using a dual passport on an academic trip. Miss Burma's title got stripped amid controversy with the woman claiming she was dismissed after a video calling Rohingya Muslims terrorists while the contest panel maintains she displayed "conduct unbecoming." In a previous year, Miss England lost her crown because she had sex on a reality TV show.
A glance at the various reasons behind these dismissals shows that definition of conduct unbecoming isn't that wide. It's any time the winner speaks her mind or does something that would old-timey tarnish her reputation, or that famous motto: beauty with a purpose.
And what is the incentive for living like a caged bird for a year? A Bollywood career? A reality TV show appearance? Collaborating with online brands to promote detox tea? To show some young girls what a "perfect" woman looks like? The whole concept could not be anymore artificial if it bled Tropicana concentrated "juice."