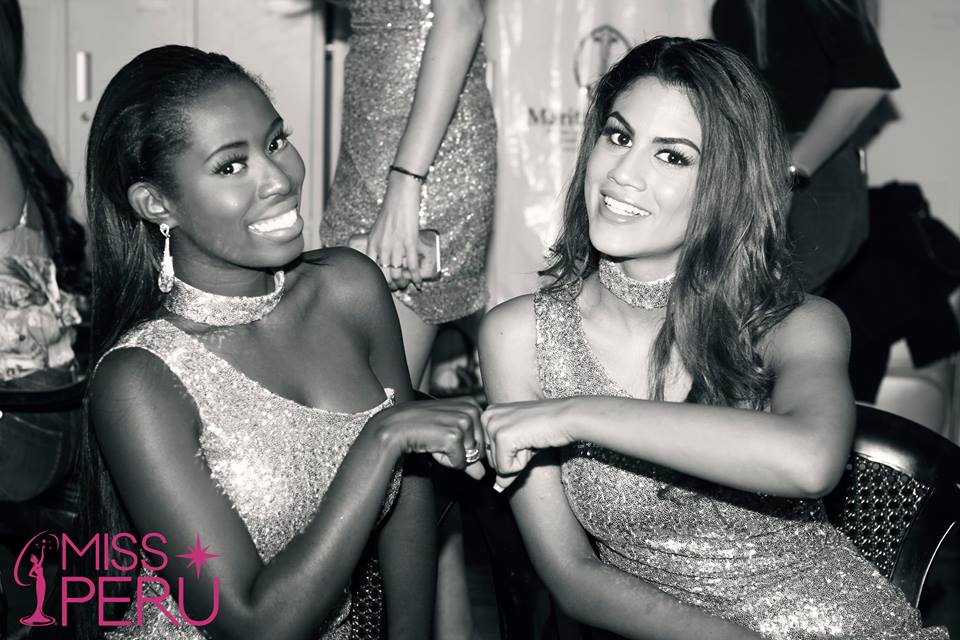 November 2017 kicked off in a wonderful way for the world where Peruvian beauty contestants, one and all, called out the South American country's abysmal statistics of femicide. In doing so, they've brought life to conversations that are simply not given enough attention: the systemic violence against women — psychological, social, economic, and physical… almost always fatal.
And, also gave rise to my very first crush on a female beauty pageant contestant (or, of any gender tbh.) It's not just that they protested with facts beyond question. But, WOW, what a perfect place to do it. I legit have the hots for each of these women who stood tall in the roman gladiator ring of patriarchy and held a mirror up to its Dorian Gray portrait rather than its all-glitter-I want there to be world peace-peddling face. For this, every contestant of the Miss Peru 2018 pageant is my Pin-Up for this month.
These women make me want to sincerely apologise for ever pre-judging beauty queens. They never needed to, but they've certainly proved themselves to be beautiful qweens. This hopeless year is just about ending and these women could not have set a better tone for the global yearning for new, better times by speaking out against femicide on such a public forum.
What is femicide? Even our wordpress dictionary does not know. The term was coined by South American feminist writer Diana Russel. Even though the concept has been around for centuries, Russell defined it as violent crimes against women done intentionally on the grounds of their gender. In her many books, Russell was quick to point out that femicide can be through a variety of heinous means: domestic violence, honour killings… the list, sadly, goes on. Russell herself pointed out that in 19th-century Britain femicide was a term used to indicate the 'killing of a woman'
Latin American pageants are known for their stats round — it's when smiling young women come forward and announce through bared teeth their body measurements. You know the drill.. bust (augmented to) 34D, waist (reduced to) 21 inches and so forth. However, Peru's 2018 beauty contestants didn't tell the world the inches that summed up their bodies. They spat out crimes against women statistics that summed up, not just Peru, but the prevailing culture of crime against women. Their move during the body measurements round hopefully changes the tone of beauty pageants, something that was a long time coming.
Then, contestant Camila Canicoba, stepped forward and announced her name.  "I represent the department of Lima. My measurements are: 2,202 cases of femicide reported in the last nine years in my country," said this first contestant.
Then a second QWEEN stood with her peer.
"My name is Karen Cueto and I represent Lima and my measurements are: 82 femicides and 156 attempted femicides so far this year," she said.
The Miss Peru 2018 winner Romina Lozano began her speech, "I represent the constitutional province of Callaomy and my measurements are: 3,114 women victims of trafficking up until 2014."
The move was reportedly orchestrated by the Pageant Director and former beauty contestant Jessica Newton, and all of Peru's 23 beauty contestants supported the idea on a national (and now global stage, since the news of their stand has gone viral.)
That they chose to recite the stats during their swimsuit round was also a direct slap in the face of the doubled edged patriarchal sword that one side objectifies a woman's beauty under the guise of appreciating her measurements, and on the other murders women for no reason apart from their gender.
The move comes after Peru has seen a spike in women against females. Over 35% of Peruvian women have been victim to intimate violence femicide i.e. abusive relationships that could and often do result in the death of the woman. The United Nations ranks Peru 86th on the Gender Inequality Index and the World Economic Forum confirms that there's a 30% gender gap in the country.
But, we all know Peru isn't the only country dealing (or rather failing to deal with) femicides. Close to 8100 cases of dowry related femicide were reported in India according to a 2007 report. The numbers have only gone up. There's a murder of an Indian woman every eight minutes and it's almost always related to dowry or is an intimate partner violence. Never mind marital rape — another form of violence against women. Our highest echelons of power, in their infinite wisdom of CYA-ing have refused to designate that as even a crime. What is latter presented are reported facts. No one knows how many young women were murdered, raped, or abused and then falsely tagged as accidents or suicides. Experts predict the numbers will be staggering.  Same goes for sexual assault and rape.
In 2013, it was reported in The Alternative that over 200 million female foetuses were killed or aborted prematurely once their biological sex was determined. A 2016 report in Hindustan Times showed, through data, that 90% of violence against women and girls was perpetrated by men from their families: fathers, brothers, uncles, cousins, and husbands. India is also the fifth most dangerous country for female travellers, reports have said.
In the world of glitz and glamour, no less than four powerful men have been accused and tried for sexual harassment and crimes against women including rape. Yet, even as the world erupted with #MeToo and women across the globe shared their stories, there was a categoric silence in Bollywood. A few outsiders spoke out about their sexual harassment experiences, but for the most part actors (male and female) closed ranks. Even those who had spoken out about sexual abuse before, like Sonam Kapoor, remained mum. #MeToo was too close to the truth, and far too detrimental to careers, would be the likely guess. We'll never really know… because they never stood up.
One may, of course, wonder whether the Peruvian beauty queens were pulling a publicity stunt.
I say: who cares. The stunt placed attention on real issues. You may also say that other forums exist to discuss this (after all, you tuned in for babes and bikinis, not numbers and figures.) To this I say: did you know that only three percent of all signatories relating to women's rights are, actually, well, women? So, 97% of the people deciding on laws to regulate violence against women are, well, men.
So, it is heartening to see these brave Peruvian women taking a stance: making a country measure its record and not their bodies. If one thinks about it, what better place to bring light to these atrocities, but a pageant, where for once, women are in the majority.
Power to you my Peruvian princesses! We hope more women follow your bathing suit.
If you feel as I do, and even if you (just for my satisfaction and happiness,) I made a calendar of these amazeballs women.
NOTE: PHOTOS USED IN THIS CALENDAR ARE AND BELONG TO FROM MISS PERU FACEBOOK.