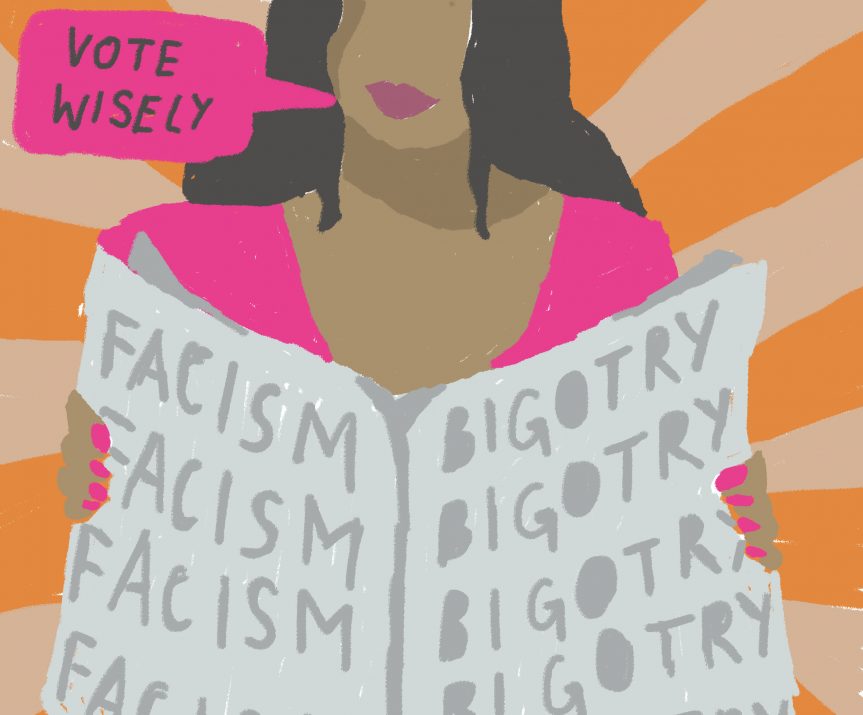 Walking back home, I saw an old man seated on the footpath- his eyes glued to his mobile phone. He was watching a video, the sound of the Prime Minister's voice drumming through the street. General Elections fever has the nation in its grip. 'Is baar toh Rann Bhoomi hai,' my neighbour likes to tell anyone who will listen. I've heard of all's fair in war, and apparently so has the election commission. Remember the EC? It's alright if you don't, neither do our politicians.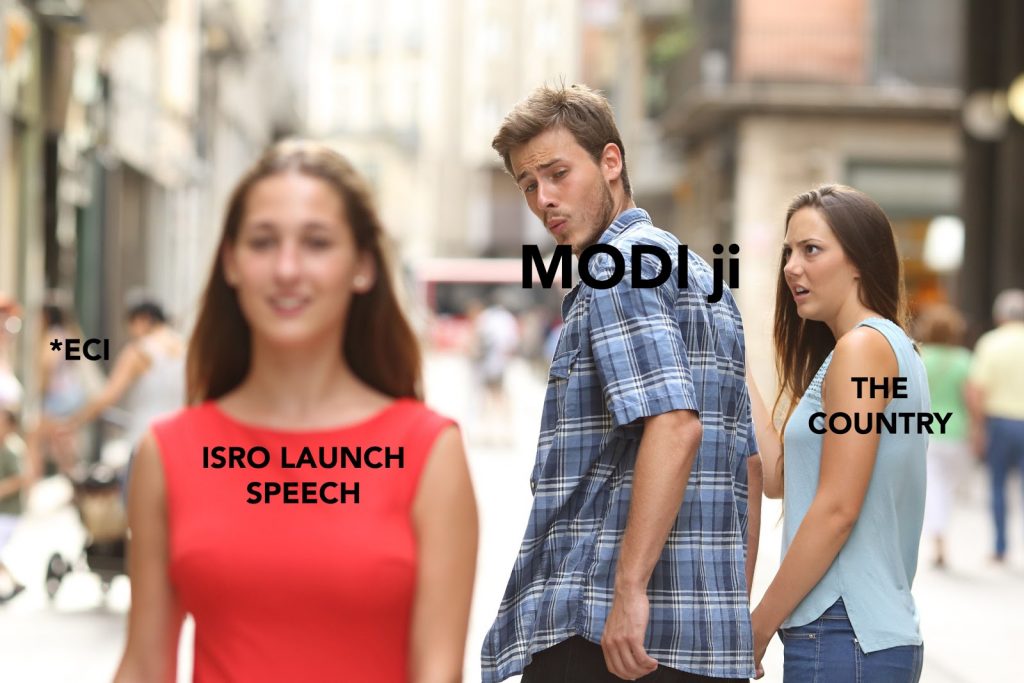 Be it Maneka Gandhi's comments or the UP Chief Minister referring to the Indian army as 'Modi's Sena,' everyone has a code of conduct violation to their name. Remember Trump's "grab you by the pussy?" moment, Indian politicians are filled with many, loud-mouthed people who will say and do anything to grab the limelight'
We carried out surgical and air strikes and the world supported our action.

You may think the Processor of Congress is slow but their Software is corrupt. Their processor works faster only when they have to act against the country: PM Modi #ModiAgainSaysIndia pic.twitter.com/wHC7sZp8YV

— BJP (@BJP4India) April 13, 2019
For anyone looking for political discourse and debate, the gutter is the only place to look.
At the peak of election, is when diversionaries come into play. Alien faces of the ruling party will say the most inconsequential things, throwing leftover pieces of hate politics on which the righteously media will pounce. From forcefully mixing technology and mythology to allowing child marriages, no stone is left unturned. Recently, BJP president Amit Shah said, "We will ensure implementation of NRC in the entire country. We will remove every single infiltrator from the country, except Buddha, Hindus and Sikhs." I low-key felt like DM-ing him on twitter and reminding him that 'Buddha' died in 400 BCE most probably.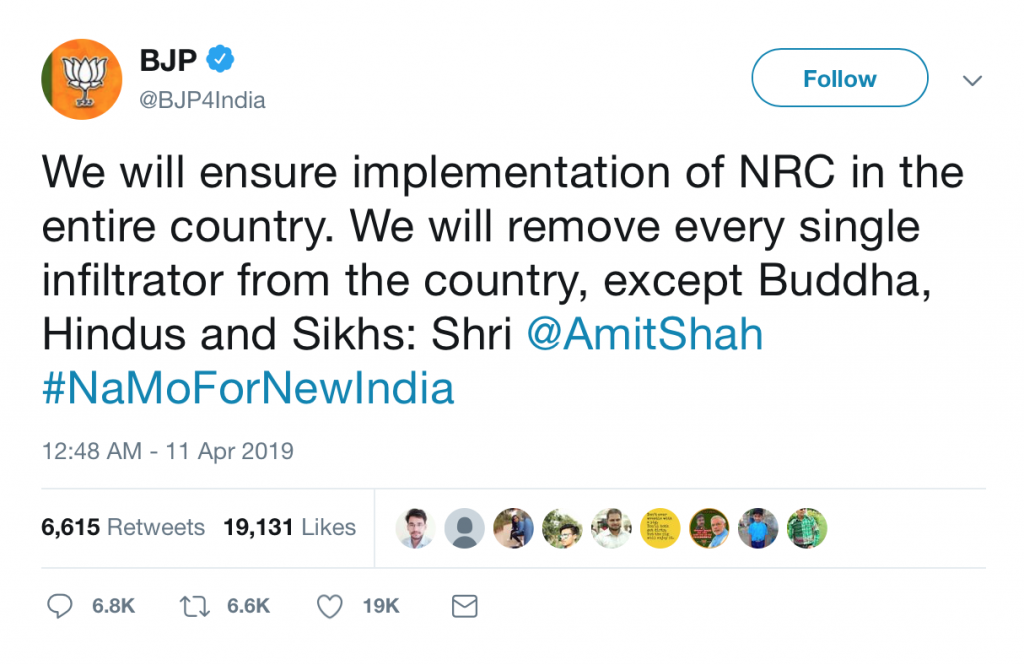 Wonder if Donald Trump will love the Hindus now that Shah has finally admitted Hindus are infiltrators. At least Buddha will have to thank Mota Bhai in heaven for securing him a spot in the nation. It's enough to make even the best of the bhakt brigade wonder if the Amit Maliya is getting kickbacks from the Congress.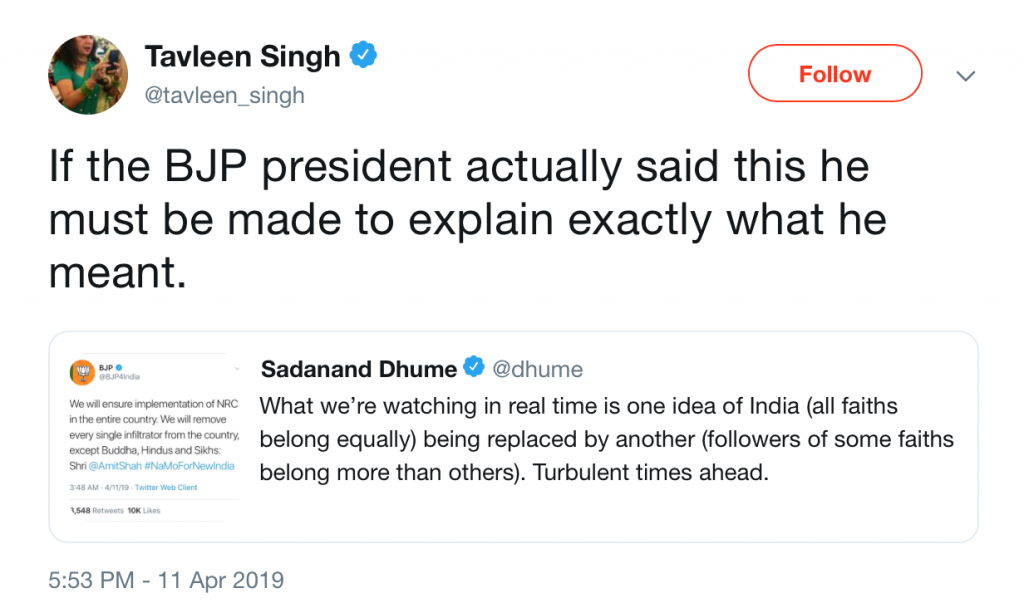 So here are a few things to convince you that this election is basically a fancy-dress competition being called democracy

Boys will be Boys

I hear the things being said in the name of democracy, and I'm a little proud of how tolerant we Indians are. Of the 1,266 candidates contesting the first phase of Lok Sabha elections, 213 (17%) have declared they are facing criminal cases, of which 146 (12%) face serious criminal charges.

With 34 criminal cases against 'Sant' Sakshi Maharaj, the BJP MP from Unnao says he will put a curse on the people who don't vote for him. You remember Sakshi Maharaj don't you? He's the man who wanted every Hindu women to have four babies in order to increase the Hindu population. I'm guessing that means more people for him to threaten with 'divine displeasure.' Some people say you win elections by offering hope, Maharaj says Later to that, Indians only understand 'divine displeasure.'

Apparently, the EVM isn't secure against his second sight. But what are EVMs secure against, really? The machines certainly appear to break down in favour of our incumbent ruling party every now and then, so the vote is quite literally out of that (cost) system.

Maharaj isn't the only saffron-clad hate spewing sant we have in the picture. The Chief Minister of UP, already infamous for hate speech and rabble rousing thunderously declared the Army as Modi's Sena. Nothing new about that, says the EC, it's just how he rolls bhaiyaji. In 2014, he published an essay on his website making a long-drawn out argument against the reservation of women. In 2010, Adityanath actually defied the BJP party line and opposed the Women's reservation bill. Given a chance, he says things like those opposing Surya Namaskar should leave India or drown themselves in the ocean. At least he gives us a choice in death.
The opposition is not immune from this kind of politics.

Watch: How Sanjay Nirupam of the Congress made lewd remarks about Smriti Irani in a legit, public, national television debate. She filed a defamation case against him.

Not a murmur from the left on why Irani is getting so much flack for her 'fake degree' while mum's the word on Modi's own educational discrepancies?
What about Priyanka Gandhi?

It can always be argued that women occupy very little space in the public arena because societal prejudices have ensured that they aren't equipped with the skills or bred with confidence. Of all the female MP's elected in 2014, 42.86% came from political dynasties, in the sense that their entry preceded a family elder who was mostly male. From Harsimrat Badal to Kanimozhi, an overwhelming number of female leaders emerge from dynasty, Priyanka Gandhi therefore isn't the only one. In many ways, dynasty enables women to overcome the obstacles within politics; their families protect them to an extent from slanderous campaigns that are usually directed towards women.
Nevertheless, dynasties still undermine the principle of democratic representation. Priyanka and Rahul Gandhi might speak of democratization and level playing field, but the core of their politics represents entitlement. The BJP has repeatedly targeted the Gandhi's, but they too have harboured dynasts such as Maneka Gandhi and Piyush Goyal, whose father was the party treasurer and mother, a three-time state legislator.

The narratives of women who emerge from political families is still therefore a privileged narrative. They are protected by their identity in a way that someone like Mayawati or Mamata Banerjee aren't.
Case in example: in 1995 Mayawati had to lock herself up in a government guest house to protect herself from a mob allegedly led by the SP.

"Don't eat chowmein"
Another two-minute star is Shobha Chouhan of the BJP who said that if she wins in the upcoming polls, there would be no 'hindrance' for child marriages to take place. This is probably the only time when right thinking citizens will be happy if the elected representative does not deliver on the poll promises. Not wanting to be left out of the bigotry brigade, Maneka Gandhi addressing a gathering in UP, Sultanpur said that she would not serve Muslims unless they voted for her.

So, there's always enough people peddling buffoonery with grossly iniquitous statements like "don't eat chowmien," because how else do you boycott China? Wall to wall coverage is usually given to these types of opinions. For the average viewer wondering why, it is because something like this is relatively easier to take on than rape culture or the insecurities that minorities are grappling under this regime. These statements will be debated for days; it will reach its target audience; votes will have been collected and the news consumer without even knowing it would have lost.

As the Elections play out with high levels of bombast, we're once again reminded of the links between crime and democracy. In fact, this is probably the area where the two national parties get most competitive. Both the BJP and the Congress continue to field tainted candidates. Many a times, these candidates even wear their criminal charges as badges of honor. They are given a space within democratic institutions that are supposed to ensure efficient governance and law and order. No wonder then, our justice system is dying a slow painful death, huh? Now we know why.

While no one seems to have a monopoly on vice, virtue is conveniently forgotten by everyone. Rhetoric is outshining the need for jobs and food, but who cares? We have temples to build and democracy to kill.

Words and Cover image by Anjali Menon. You can find her on Instagram as @a_Catinthesink