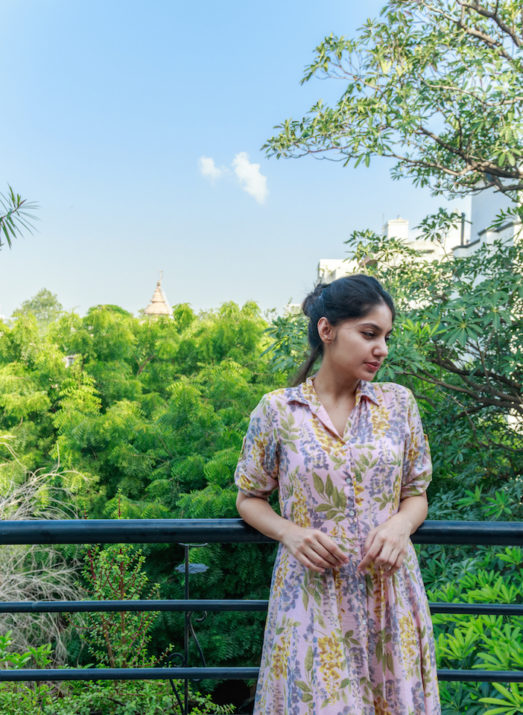 An artist who uses colour who uses colour in a unique and stylish way.
Colourist/ ˈkʌlərɪst
That's a pretty accurate description of Tanya Goel's work — she was lauded for her first and second exhibitions. It is also an apt way to describe her style, of which the beautiful artist has plenty!
While she's working on her third exhibition at present, Tanya invited the Ladies over for some tea and photoshoot session. Her deceptively simple style hides a plethora of fine taste, and we're glad to share it with you.
When did you make the painting by the staircase? How old were you at the time? What were you trying to convey?
The painting by the staircase is from 2013. I was 27. I was photographing damaged and malfunctioning screens/ monitors to understand how pixels make an "image" and what an image is to me. (Given the surfeit of images in the digital/printed realm.) The surface of the painting reflects light in the same way a slick glass screen does, and I was looking at how to convert RGB colour into our material understanding of light.
Your first solo show Level was critically acclaimed, but you said you couldn't walk around Delhi without noting the gaze. Could you explain this further?
Yes, I've thought about this a lot. While many of the inhibitions are my own, partly because of my neuroses, there are many aspects that contribute to making a city navigable by foot. Delhi is laid out organically in concentric circles, and this precludes walking from its structural/institutional consciousness, and yet a large number of people do walk and must walk in this city, to commute, wander, and work. To me, it's worth looking at the different ways that people find to circumvent the limitations of the city.
Both model and dress were made with love by Tanya's mum ?
Tell us a bit about the clothes you selected for the shoot.
I selected clothes that I enjoy wearing and feel comfortable in. My mom designed most of the clothes I selected (so I'll have to give her a lot of credit.) We're lucky we can have things custom made in Delhi. I can pick my fabrics, and that's my favourite part.
The off-white cotton dress is also go-to for me. I prefer light colours for much of the year, mainly as it's warm in Delhi for much of the year.
How would you describe your style?
The word style is so elusive, and I have a hard time trying to understand what it means at any single moment in time. I suppose the great thing about clothes is that they can be frivolous and moody.
Also in this world of overwhelming "choice", to be able to discern our taste is an existential quest maybe.
What do you look for when you're buying a garment or accessories?
While I try to plan and look, with me, there'll always be moments where I have an instant crush on the clothing or an "oh, that's nice" type of reaction. I do watch out for the fit and how the garment or accessory looks on me after I try it on.
Although there are times, I'll just buy a pair of shoes because they look so good, even though they are the most uncomfortable things in the world. (And then they'll just sit in the closet for me to look at from time to time!) Right now I'm obsessed with these shoes I get from Jaipur. My collection keeps growing! They're comfortable though, and super funky.
Any style challenges?
Mixing and matching. That's the hardest, which is why I prefer single pieces like dresses. Matching prints with prints is another one, and I never seem to have the right blouse for a skirt or that perfect shade of something. I would love to have a colour gradated wardrobe. Every tint and hue.
Credits:
Photography: Himanshu Bagai
Photo editing: Amal B
Coordination: Divya Gupta
Thank you Tanya Goel for letting us into your home, closet, and for giving us Ladies such gracious company!