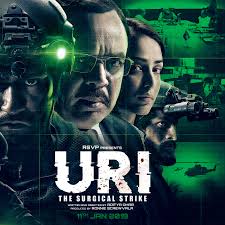 Among the spate of semi-propaganda films released over the last month, with Thackeray being the latest, Uri, Adithya Dhar's most recent offering appears to be the most watchable of them all.
FALSE EXCITING START FAILS TO DELIVER
A dramatic military thriller based on information released by the current Government about an
Indian Armed Forces surgical strike against suspected insurgent bases across the border in Pakistan, the film is dedicated to the IAF by its director.
The screenplay, which unfolds in five chapters, opens with footage of an unprovoked attack on an Indian Army infantry in Manipur's Chandel district. The time-stamp tells the audience it occurred on June 4, 2015. The film starts brutally and with fast-paced cinematography, in line with the atmosphere of an ambush. The IAF's retaliation is swift and exacting. These opening scenes leave the audience breathless and build up the promise of tension. There's  enough gunfire, gushing blood, and grenade explosions to leave no question that at its heart this is a war movie. Unfortunately the tension never materialises.
A HOTCHPOTCH OF BOLLYWOOD SPICE AND HOLLYWOOD STERILITY
As the victorious battalion returns to Delhi led by Major Vihaan Shergill, played by Vicky Kaushal, it is congratulated by a character based on Prime Minister Modi. Shergill is a war veteran who has seen enough days in battle. He decides to retire early to nurse his Alzheimer-stricken mother. So, when the PM offers him a desk job, he gladly accepts.
But Kaushal's brawny joints are not meant for a sitting post, and soon finds another mission to shoulder. Nineteen soldiers, including his brother-in-law Major Karan Kashyap (Mohit Raina), is killed by terrorists from across the border in a surprise attack on a military camp in a town called Uri in Jammu & Kashmir. Fuelled by patriotism and rage the soldier picks up his weapons once again, this time to give a response to the terrorists.
Then onwards, the movies become a somewhat clumsy hotchpotch of Bollywood cliches, such as a Major engaging in hand-to-hand combat and Hollywood add-ons such as slick war rooms with needless chattering by strategists and officials barking orders. While Kaushal gets away because of his impressive performance and overall demeanour of an officer and a gentleman, dialogues like "unhe Kashmir chahiya aur humein unka sar" further serve to denigrate what could have been an interesting take on the 2016 surgical strike to a chest-thumping mardaanigi movie with uniforms thrown in for good measure.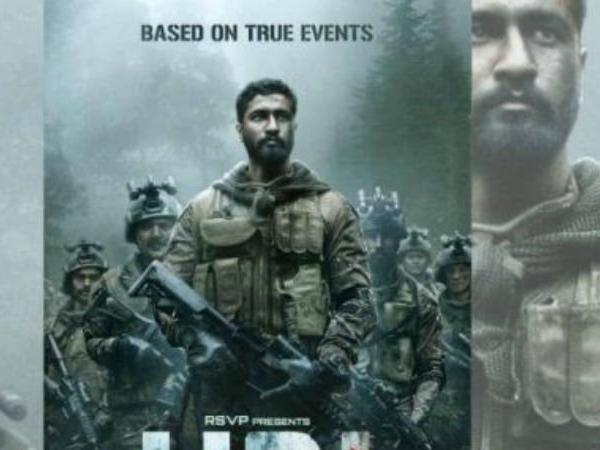 BASED ON…. LOTS OF FICTION
Though it is based on the September surgical strikes, the screenplay takes quite a bit of leeway with the facts. This could be overlooked because most of the details of the 2016 surgical strikes are, to this day, vague and classified. After several contradictory investigations, the government released a video two years after the fact. There continues to be an uneasy acceptance of the actual events surrounding the surgical strike. The film deals with none of the aftermath, which is a missed opportunity for any director or screenwriter with a probing mind.
Other films of a similar genre have often made bones about researching the circumstances to reveal fascinating new details or at least hypothesise a plausible scenario such as Zero Dark Thirty. This is not the case with Dhar's Uri. Instead, the film fictionalises most of the events adding a little Bollywood spice here, a little heart-tugging patriotism scene there.
A few creative liberties could have been overlooked, but there is a dramatic attempt to evoke patriotic sentiments. This emotional manipulation would have been more effective and less predictable if it had been subtler.
BOX OFFICE DARLING, AIN'T NO ONE ARGUING
However, there is no arguing with the success of the film Uri: The Surgical Strike, already grossing over Rs 100 Crore at the box office.
The cast received criticism for publicising the film's launch by releasing selfies with PM Modi on social media. Also seen was a promo video the actors and the PM chanted Jai Hind. This too received flak in light of constant news surfacing that BJP workers threaten students into saying Jai Hind during school and college roll calls instead of 'present, sir.'
Criticism aside, each actor can rest easy on the laurels of their respective performances.
Vicky Kaushal as Major Vihaan Shergill is compelling. He runs, fights, slides and shoots with finesse; he looks as one imagines soldiers do. Paresh Rawal who as Govind, is India's National advisor and in charge of the mission. Rawal's performance is the backbone of both the film's military operation and the movie. Rajit Kapur dons a silver wig and beard and sits in the Prime Minister's seat with authority and style. His conference table also boards office-holders modelled on the Defence Minister Parrikar and the Home Minister Rajnath Singh.
Yami Gautam shines in her role as an intelligence officer. Kirti Kulhari comes in and out as Indian Air Force pilot. Swaroop Sampat plays Vihaan's mother. Mohit Raina makes an impressive debut as the Shergill's brother-in-law, the fearless Major Karan Kashyap. Television star Manasi Parekh plays Neha — Major Karan Kashyap's wife. Every actor delivers an excellent performance. They're the spine of the mission and film alike; performances making up for a confused screenplay.
Stefan Richter's carefully designed and executed action scenes, Sashwat Sachdev's powerful background score and special effects produce authenticity.
Uri puts a spotlight on the zealous soldiers working with passionate hearts and fiery bellies. It resonates with many Indians as  recently demonstrated by PM Modi. For quite some time to come, it seems our answer will be "High, sir!"

Of all the semi-propaganda films that have come out so far Uri is the most watchable. Loud explosions and combat scenes add the typical Bollywood masala. It would seem not doing research on one of the most scintillating real stories of this decade pays off.
To read more TV, book, or film reviews, click

here

.