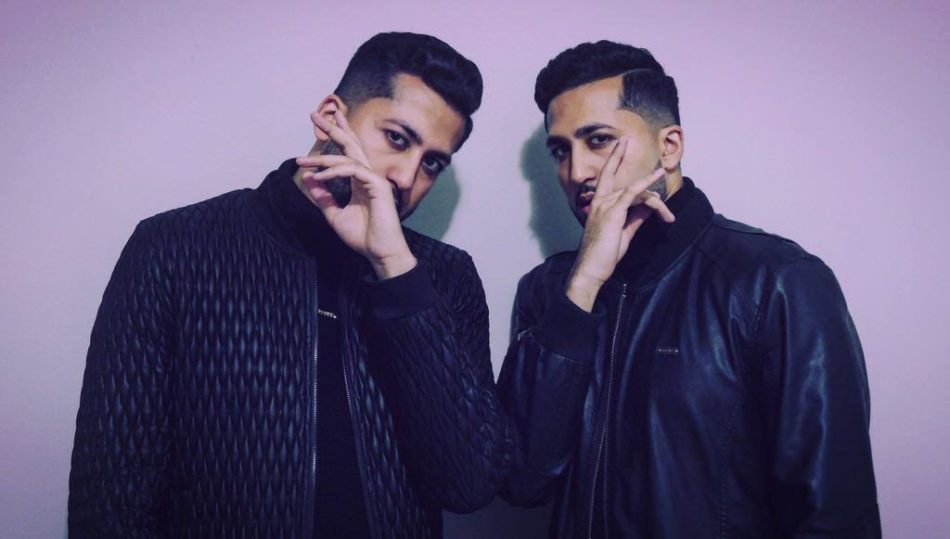 Akash and Krish Chandani aka TheMxxnLight are 22-year-old identical twins who make unique, irresistibly sexy RnB music. You may have seen them all over Wiz Khalifa's latest album Rolling Papers 2. Hailing from the Bay Area, California, the twins had already garnered a huge following on Spotify and SoundCloud before being 'discovered' by the Wiz.
Given my penchant for both RnB and bearded brown boys, I caught up with theTheMxxnLight for a round of 20 questions.
1. Why the name THEMXXNLIGHT? I understand it's pronounced "The Moonlight"… any significance?
THEMXXNLIGHT, pronounced "The Moonlight", is a play on the meaning of our last name, Chandani. It also fits the vibe of our sound as it gives off a mysterious dark notion, songs that you would listen to at night under the moonlight.
2. Read that you played basketball before embarking on a career in RnB— for whom did you play?
We grew up playing basketball and got recruited to MIT and California State University for it! We chose to go to Rensselaer Polytechnic Institute, which is a small, esteemed school in the Hudson Valley area of New York. We quit our teams to pursue our Engineering degrees and music career way before we got picked up by Wiz Khalifa.
3. Were you making RnB songs on the side all the while, or was it a "let's try this" moment for you?
We always loved the R&B sound, but our career basically started as a "Let's try this" moment. We were making music on a 2004 version of GarageBand from our dorm room.
4. So, do you also play any instruments?
We both played Saxophone, guitar, drums, and violin when we were younger.
5. What was it like being picked up by Wiz– effing– Khalifa?
When we first started, we never imagined that we would work with someone like him. We are very thankful for the opportunity he has given us and will forever remember the day he told us our tracks were on his album.
One of his producers, Sledgren, reached out to us via Twitter and told us that we were the future of R&B and that he wanted to send us beats. After we completed a few songs and sent them back, he immediately wanted more. A few months later, he sent us a video of Wiz Khalifa in the studio recording to one of our tracks, "All of a Sudden". Soon after that, we met with Wiz in NYC for the Rolling Papers 2 listening party, and that's when he told us that he put three of our tracks on his album.
Crazy to think about how songs that we recorded in our college dorm made it to a Wiz Khalifa album.
6. Would you call yourselves a sound cloud success story?
Well, that is where Wiz Khalifa's team discovered us. So that might be an excellent way to put it. ☺
Nowadays, streaming platforms like Spotify or Apple Music are more able to give visibility to an artist.
7. Is it all harmony working being a twin duo, or are there also moments of extreme sibling grief?
There are definitely moments where we have our differences. But, the process is extremely efficient and much more enjoyable based on the fact that we have each other to bounce ideas off of.
Both our voices are very similar, but we have different strengths, and we are able to capitalise on that.
8. And how are mummy and daddy reacting to the music career?
At first, they told us to always keep it on the side as a hobby since we were pursuing engineering degrees. But, now they fully support our career and are in fact helping us come up with certain styles or melodies.
9. Would one of those melodies be All of A Sudden from Wiz's album? It's got a distinct Bollywood style to it.
Everything we create is written and recorded by us. After we completed each song, we show it to our parents to see what they think. We have a couple unreleased tracks in Hindi, which our parents actually helped us structure in order for the Bollywood audience to connect with it.
10. So, what's an average day in the life of TheMXXNLight?
We actually have the same daily lives! We start with some Real Estate training with our parents' company for a few hours and then proceed to musical activities. The rest of the day we are on calls, in meetings, recording, discussing strategy, etc.
11. Any musicians who influence you— from the States or Desi ones?
We draw inspiration from artists like The Weeknd, Majid Jordan, and PartyNextDoor. In terms of Desi artists, we love A.R. Rahman, Arijit Singh, Atif Aslam. We'd like to work with definitely Badshah and AR Rahman. We have many cool ideas for collaborations with Bollywood artists.
12. As first generation US desi, what's it like growing up in the increasingly polarised States as Brown kids?
Well, we were born in California! It was a decent experience in the Bay Area, but when we went off to college in upstate New York, it was a different story.
14. Can you elaborate?
Basically, everywhere we went in upstate NY, we would get weird looks. We don't mind it because sometimes people were just shocked that we are twins. But, usually, it was because we are two brown guys with beards. You could sort of sense the disgust in some peoples' faces. We also ran into a lot of issues with police around the campus area.
Akash: One time, I  was surrounded by three cop cars as I was walking through the school campus at 3pm. They got a tip from a white male that I had stolen his credit card information from the parking machine. There was no evidence to back up the statement and when we were shown the police transcript, we were in awe. The white man had told the cops that we were "two middle eastern looking men wearing all black and have a nice car (could be from drug money)". It was all kind of crazy talk, but later those cops were fired and an unconscious bias program was started in the local Police Department.
15. Moving on to more fun things: any dream collabs— besides Wiz Khalifa of course?
We have some really dope collaborations with some major artists coming soon. We would love to collaborate with The Weeknd and Drake.
16. Taylor Gang is producing most of your upcoming debut album, so one assumes you've signed on with the label? Is it a correct assumption or nah?
A lot of people assume that, but we are not signed to them. Sledgren and a few other producers just really believe in our sound and fully support our decisions. We have been discussing offers with a few major labels.
16. Any collabs in your upcoming album that we should look out for?
Our EP will have a few features, one of which is the hip-hop/ RnB artist 24hrs. The album will have a few major artists as well, such as Wiz Khalifa.
17. Any Bollywood in your future— or the plans to work with Indian rappers?
Yes, we have big goals in India! We hope to work with Indian rappers as well, such as Badshah.
18. When should we expect the first TheMXXNLight album to drop?
Our EP is releasing in around 2 months. The album will release next year.
19. Any advice to other kids —especially Desi kids — who want to pursue music or other creative outlets instead of the usual lawyer/doctor/engineer path?
Definitely pursue your passions. It is great to have a backup such as our Industrial Engineering degrees, but if you put your mind to it, you can accomplish more than you can imagine.
20. Last question, who's the better-looking twin? And who has the better game?
This is a very controversial question amongst us, so that's for you and your readers to decide. ☺
To follow TheMXXNLight check out their Sound Cloud, YouTube, or their Instagram
For more music posts from TLC, click here