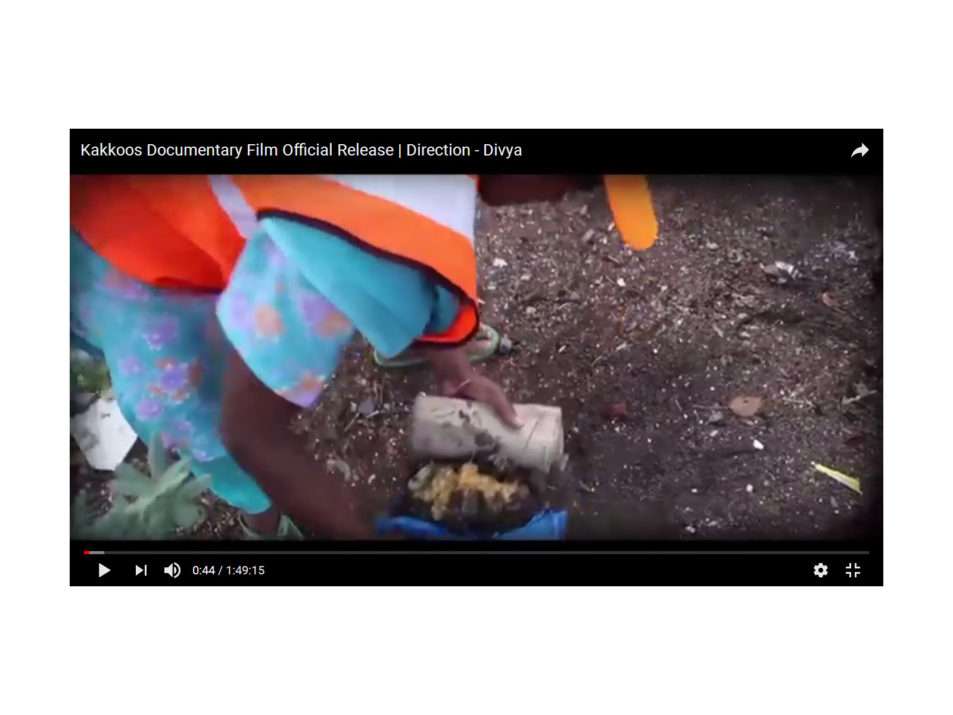 "People do manual scavenging because of casteism – deaths of manual scavengers (safaikarmacharis or sanitation workers) are casteist murders. Yet, no officers or contractors are punished or penalized and very few survivors are compensated despite a legislation since 1993 (revamped in 2013) prohibiting manual scavenging and rehabilitating safaikarmacharis. The ongoing controversy regarding my film has veered the discourse towards free expression, cyber harassment etc. While these issues matter, we must remember manual scavenging is inhuman and unlawful", revealed Divya Bharathi, a feisty young activist and director whose first documentary, Kakkoos (Toilet in Tamil) released in February 2017, depicts the sordid realities of safaikarmacharis.
Anjanamma (left) Divya discuss-sanitation workers issues in Bangalore
Watching this bold and forthright 108-minute long film is tough as it shows women clearing human feaces and sanitary pads from public spaces, men entering sewage drains and bodies of Safaikarmacharis across Tamil Nadu, asphyxiated inside drains. Recalling meeting Mahalakshmi, the young wife of Muniyandi, a deceased safaikarmachari, in 2015, Divya said, "When her family sought my assistance to file a complaint, I was unaware of the relevant legislations despite studying law. Until then, I had shamelessly ignored manual scavengers although I saw them daily."
Divya's route to activism
The only child of a cotton mill worker, Divya is from the Virudhunagar district near Madurai. Introduced to political activism in high school, she moved away and studied law. Divya disclosed, "I am an activist primarily. Bhasha Singh's book Unseen written after campaigning with safaikarmacharis in 15 states nationwide inspired me. My team and I travelled across Tamil Nadu for Kakkoos, living and campaigning with manual scavengers".
In Tamil Nadu, Divya belongs to a Denotified Community (DNC). But many questioned her highlighting caste in Kakkoos although the workers revealed this crucial fact themselves. Hence, in July, Divya's phone numbers were posted on Facebook with the words, "Call her, abuse her". Within 2 days, she received 2350 calls threatening rape, acid attack and kidnap. Police complaints yielded nothing. Thanking her supporters, Divya wondered if a male filmmaker would have experienced such backlash. An FIR from 2009 on which she arrested and bailed in July, was stayed for a month in mid August by the Madras High Court.
Film controversy
Kakoos was screened for safaikarmacharis, educational institutions and film festivals across Tamil Nadu, Kerala, Karnataka, Mumbai, Delhi where Divya spoke. In Tamil Nadu, sometimes, the police locked the venue or seized the projector before screening. Yet, Kakkoos has over four lakh views on YouTube.
The film's posters and banners have the letter Tamil letter Ka in Kakkoos designed to resemble a squatting style toilet bowl. However, a police complaint was filed in Chennai that it resembles a shiva linga and insults Hinduism. Such frivolous and false accusations continue.
Stinking truths
The law considers only persons using gloves, masks, coats and tools as safaikarmacharis. Ironically, the workers get these accessories only for a photo-op or when activists or journalists pressurize the government. Most workers are Dalit women cleaning public toilets and waste from streets. Sometimes, government officers and residents use pourakarmikas to clean their homes with minimal compensation. "Caste and class conscious residents whose neighbourhoods we clean, refuse us drinking water. So, we reject the leftovers that they offer", remarked Shankar, a sanitation worker and outspoken human rights activist in Bangalore for around 2 decades.
The Swach Bharat Abhiyan (www.swachhbharaturban.in) will supposedly eliminate manual scavenging and rehabilitate safaikarmacharis. But Safaikarmachari Andolan founder Bezawada Wilson mentions in the film, "Around 14.6 lakh crores are allotted to the Abhiyan but 10 lakhs promised to families of deceased safaikarmacharis were denied!"
The Indian Railways and urban municipalities hire Safaikarmacharis temporarily as employing them is illegal, thereby denying them compensation on death. Anjanamma, a sanitation worker and brave leader of the BBMP Guttige Pourakarmikara Sangha (Bangalore Municipal Contract Sanitation Workers Union) said, "Nationwide, we safaikarmacharis work even on holidays with low and delayed wages, no breaks or paid leave, unreliable social security or health benefits although sometimes PF and ESI are deducted from our salary. Many women workers face sexual harassment".
Bangalore and Chennai have over 15,000 safaikarmacharis each. However, India's Ministry of Social Justice and Empowerment enumerated only 13,368 safaikaramcharis countrywide (March 2012 data) – depicting how the state perpetuates casteism and injustice on socio-economically disadvantaged persons, relentlessly.