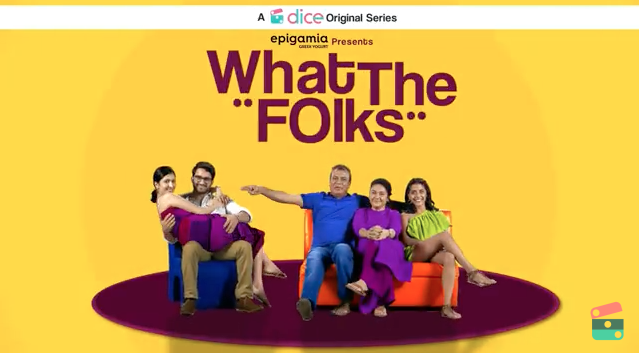 Launched in August 2017, Dice Media's 5-part series, What The Folks, has garnered a loyal following and is well into its second season. Individual episodes of this web-series have over a million views on YouTube. Usually, I'm contrite, but admittedly this is an addictive series with interesting characters and a fun plotline.
Written by Anand Bhardwaj and Ayesha Nair, What The Folks follows the misadventures of a couple — Nikhil played by Veer Rajwant Singh and Anita played by Eisha Chopra. The first season focuses on the interactions between Nikhil and his in-laws, with whom he is forced to live for a few weeks. The reversal of a man moving into his wife's household is a fresh twist on the gender role usually depicted in Bollywood. The first episode, where Nikhil shows up at Anita's house after having lost a phone that was a gift from her and is teased about it is a subtle poke at the 'boys always pay' stereotype.
Similarly, Anita's mother, played by noted film actor Deepika Amin, spends dinnertime teasing Nikhil about how much he watches his weight. "Anita told me you diet too much," she gently pokes fun at the hassled bearded boy. Anita's father, played by actor Vipin Sharma who is known for his stellar performance in Gangs of Wasseypur jokes about Nikhil's forgetfulness — a trait often attributed to women in television and cinema. "Phone smart ho gaye, par people kab smart hoyegey," is the line. The reversal — that is subjecting a man to the casual ridicule and lampshading that women undergo as a norm — leads to chuckle-worthy results.
Directed by two-time National Award winner, Ruchir Arun, the show breaks other stereotypes in the same subtle and witty manner. Anita is older than Nikhil, and in the second serious she goes head to head with her parents about their age prejudice instead of trying to hide it coyly. Both Nikhil and Anita are believable characters that many in urban India will recognise and to whom they will relate, which is possibly the series's main strength. It has caught the pulse of a generation in a matter-of-fact way that Bollywood has yet to do.
Bhardwaj and Nair have done a great job with the script and dialogue of What The Folks — both are well-written and fun. The jokes are subtle, not catchy or slapstick.
In an interesting move, the writers have chosen to show Anita only on online mediums like Skype and Facetime through the first season. Apart from it being a meta-move, such scenes are awkward for the actor involved. Anita, played by Eisha Chopra, appears to have called on her theatre background to hold her own in these scenes.
WTF's women are what would be considered out-of-the-box, or in aunty-speak 'too-modern.' Though she's visible only on a video chat screen for the first three episodes, Chopra's performances leap out from both screens so to speak. Her character Anita is central to the storyline of WTF without being physically present in the beginning episodes. She is essential to Nikhil's navigation of the world of in-laws as is her younger sister who is played by Anula Navlekar.
Navlekar's character Akshata, for example, is also one of Nikhil's saviours through the web series and makes a smoking buddy out of her brother-in-law.
Though WTF is competing with a plethora of web-series — a genre that is becoming increasingly popular but serving up the same or similar story-lines — the series holds it own. What sets it apart is the central role Anita and Nikhil's age difference plays in the plotline. Also, the relatable characters are a welcome relief from the terrible television being churned out on by the usual channels.