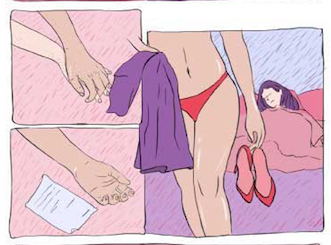 Asked to write this piece about my experience with dating as a lesbian in India, my first reaction was 'how is any different from heterosexual dating?' After all, you follow the same simple three steps:
1 Scan for someone interesting;
2 Initiate conversation with said person;
3 Either proceed or repeat from Step 1.
Full disclosure before moving forward: I am a late bloomer, and it wasn't until a few years back, during a stint in the US, that I fully accepted my sexuality. Where I lived in San Fransico there is no like; it IS the gay heaven. There was no dearth of biological females identifying as lesbian, from the bulldagger to the lipstick lesbian, and everything you could think of in between (and even what you can't think of, for instance, skoliksexual women) were all very visible In Real Life, not just behind the screen.
Fast forward to me coming back with a brand new identity. I finally felt so comfortable with myself and could not wait to unleash this real me into the waiting arms of Delhi. And my city responded. I was the NKOTB, and my OKC hits were possibly half the site's traffic (yes, I love to exaggerate). I went on a few dates and soon after was in a committed relationship that lasted a year and a half. So when we broke up was technically the first time I experienced dating as a lesbian in India.
So. Here's me. All swagged up. Sleeves rolled. Buttoned-down. Full throttle ahead.
First port of call: OKC
This place. What's happened to this place? The girls are the same from two years back. But there is something else. Predators. Men, a lot of men. I back up at full speed and get out of there.
Next Stop: Tinder
Compared to the stinking, gut-wrenching desolation of OKC, it feels like a whole vista has opened in front of me. From where I stand on a cliff, I can see a world full of possibilities down below. I begin my search. Swipe left, left, left left… Right. It's a match. Left, left, left, left…. Right. Left, left, right. It's a match. But something is still wrong.
All these girls, they don't feel quite right. My gaydar remains dormant. What is happening here? I look around, go back to my matches. And then I see it. The dames are all bisexual/bicurious. The few wolves from my pack are silent. I begin my dance. One response. We meet. It goes well. But not well enough to go beyond a one-night stand (or multiple).
By now I am addicted.

Sin City pulls me back. A girl has needs, and it is a goldmine of bi-sexual, bi-curious women. They would have to do. As long as they want to play the same game. Few more meetings, some more hits. It is a fun run for a while before things, expectedly, start nagging in my throat like a thorn I cannot swallow or spit out.
I need to get out.
I blink.
Snap back to reality.
What am I doing here? I am an eternally hopeful romantic, the sort who believes in (and holds out for) soulmates. And while it would be great to have occasional, uncomplicated fun along the way, I am unwilling to settle for anyone other than a dame to kill for.
As an andro, attracted to fierce, independent, all-heart, non-binary biological females, I can't just walk into bars, social gatherings or even online platforms hoping to meet someone. Despite all the optimism I can muster.
So, no. Dating for me isn't as easy as 1-2-3, and if you find yourself thinking that heteros are in the same boat, then this whole rant has been fuckin' useless (for you, not for me.)
Note: This is the final piece in TLC's three-part series highlighting the varied experiences of the LGBTQIA community for Delhi Pride. You can see the first and second pieces on our website as well. 
Credit: The illustrations were made by

Anjul Dandekar

in collaboration with TLC
TLC has withheld the name of the author at her request.