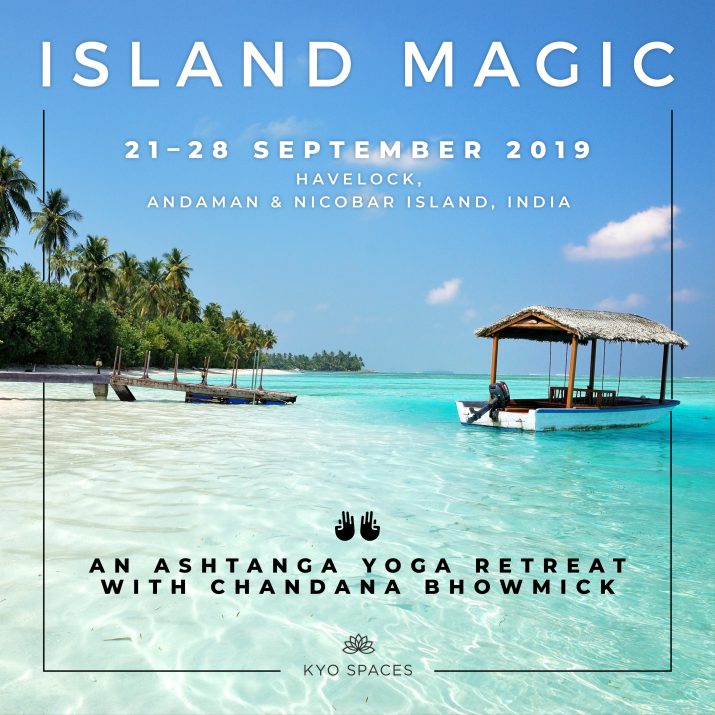 "If you think wellness is expensive, then try Illness."
The increasing stress of modern life gets to everybody. Tedious everyday commutes, the pressure at work; it's an endless routine, within which we start to feel less connected to ourselves, inner voice, and wisdom. Bring some tranquillity into your life with 'Island Magic' – a retreat concept by KYO spaces and Chandana Bhowmick, which will allow you time and space to disconnect from emails and constant phone notifications, and just breathe.
Revitalise and rejuvenate your mind and body with this magical 6 day-7 night yoga retreat at the gorgeous SeaShell resort on Havelock Island, Andaman and Nicobar Islands. Your Ashtanga yoga teacher and personal retreat angel – Chandana Bhowmich will guide you on an immersive yoga program, curated specially for the wellbeing of your mind and body. All you need to do is who up, relax and follow your breath on the mat.
Island Magic With Chandana Bhowmick
Dates: 21 till 28 September, 2019
Allow the sounds of the sea, coupled with the techniques of Ashtanga, to leave you feeling energised, refreshed, inspired and invigorated.
Getting out of your head to unwind, focus on yourself and recharge with a yoga flow has become as reasonable and necessary as taking a regular multivitamin. Why not embark on a self-healing journey that focuses on your wellness and wellbeing at one of the most beautiful islands in the world? All levels of experience – from beginners to advanced yogis, are welcomed.
The retreat will be packed full of breathtaking island views and ashtanga yoga- it's time to embrace your inner warrior. This would include six mornings of traditional Mysore practise sessions; two afternoons back bending workshops; three nutritious meals a day; a fun scuba dive; and snorkelling trip, plus lots of time to yourself inside the breathtaking property of Seashell Resort.
The Mysore setting in Ashtanga Yoga allows individual attention to each student. The class runs in a group setting for all levels where the teacher will cater to each individual student as per his/her standard and requirement. The focus will be laid upon the Vinyasa Krama (breath, movement and number system) and appropriate methodology to help the students with their practice.
The back bending workshops will focus on isolation and flexibility of the spine, hip mobility, core and back strength, leg strength to support a stable backbend.
Backbends can be challenging, most of us run away from them as they could be really emotionally taxing as they activate the sympathetic nervous system. We are sure with the compassionate guidance of Chandana Bhowmick, one can edge backbends.
This is planned across 7 nights to ensure you receive enough time to relax, rejuvenate and reap the benefits of a week created especially for you. Plus you have a lot of time to yourself to just re-group on the island at the resort.
This beachside resort provides an excellent view of the clear emerald waters and coconut trees studded beach in the beautiful island of Havelock. Its well-appointed suites with modern amenities, warm and welcoming staff ensure that guests are comfortable and cared for.

You can just relax and do whatever you like for the rest of your time, take a walk around the property, spend time at the beach and explore the island of Havelock.
Followers of The Ladies Compartment can avail to the early bird offer at all times, but you'd better hurry up as spots are going quickly on this gorgeous island retreat.
Hurry up and book a spot for yourself or with your friends and family, and be a part of the Island Magic Experience! You will be immersed in a supportive and nurturing environment that enables you to switch off, relax and kickstart your health and wellness journey.
About Chandana Bromwich
Chandana Bhowmick is Level II authorised Ashtanga yoga icon with a forte in backbends. A corporate person in her previous life Chandana quit her job to acquire yogic wisdom. She completed her yoga and philosophy course from Yoga Institute, Mumbai and later learned Ashtanga yoga training under the aegis of Shri Sharath Jois in. Under his guidance, she received her Level II Authorisation in 2016. Chandana runs her own Mysore program in Pune, and regularly travels and teaches Mysore rooms and workshops in other Shalas around the world.
For more info about the retreat or if you'd like to book your spot right away, don't hesitate to reach out to meghna@kyospaces.com.
This is a Sponsored post. The text of the post has been written by KYO Spaces, and not been edited beyond grammar and spelling by The Ladies Compartment.