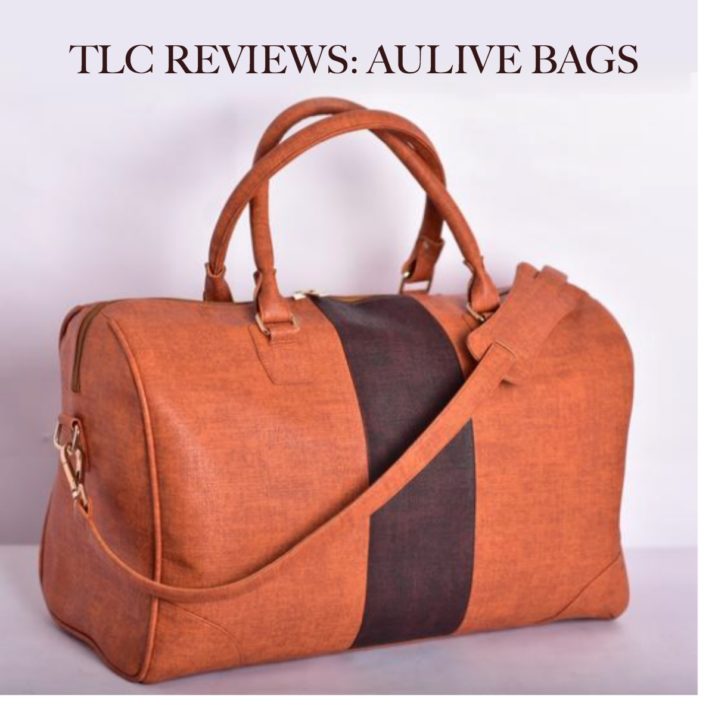 Who doesn't love good-looking luggage? But, how many of us can pay their exorbitant prices? Not me, for sure. When I came across Aulive.in's Peta-approved vegan bags, my excitement couldn't be contained. Within minutes, a click here, a click there, and the Rust Dust duffle bag was mine. I got my bag monogrammed. That is how cheesy cute luggage makes me.
Full disclosure: Vegan leather isn't my jam. I shouldn't but prefer the real thing. My only excuse: I look for products that ensure they're made cruelty-free, and the leather usually lasts longer.
Prices on Point
Aulive's collection are cute and reasonably priced, So, it isn't a massive splurge, and I think: why not?
Delivery
My bag was delivered promptly — within a week of ordering it. Along with it was a sweet personalised note, which is an effort I appreciated. Unfortunately, I also lost the letter so can provide no pictures of it for you guys.
Durability
I've had the duffle bag for about a month now. It's used every day to store post-gym essentials. To its credit, there's not one stitch out of place. It's a sturdy product that's surviving my negligent treatment of things. I've been stuffing it in the gym's locker, and in general, treating it quite carelessly. The bag remains odour-free and is more put together than is my bhangi-self.
Design
The designs for the duffle bags appear to be Clair Vivier inspired. The resemblance is pretty undeniable, I think. Here are Aulive's black and rust duffle bags along with Vivier's: you can make your decision on my theory.
Still, it's a well-made product. The monogram I ordered as an extra option comes with just my initials, so it doesn't look ostentatious. My Rust Dust Duffle Bag was Rs 4300, which is a pretty affordable price. I can't complain about the finish and stitching. The bag is well made.
The vegan leather itself looks, well, vegan. Not even from a distance would one think it was a real leather bag. However, the fabric used is soft to the touch — not buttery smooth but still satisfying.
The bag comes with a spacious inside pocket and includes several tiny holders that one could use for anything from storing phones, pens to small notebooks, or small well-sealed bottles of lotions. I've used them for all of the above.
I've not tried their vintage-style carry-on bags yet. Though, I do wish they had matching full-sized luggage to go along with the smaller merchandises. There is a navy carry-on that's been calling out to me. A sucker for anything that looks like it's from a black and white movie, I do plan to get myself that carry-on eventually.
TLC Verdict
Aulive makes sturdy bags. It'd be nice to see a bit more originality of design for the duffles, but the resemblance is, thus far, only my opinion. Vivier too takes a hell of a lot of "inspiration" from Balenciaga, after all.
Would I buy more from this brand? As I said before, there's a Navy Spinner carry-on that I've been mulling over. So, yea, I'm likely to go back and get it.
I'd recommend the bags for people who want for neat-looking luggage and travel a lot. The monogram option is fun and not loud, so opt for it, why not?
Aulive bags are available on their website. Prices range from Rs 1199 for laptop sleeves to Rs 17,999 for cabin luggage.
Note: TLC pays for its products and buys anonymously.