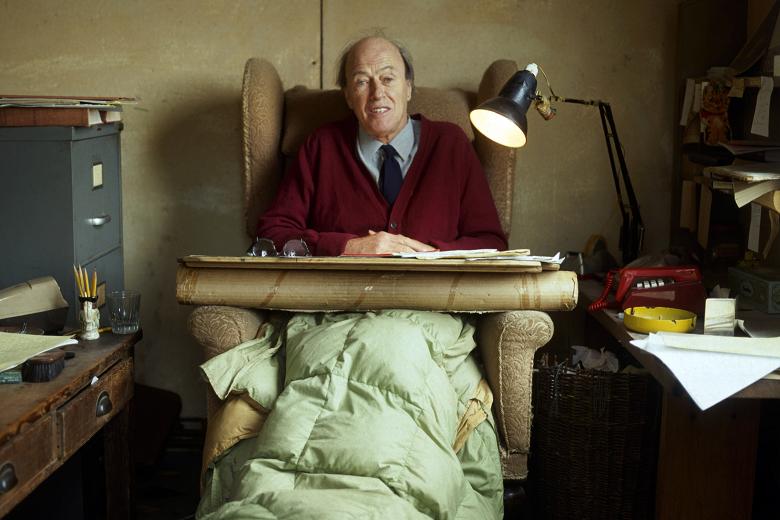 Spare me the saga about your love for Charlie and the Chocolate Factory. All that leads to is an overwhelming craving for chocolate followed by a long binge on the cocoa concoction of your choice.
I'm kidding. There's not a weird kid in sight who isn't grateful to Dahl for the books he wrote for children. His fantastic imagination and zany logic helped many of us make sense of our strange selves. As a writer, I'll be forever grateful for the lessons in plotting and narrative that he ingrained into my psyche while I thought I was just reading a book that made me crave chocolate.
But, Roald Dahl would've been 101-years-old this year, and while it's not like me to romanticise old white men, I think it's in order to celebrate Dahl's contribution to adult literature, which, like all great humour, was severe and spectacular. In his case, it was also particularly underrated work.
A stellar creator of short fiction, the first of Dahl's adult books was a collection of ten stories Over to You, published in 1946. The book was based on his experience as a pilot during World War II. Over to You was a great collection of stories, but not particularly memorable.
It was with his second and third books, both containing many stories that had been published in the New Yorker; Dahl tapped into the wicked and sociopathic side of all adults.Don't think you have that dark side? Read Kiss, Kiss (1954) and Someone Like You (1960) and try not to laugh out loud. I dare you. The latter was titled after a short story published in the New Yorker and contains nine other shorts that are, for lack of better word, twisted. Most importantly, much like with a Vonnegut or an Orwell, Dahl's imaginings of his future is directly relevant to the times we live in at present.
In later works like The Great Automatic Grammatizer, Dahl shows us what the world would look like if machines replaced writers. As a writer who has worked as a beat journalist, this story is my worst fear and reality brought to a dramatic and dark conclusion on the page. In another short, The Umbrella Man, he uses a 12-year-old protagonist to show how adults can often make mistakes while judging others.
Dahl's writing for adults relied on the same premise as his work for children: what would happen if we followed our worst nightmares and deeply seeded desires to their logical conclusion. Often, to do this, he had to deploy illogical plotlines and twists. But then, life is not linear or predictable; to get what we want from life, we often end up doing absurd things, and more often than not, the very thing we want ends up being our undoing.
This fundamental truth underlines all of Dahl's stories, for adults and children.
While most of us remember him as the gleeful creator of Mathilda and The Chocolate Factory, it was Playboy that published Dahl's final work for adults —Switch Bitch. The book contained four stories of adultery and sexual indiscretion.
It would be nice to say that in his adult books, Dahl explored the subjectivity of morality more than in his children's novels, but that would be untrue. The writer didn't change his voice for his audience, and this is most evident in Switch Bitch. But, just like with the Chocolate Factory, these moral judgments are overshadowed by the writer's wit, his love for narrative. Dahl may have had cruel and unusual characters, but his telling of them made them loveable. One of my favourite stories from his collection is The Way Up to Heaven in which a woman with a pathological fear of being late leaves her husband stuck in an elevator to fly off to Paris. She writes him a letter from the European city every day. When she comes home, she calls the technician, and we find out the lift had jammed, and her husband's been dead all along.
For those of us who grew up reading his children's books and feeling disappointed when grown-up life turned out to be, well, boring AF, Dahl's short fiction for adults provides a psychopathic but pleasant reprieve from reality. Much like his children's books did for us all those years ago.