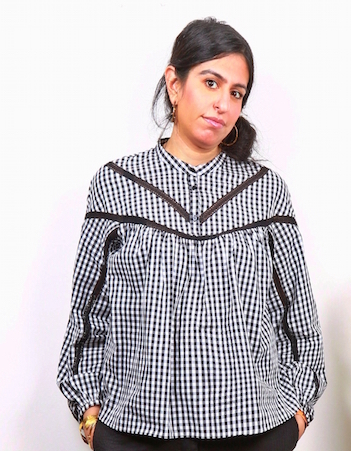 Sustainable Fashion has many benefits — a clear conscience, lasting clothing, personally meeting with the small label designers. But, since switching over, NGL, I have missed fast fashion; its trends, its prices, the ease with which you can find a colourful dress or even winter wear. Zara's new Join Life collection, I'd hoped would cater to some of my trend cravings.
As it turns out, I was wearing Zara Join Life long before its website launched in India. My first piece of their clothing was the blue ruffled sleeve dress, which I purchased from Sarojini market last year. It didn't occur to me that this was Zara; there was no label. The dress was cute, comfortable, and like all Sarojini clothing had only the slightest of issues with the stitching that nary an eye would notice.
For this review, TLC bought pants as recommended by us in Five Under 5000: Pants that won't break the bank. To complete the look, we also purchased a pretty plaid smock top that had subtle lace details — we're big fans of subtle clothing (if not personality.)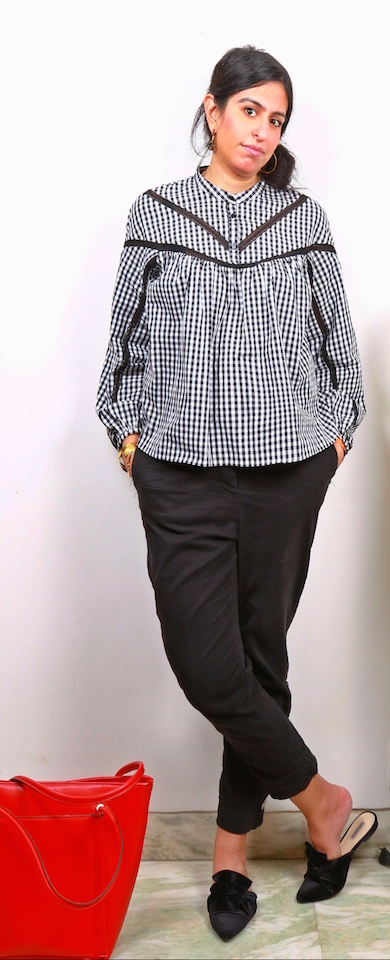 I picked up my buys from the Zara Saket flagship store. The boxes proclaimed they were reused and "had a history." The pickup process was appreciated — saved on precious fuel going back and forth as delivery would've done. The boxes, brown, simplistic, apparently recycled, were a nice touch as well.
Zara Join Life is the megabrand's first foray into sustainable clothing, and as such, it is a big step. The company claims to use a wholly biodegradable material, Tencel, that feels and flows like soft cotton. If Zara had gone the HM way and claimed to recycle their clothing, TLC would've held on to its scepticism. We still wonder how much HM would have to recover to keep up with the waste it generates on a daily basis — some studies say over 88 years.
Tencel, on the other hand, gives the wearer some relief. It's biodegradable.
The pants we bought from Zara Join Life fit well — the waist and hips of size encompassed my body's landscape perfectly. Many compliments were received while wearing them, which is always nice to hear. The smock top is a good every day wear buy: it will go with these pants, a pair of shorts, skirts… nearly anything else I own in the closet. It helps that the top is black and white.
I was having a Hallelujah moment with these purchases till I noticed a stray thread hanging to the side of my pants. Typical fast fashion craftsmanship? But, isn't that the antithesis of joining the sustainable fashion movement — clothing that is well tailored and will last long. I'd worn the pants thrice before I noticed the telltale thread.
Beyond that, the Join Life collection — that had all the opportunities to surpass local sustainable brands — does not show much of imagination. Fast Fashion trends have not been forgotten. The selection is replete with ruffles and red, yet shockingly low on pants, sweaters, jackets — all the clothing items one usually heads for while shopping in Zara. Instead, it would seem they have decided to segregate fast fashion buyers from sustainable clothing wearers, and decided one style does not mix with another. Time and again, I would click on a picture on the Zara Join Life website to find that only the cotton tee-shirt was organic; the pants that made me look were made with its usual blend of polyester and polyester. At some point, I wondered if Join Life wasn't a subtle (not so, actually) advertisement to bring in slow shoppers and tempt them with fast fashion.
Still, I thought, at least it is a beginning. A huge brand like Zara is joining the sustainable fashion business: that's an excellent first step.
But, the company neglects an essential aspect of sustainable fashion: transparency. Earlier last year, Zara released a list of its factories doing wetworks (printing, tanning etc) across the world. India, Spain featured heavily on that list. This wouldn't be strange if Zara Join Life were only launched in these two countries, but it's available worldwide, and part of sustainability is to reduce carbon miles as much as one can. This is why buying local is so important.
Going back to that list: I checked out the addresses given on the list that was in the Delhi or surrounding areas like Faridabad. The one factory in Delhi had no concrete address; just a Gali number and no area. I couldn't find it on Google Maps or through any sources. The Faridabad factory was not terrible. The working conditions were acceptable, but speaking anonymously with me, a worker told me the wages were the bare minimum. This revelation corresponded with a recent strike at Zara's factory in Turkey for non-payment of wages.
I got my first Zara Join Life dress at Sarojini remember? This means that their finishing factories are also somewhere in India. The company refuses to release the names of addresses of these establishments. Colour me curious, but I have to ask: why not? A representative whom I contacted to ask these questions only replied with: "We don't comment on these things till we hold a press conference on them." For a brand that's foraying into sustainability, of which the cornerstone is transparency, this is a very evasive strategy with which to stick.
Conclusion: Questions of transparency and lack of imagination do plague the collections. Still, it will be hard to ignore Zara Join Life, with its promise of sustainability and affordable prices. Plus, a small step forward is better than no movement at all.
Avantika is wearing Zara High Waist Trousers with Metal AppliquÉs priced at Rs 2790 and smock top with lace detailing priced at Rs 999. Both are available on Zara's website.
For more #LadiesReviews, click here.
Note: TLC pays for its clothing and buys anonymously.