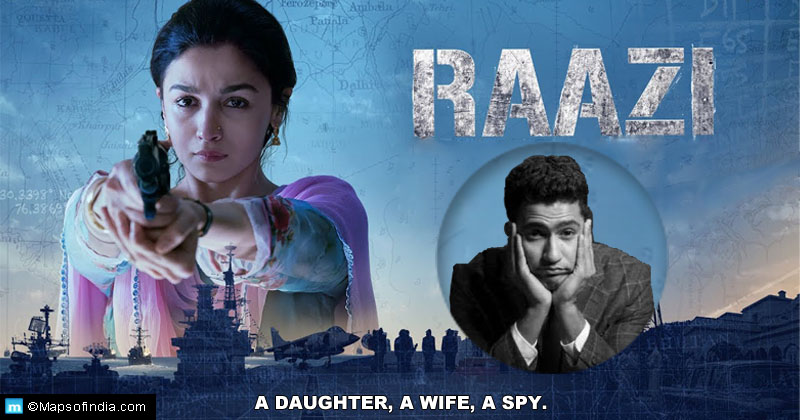 Let's look at the checklist of this Alia Bhat starrer: set in Kashmir, dealing with espionage, the never-fail-you premise of India vs Pakistan, a keen Intelligence Bureau and an Army family- all that you need for a high-drama, high-intensity, high-volume Bollywood blockbuster. But even with all those ingredients, Meghna Gulzar's Raazi does not include any chest-thumping exaggerated proclamations of Patriotism. It never becomes a descendant of 'or every other Sunny Deol movie about war and the Indo-Pak conflict.
Director Meghna Gulzar's Raazi is a story of secrets, loyalties and love. Alia Bhatt stars as Sehmat Khan, the 20-year-old daughter of Hidayat Khan (Rajit Kapoor), a Kashmiri man who is a double agent for the Indian Intelligence Bureau. Hidayat has built a lasting friendship with the influential Pakistani brigadier Syed, who he continually feeds tradeable information to win his confidence and do his duty for his country, India. But in 1971, as India and Pakistan prepare for war, Khan is diagnosed with an incurable lung tumour. The state is in dire need of the crucial information only he was in a position to supply, and now he must find a fitting replacement across the border. Enter Sehmat, a sensitive little girl studying in Delhi University who is coming back home not only to the news of a dying father but also a proposition – to become a spy for the Indian Intelligence Bureau by marrying into the high-ranking army official's family in Pakistan. Daughter of a patriot, and granddaughter of a freedom fighter, she agrees.
A month of training, and she is ready for fieldwork. Something that takes agents years and years of practice – but this in 1971 – time is of the essence, and she is 'Raazi' to risk her life for family and country.
She is married to Iqbal Syed (Vicky Kaushal) with whom she develops a tender, respectful friendship which eventually evolves into love and understanding. Even as she digs for crucial secrets, eavesdrop private conversations and ruthlessly eliminates the hurdles in her path, emotions start to take over as her relationships with the new family are strengthened.
She functions with a detailed and intricate network of spies in different parts of the city. Codes, disguises, a photographic memory, and quick thinking become her biggest aides, as she stealthily delivers secret information using Morse and navigates her social and family ecosystem to get access to meeting rooms, steal keys and documents, and plant bugs.
HOLES IN THE STORYLINE?
But you've got to admit that things often get too convenient – the escapes always too narrow and situations still too dire. She manages a lot too easily in the army area, files are also readily available, people too easily fooled. She never really gets caught – till of course, the point of the movie when things start to fall apart.
POWERFUL DIRECTION AND WELL-CRAFTED CHARACTERS
Meghna Gulzar's direction is masterful in how it balances thrilling sequences with scenes loaded with emotion. And Alia Bhatt, in another brilliant performance, only does justice to this judiciously written story. As Sehmat, Alia keeps it subtle, very real and measured. Her patriotism is never jingoistic, and her emotions never overpowering. But when she does break down, it is heart-wrenching
And not just Sehmat, almost every character is very well crafted and never feels wasted. Hidayat Khan's friend and colleague, Jaideep Ahlawat stands out in the film as the calculated Khalid Mir, the intelligence officer who trains, guides and supports Sehmat through her mission and ordeal. He is cold, and calculated – but you can't help notice that he develops a measure of affection for Sehmat. As Sehmat's parents, Soni Razdan and Rajit Kapoor are both convincing and compelling, and though their role is short, it is not insignificant.
SOUNDTRACK SO-SO
The music of the film is not memorable. Only Harshdeep Kaur's Dilbaro really stands out of a soundtrack which remains safe, and therefore runs the risk of being forgettable.
CONCLUSION
The movie manages to do something few Bollywood films have been able to achieve – have almost a respectful conversation about the India-Pakistan conflict – a triumph for screenwriters Meghna Gulzar and Bhavna Iyer, who derived this 140 minutes emotional thriller from the 2008 novel Calling Sehmat by Harinder S Sikka. At one point in the film, Sehmat says that nothing is more important to her than India, to which Iqbal replies he feels the same way about his country. And none of this is followed by loud proclamations of love for the nation, the devotion to the homeland or by disrespecting another's love or loyalty.
Raazi is a must watch – for the performances, primarily by Alia Bhatt and Jaideep Ahlawat, and for the beautiful retelling of a plot and subject matter that is often reserved for any movie starring Sunny Deol.