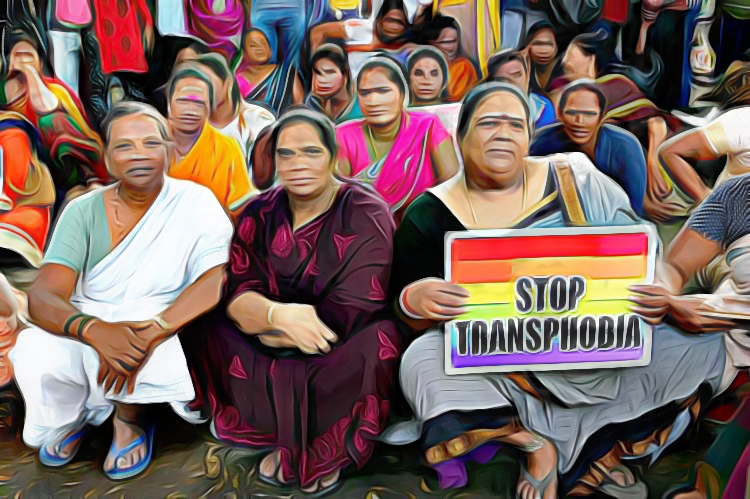 On December 17, many trans and intersex rights activists met in Delhi, the Indian capital, to protest the government's Transgender Persons [Protection of Rights] Bill 2016.
The bill is flawed. It is deeply problematic. And many activists, including I, have discussed this in extensive detail at various places, so this piece will not repeat it. But express hope, that perhaps the work that the trans led network I am part of – Sampoorna, and the work other trans activists have put in, will eventually see the bill being defeated in the parliament and restart the process, but this time with the needs and rights of the trans and intersex community in India firmly in the centre.
And work we have put in, in great measure. Sampoorna – the largest network of trans and intersex persons in India – has been fighting the TG Bill in its various forms, through the various loops of the union government, for well over a year now. Ever since it was first introduced as a draft bill in December 2015, to the version that was tabled in parliament in August 2016, the bill insisted on misunderstanding transgender and intersex Indians and declared that we couldn't decide our own lives. And so we fought.
At Sampoorna, we wrote to the Ministry of Social Justice and Empowerment when the draft bill came out. We demanded that the ministry legally, and distinctly, define transgender persons and intersex persons, and not confuse the two.
We said we didn't need rehabilitation. Rehabilitation from what? From the completely limited, binary idea *society has* of gender and a wrong understanding of biological sex? We said give us the rights, give us the rights that are, at least on paper, given to all Indians. We held meetings, attended a few more, spoke at national and regional meetings. One thing we found out very soon. Sampoorna was known as a group of trans men, although I – as a trans woman – found my greatest support and best-fit for politics there, and was instantly accepted. But a few other groups and organisations – of trans women – were perhaps more accepting of the bill, and would not care much about the politics that Sampoorna was putting forward – Rights, not rehabilitation. Self-determination, not power politics.
And then when the official bill came out, and it was clear the ministry had thrown everything we asked for out of the window, and seemed to have come up with a version even worse than their draft, Sampoorna – and the others – took up the fight again.
We wrote Op-eds, think pieces, pleas, rational rebuttals, passionate cries of despair and anger, in any newspaper and website that would publish it. We asked that the bill is withdrawn. We petitioned ministers and MPs. Through our partners, very close friends, and allies, we reached out to the sitting Members of Parliament, asking that they stand up for our (and theirs too) rights. We asked them to defend the constitution. We prepared a list of non-negotiable demands – the bare minimum that the Bill had to carry. The session ended, and the ill was not passed, we breathed a sigh of relief. We could do more work, convince more people. We also heard that the law was being sent to the standing committee for review. This was very good news, we thought.
Sampoorna is an unfunded collective. We exist as an email id, and a twitter/FB account. None of us in the working group have a full-time corporate employment – and really, which corporate body would hire an openly trans person? What would the board and the shareholders say? And so money has always been an issue for us.
December 2016. As an aside, demonetisation – which affected trans women and sex workers the most, the invisible women on the streets of the country, for whom cash meant food. And here we were, asking for money to fly in an aircraft and stay in a hotel to meet other people who did likewise.
Spending money we raised from donors, friends, family – to go to Delhi. To meet the various MPs who constituted the standing committee. In the cold, freezing winter of December 2016, members of Sampoorna – two trans men, an intersex person, and a trans woman – met parliamentarians and presented our case. Sometimes indifferent, sometimes willing to listen, the MPs and their teams promised to do what they could.
In 2017 the government had other fish to fry. Using completely unparliamentary tactics, they bulldozed their way to passing acts that would severely curtail the rights of ordinary citizens. Money bills that gave sweeping powers to the state to do what it wished.
Even as newspapers were publishing quotes and collective wisdom of the power brokers in Delhi for whom trans women are merely sexual objects, and trans men do not exist at all. That these people are given much more latitude by the government, and are allowed to influence policies is a sobering realisation – much like a blow to your guts.
A friend once told me that what I allow the government to do to someone else today, the government will do to me one day. This has always been my, and Sampoorna's broader politics. Fight for the rights of one, and for all. And stand up to injustice and oppression everywhere. And so it is all the more frightening, disarming, and disheartening that others didn't care.
For us at Sampoorna, and for many other trans and intersex activists, it felt like we were fighting in the dark, punching solid stone walls, without any help or support from the larger society. Even though the rights we were trying to uphold, are the very rights that the state and government will happily trample upon for everybody.
And so we lend our support to the trans and intersex persons currently in Delhi, and their partners, friends, family – and those allies who care.
We will continue to fight. We will continue to support and stand up for human rights for all.