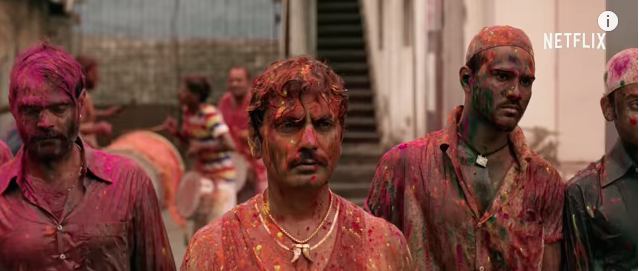 Netflix made a good choice picking up Vikram Chandra's Sacred Games for its first Indian series. The novel, even when it released in 2007, was looking at beginnings and result of the blatant use of violence and communalism that had been developing in India's body-politic since the 1990s. We are now living the consequences of letting such actions go unchecked, it's taken on a renewed relevance.
The writers, Varun Grover, Vasant Nath and Smita Singh, apparently also see the parallels between Chandra's tense and violent Bombay of the 90s to the spike in communal violence. Their decision to set the show in the present and not do a literal adaption of the novel is smart and pragmatic. It would be impossible to fit all the snaky lanes and dead-ends in Chandra's story into a television show and stay on the budget or time limits. But it comes at several costs. The first being loss of some beloved but ancillary characters from the book, and in one case: controversial casting.
The second being the Dickensian feel of Chandra's massive book, which was unapologetic; a kind of learn to swim as you go, look at Bombay. Throwing a reader into his story by throwing a white Pomeranian off a high-rise balcony, he introduced Bombay to a reader the same way the city is likely to treat a newcomer: abbey hatt gandu.
The story revolves around a small-time cop Sartaj Singh, a minority Sikh in the Bombay Police Force, is thrown out of his depth when a notorious gangster Gaitonde calls him with information about a potential apocalypse set to happen in Bombay. The gangster kills himself before being captured by the police. The remainder of the book alternates chapters between Singh's investigation into Gaitonde's tip and the backstory of the criminal mastermind himself.
Netflix's show follows the books structure and core story diligently. Each episode has Singh's (played by Saif Ali Khan) and Gaitonde's (played by Nawazuddin Siddiqui) stories told through flashback and voice over. It even starts with Fluffy (the Pom) being thrown out of the window. But, wherein the novel such scenes informed us about Chandra's characters, in the series, where Singh's role is flattened out into a typical Bollywood good guy, it appears just for shock value. Within the first five pages of the book, a reader sees a believable Bombay cop — a man who's well-aware and even able to navigate through the almost absurd level of corruption in the Bombay police force. The novel's Singh considers the bribe that'll have to exchange hands between him and a geriatric man whose wife died under mysterious circumstances. The TV series Singh hems and haws about committing perjury in court about the details of an encounter killing.
Saif Ali Khan plays this cookie-cutter version of a good guy well. He doesn't overshadow other actors, appears to give them room to play their parts to the fullest. But, in the end, Singh's reduction from a man with complexities to a sad sack trying to be a good cop for the sake of his father's memory does Khan no favours. Other characters outshine his and are more enjoyable to watch. Singh's Constable Katekar steals the show from under Khan, and honestly, everyone else. Played to perfection by theatre-actor Jitendra Joshi, Katekar easily becomes one of the strengths of this show– the one you would come back to watch.
Radhika Apte's character RAW agent Anjali Mathur sees an expanded role in the series, with an added "war of the sexes" angle to her. "Yours is the field, my place is the desk," she bellows at Singh at a point in the show. Honestly, the screenwriters choice to extend Mathur's role is a welcome one.
Siddiqui seems like a natural choice for Gaitonde. With his slim body, thin arms, and intense eyes, he does bring to mind a part in the book where his mistress Zoya Mirza describes him as a short, thin man trying to be god (I'm paraphrasing. It's been nine years since I read the book.) Having already worked with one of the series director Anurag Kashyap as a goodfella Siddiqui dons Gaitonde's skin like it's his own. If anything, he may have found the peak of his performances as a gangster with this one. Gaitonde's character remains rich and complex as ever. He is a criminal for profit, with a gang that embodies secular India in its composition. He gets into the games of politics and becomes the Hindu-agenda's iron fist only when he sees the money in it. And even then, he regrets it, describing it as killing himself a 1000 times over.
His girlfriend Cuckoo is played by Khubra Sait. The actress has garnered much acclaim for performing a "daring" role of a transgender woman. She has even given an interview about how difficult the task was and how putting on prosthetics helped her get into the part. And this is not to say that she did not do her job very well (she did,) but why if the writers were so keen to "update the story" did they not pick a transgender woman to play one? It's 2018, would it really have been so hard to cast the part? I found this to be quite problematic, and it did taint the remainder of the series for me.
On the whole, the Sacred Games is worth the hype. It loses much of the funny details that Chandra penned but retains the moral essence of the book. Netflix's Sacred Games is a straight up Bollywood good vs evil story, with plenty of tension, sex, drugs, and violence to keep viewers in a state of panic until the end. Definitely watch it, if you've not already done so. It's a binge-worthy show for sure.
All eight episodes of Sacred Games are now streaming on Netflix.
For more TLC reviews, click here.