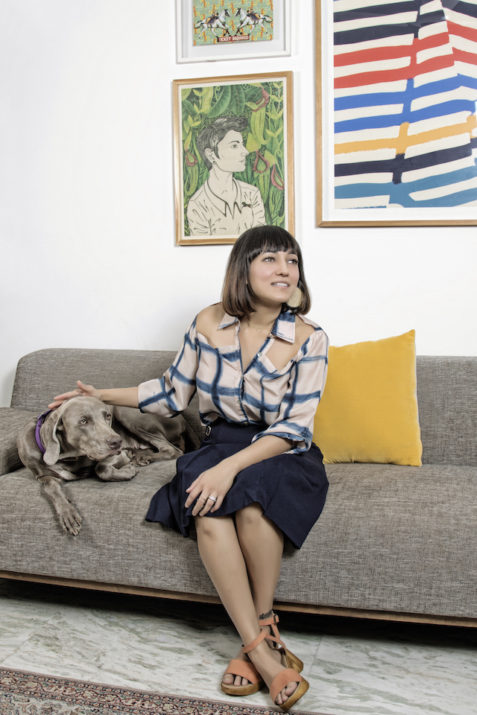 Vandana Verma is a self-described wellness nerd, who channels that obsession into her website Tonic.co. She's also the head of content at Nicobar, and a favourite for many other designers because she just looks so damn good in their clothes.
TLC caught up with Vandana on a rare sunny winter afternoon in Delhi to take a peek into this chic chick's closet. We weren't disappointed… we WERE tempted to steal a few items.
Tell us a little about your style?
*Laughs* I think I'm a matron really. I like simple silhouettes and knee-length skirts a lot. The skirt I'm wearing is from a trip in Japan, and I love how it hits the knee and it has a nipped in waist. I also love all kinds of jewellery —  tiny and big jewellery. I look for them everywhere. The earrings I'm wearing are from Old Spitalfields market in East London, I really like that they're not a shiny metal. The necklace is from Etsy — I like how delicate it is.
Why did you pick this skirt for the shoot today?
I bought the skirt from Japan, and it reminds me of that trip. I think it's totally battered it because I wear it constantly. I had to buy it in fact because I thought it would be much colder than it was when I went to Japan, and it turned out to that it was like, 30 degree weather. In the end, I bought a bunch of skirts and tee-shirts and wore every thing I'd bought because all of the heavy jackets that I had carried for the holiday were just not working.
The top is fantastic. From where did you get it?
The shirt is actually a gift from Nor Black Nor White because I helped them with a shoot once. I love it, but I don't wear it too often because I'm always scared people can see down my boobs! But, worn with this skirt, I think it works really well. This is a combination I like a lot.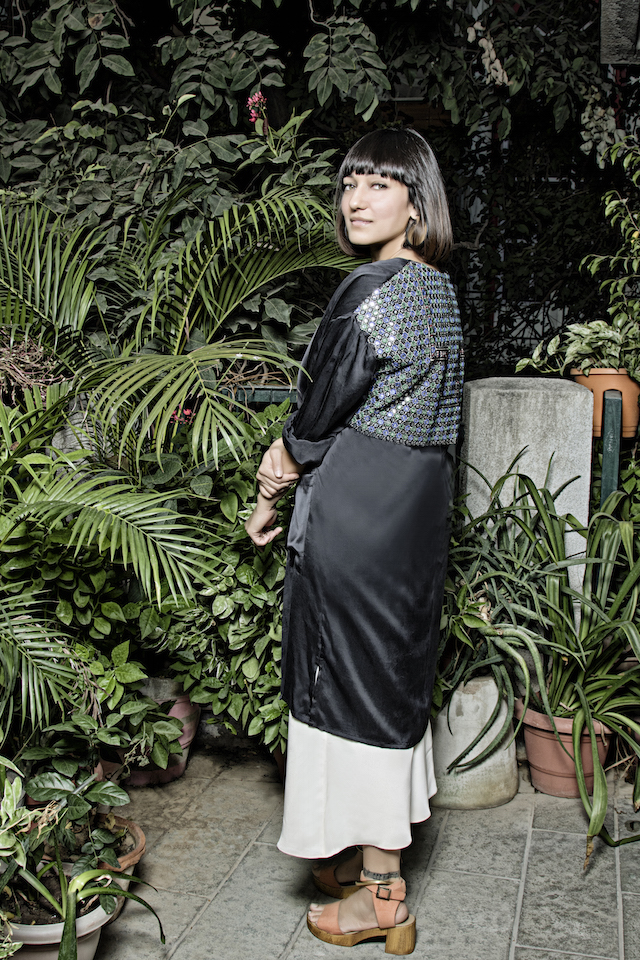 Tell us about this outfit?
I'm wearing a silk dress. It's like a slip, but sometimes I think it's too sexy. so it has that négligé vibe, but it's really nice silk so I love it. The jacket I'm wearing is from a Goan brand called Tia, it sells out of Natti's Naturals. I actually went to get some swimsuits from there because they make these really nice ones — not like those terrible ones that lose shape in one wear. That's when I saw the jacket with the mirror work and just had to have it. It's all hand done and really easy to wear.
Do like buying smaller brands and handmade clothing like the jacket?
It's nice to have stuff that's handmade because it has a nice texture. Plus, it tends to have — in the most basic kind of way — a finish that you're just not going to get when you go to a mega brand like Zara or something. I like this particular jacket a lot because it gives an evening vibe without being too bling.
We see you're wearing Kichu ankle bangles?
I do love these ankle bangles. They give a different vibe to everything. She sent me a note with these actually on how to take care of them and I've been following it like how.
What are your favourite colours for your wardrobe?
I wear a lot of black, navy and a lot of grey.. sort of that wheel house. But, lately I've really been feeling red and other jewel tones like emerald green. I really want to get some emerald green silk and do things with it, but I need to find a tailor. I also looking for a deep plum something… I haven't found anything yet so I bought a bunch of lipsticks of that colour.
You usually like bold lip colours, no?
I do. I wear a lot of red. I used to be into really light shades but then once during a shoot a make up artist put this bright ruby colour on me, and I've been obsessed with it since. Like, one of the things I love about it is that you can look like shit, but no one will even notice because your mouth is so bright.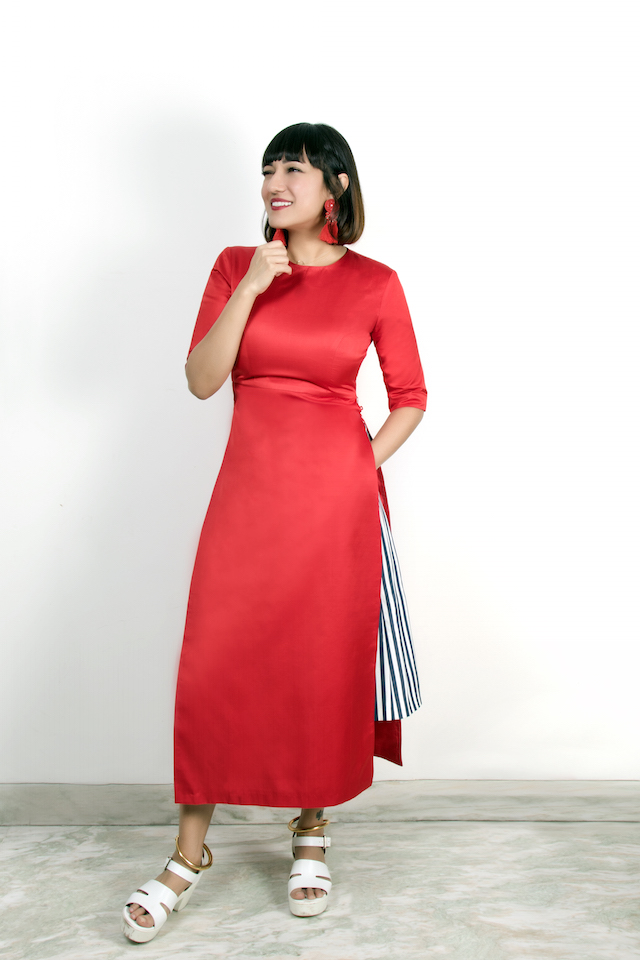 Tell us about this final outfit?
I don't know where the skirt is from, I bought it a long time ago.It goes with everything so I wear it a lot.
It's got a very Three Clothing vibe, don't you think?
Three, I like. Let's go with that. *laughs*
And this stunning kurta?
The kurta I'm wearing is Raw Mango, which is a brand that I love. I bought this piece last year for a family wedding. I don't do wedding outfits very well; I'm not super comfortable in saris and I can't do the heels thing. And, I don't get bling — I love it on other people but for me I feel like it's too much.
Plus, wedding outfits to be a bit of a waste, like, you spend this colossal amount of money on something that is worn just once.I like versatile clothes– like this kurta. Dressed up or down, it can be worn in various ways.
Among the Indian brands, whom do you like?
Well, this is a bit boring but I love Bodice. Their clothes are always very well-stitched. What bothers me about many Indian brands is that you spend a fortune on them and then the tailoring is like, Zara quality. That's just not OK for me.
I love Sanjay (Garg.) I genuinely love Raw Mango; the colours he uses and the quality of his clothes. Sometimes I walk into his store and think, "I NEED THAT LEHENGA…" and then I have to remind myself that I have no where to wear it and none of my friends are getting married. But, still, I love his shit.
For more gorgeous Closets of New Delhi, click here. 
Credit: Photography by Himanshu Bagai aka

hobography

. Interview by Avantika Mehta