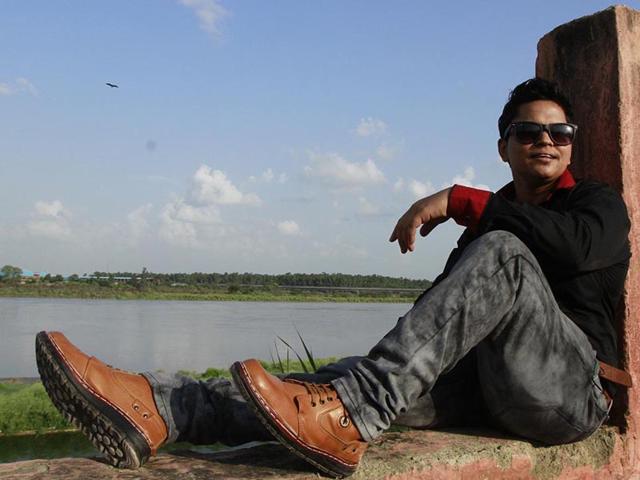 Pinky to Pinkesh, the journey has hardly been easy. Convincing family, paying for numerous surgeries, and becoming the sole breadwinner at home, Pinkesh Gupta is trying hard to be the man he always wanted to be.
new man of the house
Pinkesh Gupta tucks his shiny black shirt neatly into faded jeans. His feet are bare; the toes are small, but broad — as if deliberately shaped for sturdiness, as are his shoulders and chest.
There's a meditative expression in his heavy-lidded eyes; he seems lost. His sister sitting next to him on a white, sheeted mattress heaves grief-laden sighs.
'Why do these things happens to us,' she sobs.
Pinkesh's mother, their maid, four women from the neighbourhood, and the family dog Tuffy gather in a semi-circle around the siblings. The tiny crowd has come together at his family's two-bedroom apartment for his father's chauthaa. Everyone is teary-eyed; among them, the seemingly composed — silently fuming — young man looks misplaced.
'Pinky, he went before seeing you settled,' his sister continues.
Pinkesh doesn't respond. He recognises the use of this name Pinky — a title he long ago cast away — as a guerilla tactic in an identity war he's fought every day of the last three decades.
'Why did he have to go?" she repeats herself — not using the name Pinky this time. Not quite accepting her newly formed brother, not rejecting him either: this is the Gupta family's line of control.
When asked about the tension over the different names, his sister shrugs, "I know he's gotten his operation… and all his ideas now. But, he's been Pinky to me for 25 years before that. Sometimes, bhool jatein hain, bas."
childhood was confusing for his family, but not for Pinkesh.
Pinkesh was born in the summer of 1987, a beautiful baby girl into a middle-class house in East Delhi. His father ran small, not very successful businesses whenever he could invest; his mother has not finished middle school. There may have been a time Pinkesh conformed to his birth gender, but for him, there was never a Pinky.
When we met in the Out Patient Department (OPD) of Ganga Ram Hospital, he said to me, " I didn't know what I was, but I knew it wasn't a girl."
What he described is called Gender Dysphoria (GD) — when a person's gender identity doesn't conform to the sex, they're assigned at birth. A woman who experiences GD is called a Female-to-Male (FTM) or a transman in the queer community.
No one knows if gender dysphoria is a mental or sociological condition, or if it is a natural phenomenon. Doctors have ruled out that it is a physical affliction brought on by lack of, or abundance of, particular sex/ gender-defining hormones.
WHO International Classification of Diseases 10th revision (ICD-10), which India follows, says gender dysphoria as a mental and behavioural disorder. It was last revised in 1993; Pinkesh was 6-years-old then. Up until 1990, homosexuality had also been classified as a psychological disorder. ICD-11 proposes to remove transsexualism from its Mental Health chapter. It would have come into effect this year, but has been delayed; Medical professionals don't have to implement the diagnosis guide till 2017.
Even as an eight-year-old, Pinkesh remembers getting angry with family members who called him a girl. His mother who loved asking him stereotypical questions one asks of women — when will you want to marry, what kind of man would you want — attests to his vexation. His sister, too, has no memory of Pinkesh in female clothing. "He always dressed like a boy; we thought thik hai Pinky tomboy hai, jab badi hogi toh thik ho jayegi," she says.
It came as a shock to the family when in the 9th standard, Pinkesh got into an altercation with a teacher over his behaviour with another female student. He had caught hold of the young girl's hand; she panicked and cried for the teacher. When admonished for bullying, Pinkesh replied he liked the girl and just wanted to talk to her.
"Then my parents were called, and my teacher told them my attitude was like that of a man's, told them to take me to a doctor, get me fixed."
The Dark Days, Disbelief, A New Hope on the Horizon: the quest begins
Those were difficult days for the young boy who felt stuck in his un-asked-for role as a girl. His parents sent him from psychiatrist to psychiatrist, each time with the hope that he would somehow emerge the Pinky that they so desperately wanted him to be.
Loud shouting and violent behaviour on his part marked this period. His sister and brother-in-law threatened to disown him; his mother repeatedly said she'd attempt suicide. Worse for him, his father — who was his primary source of support in the family — began to get swayed by what society may think. At the same time, Pinkesh had to accept his role as one of the bread earners for a family that he sometimes resented more than loved.
"If you are telling someone something that is, bas, true for you, and they keep insisting you can be fixed to stop feeling that way, you feel maybe you are the mad one, or that they are against you in every way," he explains
There were times when he could not take the suffering his gender-identity was causing his family. He would hope that they did "fix" him.
"Mujhe kuch bhi kardo," he remembers telling the doctors, "Mein kuch bhi karne ke liye teyaar hoon. Bas normal banado,"
Nurse Aruna Sharma at GTB Hospital played a significant role in Pinkesh's life. She helped bring his family around to the idea of Gender Reassignment Surgery (GRS), whereby he could realign his body's sex to his gender identity.
But even Nurse Aruna remembered Pinky.
Recalling Pinkesh when he came to GTB hospital at the age of 16, Sharma said, "She was very hyper, very aggressive." She remembered an angry person with little or no support from their family. Numerous arguments between the Gupta family about GRS took place before her.
"Around sixteen- seventeen— when the feminine changes started to happen to my body — I became a wreck. I went through a lot — once I even tried to commit suicides," Pinkesh once told me. He remembered nothing unusual about the day he tried to kill himself.
"It was an average day. My father was eating breakfast; my mother was praying. Just something got fixed in my mind — I knew I wanted to die. So I mixed water with some rat poison and just drank it."
Suicide attempts common among transpersons. A 2012 report published by the Rajiv Gandhi University of Health Sciences showed that more than 50 percent of transgenders in the country attempt suicide at least once before their 20th birthday; many others resort to self-harm by cutting and mutilation. Being ostracised from society and by their families, lack of proper medical facilities to help them transition, and bullying are common stress factors for the trans community.
Pinkesh believes his doctors were surprised by his attempt because he was always a "jolly" person. Sharma remembers him differently. "At one meeting, she threw her mobile, her helmet on her parents because they weren't willing to get her operated; they were not willing to get her (hormone replacement) treatment also done."
Sharma referred the young man to Dr Rathi, GTB Hospital's staff psychiatrist at the time. "He (Dr Rathi) told me 'Sister, yeh thik nahin hoga, jitna marzi aap counsel karein, yeh thik nahin hoga, surgery karni hi padegi. He told me to refer Pinkesh to AIIMS."
And Dr Rathi was correct. They could not "fix" him.
"kitni dawaaiyaan khaayein maine, so many doctors spoke to me. But in the end, medicines-shedicines kisi ki dil ki baat nahin badal sakti," Pinkesh says.
Pinkesh says Dr Rathi saved a decade of his life from being wasted.
But, he sounds like a person who missed out on having a life at all. "I felt like I was neither here or there. I couldn't concentrate on anything except the idea that somehow my life should become normal."
Then he turned eighteen and decided to wait for no one.
"Bas, I said. Maine bagaawat hi kardi. Main ladka hoon, aur banoonga ." The memory of those days brings an impish grin on his face. Despite being stubborn or "dheet " as he puts it, that moment was perhaps the first time he felt a sense of agency.
After that, Pinkesh was sent to AIIMS where he, unfortunately, fought with the senior consultant. Which is how he ended up in Ganga Ram Hospital (GRH.)
The doctor at GRH agreed to his surgery, but — despite the fact that he was a consenting adult — asked for Pinkesh's parents to be present before performing the required GRS treatment and surgeries on him. Eventually, Sharma helped him get a notarized affidavit proving that he was above 18 years-old, and was willing to have the operations.
"It was a lot of struggles…. she (Pinkesh) kept calling me," Sharma recalls. She adds that the situation even took a toll on her marriage. "I had fights with my husband sometimes because she would ask me to come, but I also couldn't go at the time because my husband wasn't keen on me going outside of work to counsel."
Sharma says her husband feared a violent backlash against his wife. "My husband would say 'stay away from such people because you don't know when — TGs, MSMs — they'll display vigorous (violent) behaviour. I told him that was not true, I know because I've counselled them. He'd say 'you don't know, doctors get beaten up, who are you to know.'"
According to the standard of care (SOC) recommended by World Professional Association of Transgendered Health (WPATH), a non-profit, interdisciplinary organisation devoted to transgender health, a person in transition must spend one year living as in the role that's congruent with their gender identity. For an adult to get testosterone hormone therapy (THT), it says documented persistent gender dysphoria, and the person's consent is all that's needed.
Pinkesh was twenty-two by the time he had finally found a hospital with doctors willing to help him transition. In all, before starting his shift, he "bhatako-ed ", like he says, for 6-7 years. He needed letters of recommendations from two doctors and sought treatment from more than four mental health professionals before he was given clearance to get THT — that's two more than required by the WPATH SOC.
This delay seems to be a regular feature in any transperson's life. Doctors are often reluctant to get involved in their cases; often they are made to wait for the transition. Doctors hope that the transperson will give up the notion and conform to his or her birth gender.
"In reality, India has no laid down rules about GRS, the WPATH standard of care is taken as a suggestion. GRS is not an easy surgery to get done," says Dr Pratap Sharan of the AIIMS Psychiatric division. He specialises in adult mental disorders and adds delay is typical.
"Most of the time, they (doctors and hospitals) make the process longer — they don't refuse the surgery, they keep delaying it to the point that the patient goes to another centre," he adds.
Many doctors do not take the cases that come to them. Dr Anup Dhir is a plastic surgeon practising out of Apollo Hospitals. He says he has "ethical problems (with GRS). He explains, "Worldwide, nobody who's doing these surgeries is happy about them because these patients change their mind and at times they come and say — 'I want my sex back,' — what do you do then?"
WPATH, however, says, "a vast majority of follow-up studies have shown an undeniable beneficial effect of sex reassignment surgery on postoperative outcomes such as subjective well-being, cosmesis, and sexual function. One study even showed improvement in the patient's income."
After the yearlong testosterone hormone injections, Pinkesh's voice is coming out as if he'd been inhaling the sand dust used in the Muscle Boys gym he attends religiously "to boost up his body not cosmetically though," he explains. It also helps to be bigger, more muscular, Someones I get lucky, and no one says anything. Many others in the immediate neighbourhood are not so accepting.
The hormones have given him a more pronounced jaw, one that is decidedly masculine; he helped the robust growth by going dedicatedly to the gym. The THT did not, however, manage increased hair growth. He doesn't mind the boyish looks, which are characteristic of most FTMs who tend to look younger than their age.
"I have a … kya kehte hai chocolate face." He often brags, "Ladkiyaan mujhe pasand karti hain. They don't realise I'm not a normal boy, and I'm nice — pasand kyon nahin karengi. Motorccycle hainn acche. woh bhi help karti hai!"

When Pinkesh's parents hit hard times, it dawned on the boy that he needed to step up as the man of the family, the breadwinner. By diverting the money from one of his father's investments, he opened a small electronics shop. He runs it out of a little garage space near his home.
Not wanting to ask his family for financial help for the surgeries, Pinkesh took six years to save the Rs five lakhs to start the transition process. At the same time, his family began to go broke, and he began to shoulder an increasing number of their expenses. With his savings for a mastectomy, he paid for his nephew's first birthday party.
"Un paiso se maine apni behen ke pehle bachche ka pehla janamdin ka party ke paise diye. Big deal hota hai. Maine paise diye the , " he tells me, "I'd saved it for my surgery, us time first surgery ka stage tha… but then woh Bachcha mujhe jaan se bhi pyara hai…" There was pride in his voice. He was happy to have taken on the patriarch's role.
Surgery, Survival, and the simple healing powers of Family Support
Eventually, he did get his top surgery— he was twenty-four. He remembers how painful the post-operation stage was. "Before this surgery, I hadn't even gotten an injection, so it was both painful, and I was also not prepared for it."
His sister, brother-in-law and father, though saying they'd disown him, came to the hospital at the time of the operation. His mother called on the phone and threatened to commit suicide if he went through with it.
At first, post-operation, Pinkesh ate Maggi for every meal because that's all he knew how to cook and no one in his family was willing to speak to him and vice versa.
Slowly, though, there was again peace in the house. The "top" surgery wasn't a significant change for Pinkesh. It almost seemed like his family had come around.
Hope may lie beyond the binaries?
Many Transgender persons deal with the decision to under SRS — a painful and expensive procedure that is still largely unexplored in India — by usurping words to fit them. In short: they attempt to un-gender language and perspectives.
Other FTMs I met who were less enthused about surgery said it was because Indian medical technology is not yet on par with the West or even the famous trans destination Thailand. Others, who insisted on anonymity, said they "prefer not to conform to any gender role," or "don't need a penis to feel like a man."
Many transpeople find other ways to think about their bodies. "Changing my body is something I don't even think is necessary because my gender is beyond my body," says 24-year-old Aseem (named changed on request) who identifies as gender queer, i.e. doesn't follow any particular gender norms.
"A transperson will attach new meanings to their body, so they're like, 'ok so my chest looks like this, but it's still a man's chest.' It's also about attaching new meanings to words, reclaiming biology… and divorcing the notions of 'this body part means this gender' or 'this gender means this body part.'" he adds.
Would practices like SRS be relevant, if one would view the body without attaching rigid notions of gender, societal expectations, if there would be more education and research into the alternatives?
Dr Raine Dozier, an American psychologist, said in her 2005 paper studying the sexuality of transgenders that they "help illuminate strengths and weaknesses in common conceptions of gender" precisely because they are "at the borders of gender and sex."
Sexuality and gender identity are two very different concepts, and the trans-community varies, as does any other, in their sexual preferences. Aseem has a partner who also identifies as gender queer. When they come to pick Aseem up from the coffee shop where we have our interview, they are protective, soft-spoken and gentle. There seem to be no specific gender roles in the relationship between Aseem and the partner.
In her paper, Beards, Breasts, and Bodies: Doing Sex in a Gendered World, Dozier had added that many transpeople "challenge traditional notions of sexual orientation by focusing less on the sex of the partner and more on the gender organisation of the relationship. The relationship's ability to validate the interviewee's masculinity or maleness often takes precedence over the sex of the partner, helping to explain changing sexual orientation as female-to-male transsexual and transgendered people transition into men."
Pinkesh is quite the opposite of Aseem. Some of his determination to get the full transition seems to come from his perception of gender in binary terms. He has a dogmatic view of a man's role in society and is straight as an arrow. "Mujhe yeh boy-with-boy thik nahin lagta," he insisted even as I tried to explain that the LGBTQIA community, are comprised of many distinct people and their inner truths. He remained decidedly homophobic. "I have friends in the gym. I get uncomfortable around them (gay men.)
During a meeting, Pinkesh and I discussed the idea of the non-binary as Aseem had put forth to me the previous day. Perched on to a plastic seat inside his small mobile shop, we spoke.
After I explained some of the theories surrounding the transgender people, I asked him to think of Aseem and other asexuals who had opted out of painful and expensive surgeries. For them, their personal beliefs were paramount. "If I look at my chest and say hey yeah this is a man's chest — who should dispute me?"
For Aseem and many like him, it's about constructing your reality, or rather "projecting your inner truth for all to see without making any compromises and while, precariously, riding the wave of confidence. "That takes power away from so many systems that victimise and ostracise transgender people."
Bottom Surgery/ Anxious Minds: is the journey finally over for Pinkesh?
A full transition involves getting a Phalloplasty — a host of operations whereby a transpersons' genitalia is realigned to match their gender orientation. For FTMs, like Pinkesh, it can involve a team of surgeons performing up to three – five surgeries. The trans community often calls it a bottom operation.
As the time for Pinkesh's bottom surgery approached, things got tense in the Gupta house. He recalled falling to his mother's feet at times asking for her understanding. The day he went in for a Phalloplasty, everyone in his family, except his father, threatened to renounce ties with him if he took this final, irreversible step. His father, he often says, stood in his support since childhood.
"My father was very, very happy when I got my surgery. He would tell people, main apne betey ki shaadi dhoom dhamake se karoonga, dekh na."
Despite the majority of his family objecting, Pinkesh had enough money, and nothing was going to stop him. But, getting admission into Ganga Ram Hospital was a hurdle. He went to the hospital by himself. Without any witnesses to attest to his consent, the staff wouldn't admit him at first, but he persisted.
While various methods have been developed worldwide to create phalluses for use in GRS, in India, a Forearm Phalloplasty is the most common. Doctors create a penis out of muscle grown in the patient's forearm — in Pinkesh's case, his right arm.
Every plastic surgeons and urologist who are working with transgenders I spoke with said this phalloplasty method produces the most realistic looking "penile structures." The final result was more erotically sensate than older and other ways, these doctors added.
When he talks about this part of the transition, Pinkesh behaves like a monk explaining a blood sacrifice. "First day jab maine apna haath dekha tha, meri jaan nikal gayi thi. Yeh kabhi thik nahin hoga. Itna bura lagta hai ." He rolls up his sleeve and sticks out his mangled arm. Its skin is stretched and barren like a battleground. There is an apparent depression of a penis-like shape over which the flesh has smoothened. This, the medical journals say, is the "biggest disadvantage" of the procedure.
The months after the post-operation period, Pinkesh remembers as the weakest time in his life. He had never experienced anything that took such a heavy toll on his body before.
"You know they say the most painful thing for a woman is the act of childbirth; I know that the operation I've had done — there's nothing more painful than that."
He recalled being unable to walk for months and was barely eating. "I used to look at my arms and my legs and start crying. I used to look like a person who was, bas, about to die only." But soldiering through is Pinkesh's thing. "Deeth hoon, na," his favourite line.
"I don't know how God gave me this strength — I joined a gym, I exercise, I've made myself fit." With a big smile on his boy-band worthy face, he upturns an arm and flexes his muscles.
His mother relented and took care of him during that time."Bahot gussa thi jab maine kara, par phir… jab mein hospital se aaya… maa, ni hai roz mujhe khaana diya, mere saath bethti theen. " The recovery process allowed him to bond with his mother once more. She changed his bandages, fed him, bathed him, and eventually grew to accept him.
The rest of the family, too, came around — once they realised that the sky had not fallen. "After the operation, nothing changed in him… except for woh zyada khush tha. Aisa lagne laga ki usko kuch sukoon mila ," his sister says. The neighbours found out as well — being a clustered area where everyone knows the other person's business, how could they not.
No one reacted badly. Pinkesh says this was mostly because he looked and behaved the same as he always had. The surgery only affected his anatomy.
He's quite popular with the neighbourhood women. A year after the operation, old women and young girls alike flirt shamelessly with him at a kirtan on his roof. Confident in his skin, he seduces them with a cheeky smile here and an over-the-top compliment there; all said and done with decided eye-contact with whomever he speaks to — the boy's got game, some would say.
Pinkesh's transition has progressed but isn't yet over. To increase his chances of having sexual sensation, Dr Mahesh Mangal, Pinkesh's plastic surgeon told him his team would have to connect the "brachial nerve of the new penis to the pudendal nerve of his clitoris."
"Uska matlab hi samaj nahin aaya mujhe ," confides Pinkesh.
Dr Mahesh Mangal also told him that he needs another surgery to insert a flexible rod or an implanted pump device under the skin to help him achieve an erection. The latter is more likely to pass off as a real penis. Pinkesh's choice depends entirely on the money.
"Anda dekha hai, na? " he says forming an O with his first finger and thumb. "Woh mere bank mein hai, abhi — anda."
Post Surgery Pains
Still, even if it means he can use it only to urinate, having a penis has changed a lot of things for Pinkesh. He has made friends with the boys he meets at the gym. Finally — now that he can use the bathroom there without worrying has finally been introduced to the gym-bro-locker-scene. "Itna mazaa aata hai… bas us boys hanging out… masti-shasti, baat-what ."
His transition seemed to be going so well that Dr.Mangal also introduced Pinkesh to another transman to be his mentor. Rahul (name changed on request) had come to GRH along with his brother. He tells me, "My family has been great. My brother goes with me everywhere. We are just finding out what the best course of action is… I am even looking into getting my surgery in the USA because they have better facilities."
Pinkesh enjoys being a guide of sorts to nineteen-year-old Rahul but is also envious of the help his mentee is getting from home. "He comes with his brother, how easy all this seems for him. They care, and it helps him. My family, except my father, wasn't very supportive and it was not good for me; it's important to have the family's support," he says and a tinge of bitterness in his voice.
A few months before his father's untimely death, Pinkesh met a girl who had newly moved into his neighbourhood. They dated for a short while. For the first month, they texted on the phone, and she walked past his shop every day. Later, when it accelerates to necking, he feels compelled to tell her about his transition.
"I wouldn't have if my surgeries were completely done… like if I could, you know…" he confided in me the day he told her. A year after the penile graft procedure, Pinkesh is still collecting funds for operations that will allow him to get an erection. It is not easy to accumulate the Rs. Eight to ten lakhs the hospital is demanding with the Rs 300 recharges, which are the bread and butter of his electronic shop, he says.
To her credit, the young girl remained with him for a month after his confession. He was elated. "She loves me, just me," he gushed on the phone. "I toh want to marry her." Then citing familial pressure, she distanced herself from him. He was smashed to pieces.
Then, his penis stopped passing urine — the only function it had been capable of fulfilling.
"Abhi abhi toh mila hai. Kuch karta nahin hai, aur ab yeh kya hai yaar !" is how he reacts on the phone with me. He described how every time he went to take a piss the liquid comes out of two places in his penis. The implant has ruptured.
Scared witless Pinkesh felt crippled with frustration. It took decades to gain control of his body, and, four months in, he was back at square one. "Even worse! I don't know what to call myself," he howled.
After rushing to Ganga Ram, he had to sit in the OPD for several hours before being told by the doctors that, in addition to the second surgery to achieve an erection, he needed a barrage of tests to see what had gone wrong and then fix it.
Pinkesh was furious; the tests were expensive, he was broke.
"Where will I get this money," he wailed. Financing GRS can be both stressful and financially drain, many transgender people attest. It is often a significant factor in many transpersons' decision to not undergo the procedure. Varied and unexpected results, like Pinkesh's, are another reason.
Kalki Subramaniam, a transwoman and rights activist, says, "In India, there are very few doctors who can do a quality treatment and quality surgery. As far as I know, many surgeries being done in India in the name of GRS… the doctors use the transgenders for their training purposes."
The trans community views the medical profession as both vital and oppressive. Aseem explains, "We need the medical profession. But…the medical establishment is one of the most repressive things for trans people because it is used as a weapon, and it's so powerful because people take its words as the truth. I mean, you have people who go to a psychiatrist, and they're told that they're sick."
He adds that many experience discriminatory undertones when they turn to doctors for help. "Recently, I was talking to someone — I can't tell you who — but this doctor told him that we couldn't have male-female and transgender because transgender is a disease and can you have cancer as a category? So, you know, he was equating trans with cancer."
Now, using a catheter, Pinkesh passes urine. A bag hides underneath his loose pants and shirt. His piss is diverted into this plastic depository, which he changes when it begins to overflow.
Saving for operation also became increasingly difficult with his father's demise. The tiny shop in the electronics-saturated area of East Delhi was not the moneymaker he needed; some days he makes nothing, other days it is less than a grand. Most of this goes towards running his household affairs. For want of funds and abundance of bad luck, the pace of Pinkesh's treatment is excruciatingly slow.
If he had health insurance, Pinkesh would have already had his implant fixed, perhaps even gotten the operation that would allow him to achieve an erection. Coverage for GRS is non-existent in India, also though such surgeries directly affect the fundamental right to life of all trans people.
The only Indian state to recognise the importance of GRS in the life of transgenders has, thus far, been Kerela where free GRS has been provided in government-run hospitals since 2010. Reportedly, within eight months of the state offering the service, 87 GRS procedures were performed and over people 500 wait-listed. Recently, the Gujarat government supposedly handed out surveys in school to identify transgenders, but the State Health Ministry did not make it clear what the state will do with the information.
"Many transgenders will go to quacks because they cannot afford complete sex reassignment surgery," Kalki says and adds that this is a dangerous practice.
Present Day: Pinkesh gets ready to cremate his father
So, at his father's chautha. Pinkesh is worried about how to go to the bathroom without crying or spilling urine everywhere. There might be a lot of guests coming in who will use the toilet, and there is only one in the house. But his mother and sister staring at him don't know of his woes. Their questions range from "who will manage the house now?" to "Who will arrange for your marriage, Pinky?"
Eventually, the four neighbourhood women leave — they've cried, they've hugged, they've offered kind words and hot food. They have no more left to give; their families need them; it's dinnertime.
His sister continues to sob softly. She's left the mattress and lies on a bed inside a dimly lit bedroom on the same floor but keeps its doors wide open. She needs to be away from her family, but near them as well. Pinkesh's mother wails in intervals — becoming deathly silent for minutes at a time, and then suddenly releasing long, pained cries.
Only the young man they sometimes forget to call by his name gets up on his feet, a sense of purpose in his lift. "Chai toh banao," he orders the maid who scurries into the kitchen grateful to be given a familiar task.
Walking over to the corner of the living room where his mother sits convulsing from grief, Pinkesh puts his arms around her. "Papa ka time tha. Papa jahan hai wahan ab khush hain. Tumhe koi fikar nahin hogi, mein hoon na? "