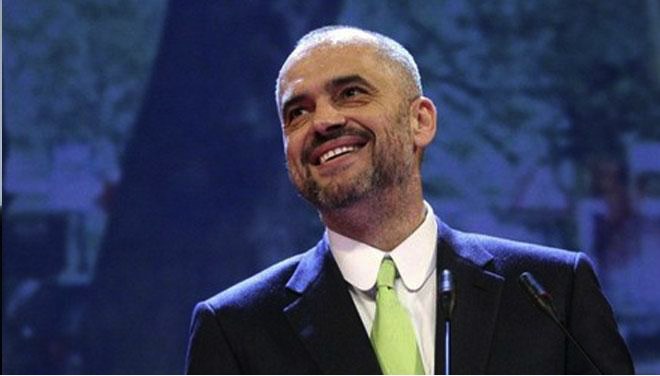 It hit me. Right in the middle of the Black Mirror episode that was GST, de-monetisation, and Trump. Love was the only way out. So I grabbed it with both hands when I saw it…a piece in the pink, lifestyle section of The Guardian newspaper. An article about the man I have now turned into my 2017 calendar — the Prime Minister of Albania and my new love: Edi Rama!
I haven't met him. This is an entirely one-sided love affair. But when you google him or just go through my new calendar for an improved 2017, you will see why.
First, he is an artist Prime Minister. He doodles abstract art while in meetings on finance and town planning and the E.U. and all such serious and sundry affairs. But these aren't just doodles. He was an art teacher, and his `doodles' are now on exhibit at the Tate Modern in London and the Mariam Goodman gallery in New York.
"I couldn't find a way to survive these long meetings. Drawing helped me to listen," Edi said to the Guardian journalist. I can picture his self-effacing smile and dimples appearing reluctantly on his face as he said this.
And then there is his entire political stance — the mixed palate you can only get with a mind that is truly unfettered. Edi was the mayor of Tirana — a poor, woebegone capital city, populated with ugly cement boxes for buildings – typical of the Soviet and East European Stalinist aesthetic. Edi decided to give people their city back, with a new sense of self. So it was out with the grey and sombre and in with the most vibrant pastiche of colours you can imagine.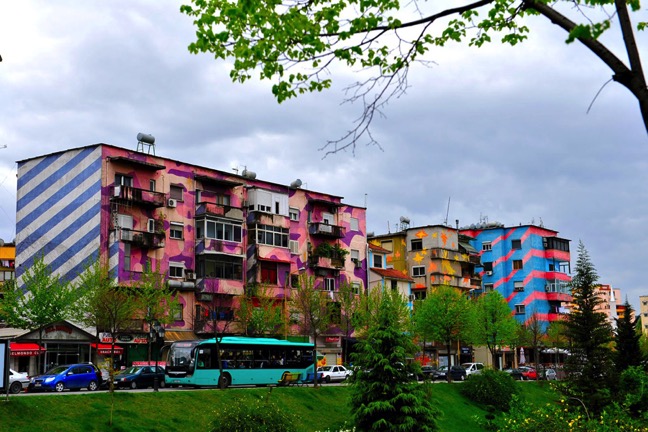 The results have been written about and documented widely. People who lived in ghoulish ghettos looked around and saw their space entirely transformed. They started to step out and own their spaces. And tax collections went up from 5 to 100% in many areas. Imagine what just this one fact did to my much-damaged soul! Is the man who can never match up and who I shall not name but who is our Prime Minister, listening? THIS is how you get rid of black money.
I was drooling by now so I watched his Ted talk.
And read whatever was on the Internet and not in Albanian. Edi is a basketball player. In the 1990s, travelling out was practically forbidden in Albania, unless it was for a national sport. And Edi did this to be able to go to Paris and see Picasso's works in the flesh.
When will I ever see Edi in the flesh…?
Never mind. I have done the next best thing. Make him my pin-up for 2017. I designed my very own Edi Calendar. You know those online portals where you can make your T-shirt or mug or calendar? You fill out one of their pre-formatted designs or create your own and order it to be print-delivered. And voila! It arrives!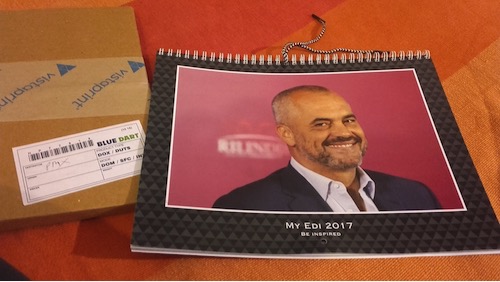 Edi is the head of a country struggling to wipe out the past where a dictator perhaps worse than Modi – Enver Hoxha was in absolute vilified control for forty-one years. Before Edi, a right wing democrat was in power. Edi's socialist party knocked him out in 2013. Ever since he's been on a mission to clean up the excesses from Albania's past. Both on account of the recent right-wing rule and the Stalinist dictatorship of the past. Streamlining the judiciary, trying to get Albania into the European Union are high on his agenda.
A country that is opposite to ours in every possible way. So tiny that it's not even half the population of Delhi. It's also a Muslim majority country with a conservative Catholic minority. What can Albania show us, given these parameters? Well, the more I read about Edi, the more I think, everything. Everything. Leadership has to do with vision. Drive. Possibility. And art.
Oh, did I not mention so far that Edi Rama is 6 feet 5 inches tall? Go on, drool people. I have him on my wall.
NOTE: ALL PICTURES ARE FROM GOOGLE SEARCHES AND HAVE APPEARED IN MULTIPLE PLACES. CREDIT FOR THEM IS UNKNOWN AS OF NOW, BUT WE WILL UPDATE THEM AS WE CAN. THE PICTURE OF THE CALENDAR IS THE WRITER'S OWN. LAST WE HEARD, IT WAS HUNG FAST ON THE WALL NEXT TO HER BED. ?