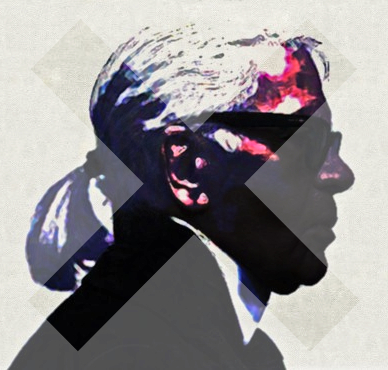 The sartorial world's King is dead, and I am not sad. Karl Lagerfeld's death is no loss to the world — or even the fashion industry. Over his 84 years, Karl proved himself to be a misogynist and an Islamophobe. My desire to not speak ill of the dead is overshadowed by the many harmful statements and trends Karl Lagerfeld passed on before passing on.
Misogynist Karl
"If you don't want your pants pulled down, don't be a model. Join a nunnery!" said Lagerfeld in defence of high-profile stylist Karl Templer. Will his work be considered art for years to come? Yes. Does that forgive his problematic influence over the fashion industry, and women across the world ?
No. Famous for his fashion as much for his problematic opinions, Karl was a Type-A jerk.
"I'm so fed up of #MeToo", or he would be so ashamed to have "an ugly daughter", or "curvy women should not walk the runway." Karl's words, not mine.
According to Amazon, sales of Lagerfeld's memoir The World According to Karl went up 321% in the past 24 hours. Here are some gems from the 15-chapter book that Karl did not write but merely approved.
On body shape of models: "I want to be a chic coat hanger";
On appreciating Coco Chanel's legacy: "What I've done, Coco Chanel would never have done. She would have hated it."
In another interview to Telegraph, Karl dismissed Brigitte, a German magazine for its decision to ban models from its pages. In a 2007 interview with Focus magazine, he proclaimed that only "fat mothers with their bags of chips sitting in front of the television" say "thin models are ugly".
An anti-feminist to the core, Lagerfeld took shots at male models as well. Calling them sticks with crooked teeth, he dismissed the #MeToo stories of men as well. "They certainly don't run the risk of that," he said.
Lagerfeld didn't just save his bites for models, magazines, or the fashion world. When Germany was taking in refugees from Syria, he blasted Angela Merkel by saying, "You cannot kill millions of Jews and then take in millions of their worst enemies afterwards, even if there are decades [between the two events]". He blamed the rise of Neo-Nazism on Merkel's decision to let in refugees and sketched Hitler thanking Merkel for allowing his descendants in Parliament.
Revolutionary or Keen Capitalist?
For years he spouted these harmful opinions with little or no repercussions. For all the celebrities who tweeted to chastise him, not a one doesn't own closets of Chanel clothing. Fashion magazines normalise these comments — they're catty, eccentric.
Even now, in his death, editors and celebrities are all over social media mourning his death and whitewashing him as a genius eco-warrior.
Lest we forget, Chanel's longtime director also defended using fur in 2015 and called PETA childish. Colour me cynical, all his revolutionary decisions were commercial, not ethical. He made plenty of turn arounds to suit his monetary ambition. He had no interest in male clothing before Chanel launched its male collection last year; doubling their market overnight.
The Art was the Artist
That whitewashing needs to be addressed. Karl Lagerfeld was the most powerful and influential man in the fashion industry. His comments and thinking affected the lives of millions, even outside the fashion industry.
Lagerfeld could easily make and often broke women's careers. He often went after women for having any opinion, especially on him. After editor of Newsweek Tina Brown's opinion on him being overrated, he publicity insulted her. Lagerfeld often offered his unsolicited opinions about women: he called Adele "fat with a pretty face", he went after Diane Von Furstenberg by saying her prints were unimpressive, he even went after Michelle Obama's bangs, ffs. The man's ideal model was a coat-hanger. Keep in mind that as the creative director of the world's biggest fashion house, Lagerfeld worked with teenage girls over whom he exerted an incredible amount of control, besides the billions whom he affected by perpetuating skinny as the only respectable body type.
Politicians, role models, public figures dressed in his clothes and clamoured to cohort with him further normalised Lagerfeld's behaviour by calling him a "legendary fit."
Karl and Bey
Tilda with karl
Through so many ways, he influenced how generations of women thought and felt about themselves. He denied anorexia and the fashion industry have anything to do with each other, yet he made billions of the very insecurities he fuelled.
His massive (and continuing) control over an industry that directly affects women means we cannot separate the art from the artist. TFW, if Karl Lagerfeld had his way women would be on 15-year long diets; hate their curves; thinking sexual harassment was a price they pay for going out to work. In other words, every toxic idea feminists have fought against for years.
So, no, I will not mourn Karl Lagerfeld. In his own words, he "had no heart."