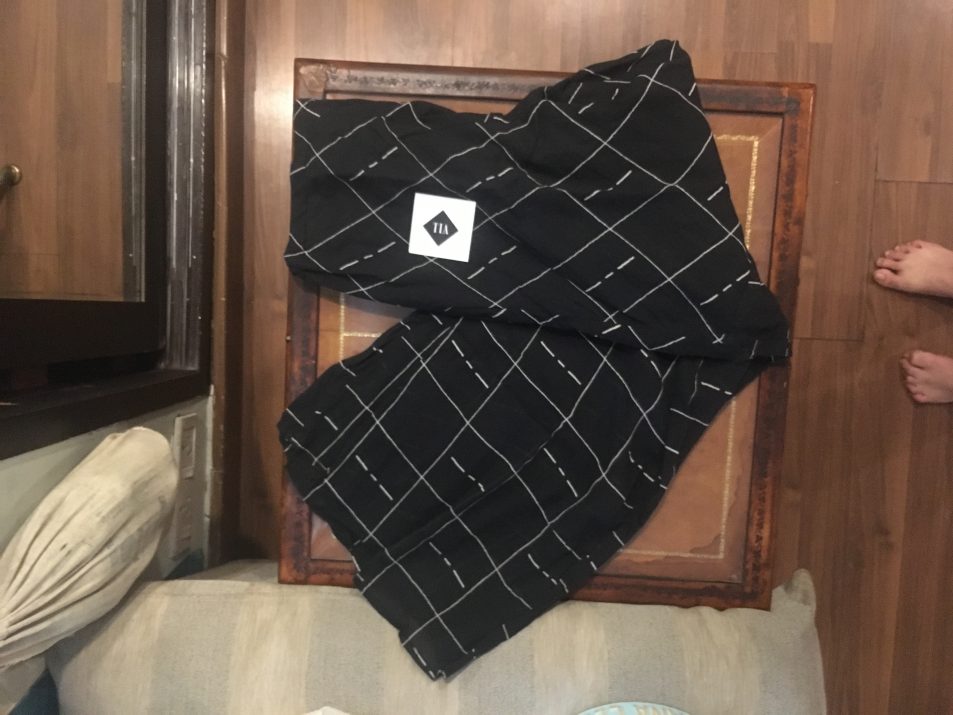 Studio Tia in Goa has its a kind of cult following of young Bollywood stars and the cool kids of the beachside town. I've listened as my friends swear by her loose, sexy robes and cute AF bikinis.
Going through her Instagram, I admit to being seduced by the slow fashion collection filled with flowing silhouettes and handwoven cotton. As is my rule of thumb while reviewing a brand, I went for a pair of billowing black pants with an abstract white check print on them.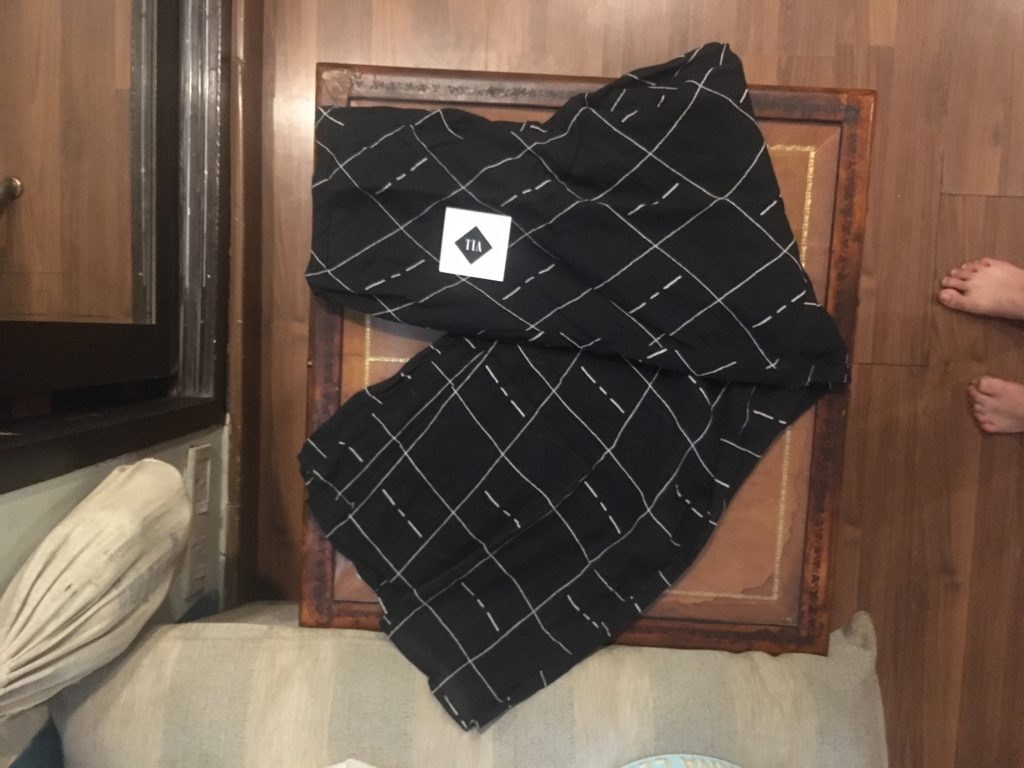 DELIVERY
I placed my order in June and received it within two weeks. Considering it was monsoon in Goa, factoring in that Studio Tia is a small boutique, that's a great delivery time. Amazon takes longer with all the resources behind it.
PARTYING WITH MY PANTS 
It was love at first sight for me and Studio Tia's pants. Made from a thin gauze material, they were properly fitted with lining from the waist to just above my knee. A lot of brands forget this basic detail, which, to me, screams that they're either don't think about how their customers will wear the clothes, or only in it for the money. It's quite a pet peeve of mine, so the fact that Tia had perfectly lined the thin material really made me love her.
Without said lining, the see-through pants would've been useless; with it, they became a regular feature in my clothes rotation. I wore them all over Delhi secure in the knowledge that Tia had my back (or rather, my bum.)
The trousers fit is great — they hug my bum just right before cascading down my legs. I've worn them with cute ruffled blouses, basic tank tops, and even dressed up with statement earrings and a pair of heels. Versatile clothes are the best kind, don't you agree?
AN UNEXPECTED SNAFU 
Because the trousers are made from a thin material, I hand washed them and dried them on a horizontal surface. About a month in, I noticed that they were (quite literally) falling off me. At first, I indulged in the fantasy that this sudden ill-fit was because I'd lost so, so much weight. Yeah, right! A girl can dream though.
On closer inspection, I noticed the elastic used to clinch the waist had deteriorated. Having only washed them — so carefully — only four times, this was very disappointing. Since I'd heard nothing but good things about Tia's, I asked my friend Shveta Salve if her experience with the shopping there.
"I love shopping at Tia's, and the quality of her clothes is always good," said Shveta. Now, this is one girl who knows her fashion, so I decided to double-check with Tia.
QUICK RESPONSE AND REPLACEMENT
I DM-ed Studio Tia on its Instagram from my personal Instagram account — because you know TLC does anonymous reviews — and told her about my trouser trauma. She seemed as disappointed as I was. "This never happens," she said. After assuring her that it did, in fact, happen, I sent her a photo of the pants.
She asked no further questions except for my address. When I questioned why, she replied, "to replace them, of course." And true to her word, a new pair of the same pants were delivered to my house within two weeks of our exchange, free of charge. I've worn them twice already, washed them once, and thus far, they're still a perfect fit.
PRICES
From its website, Studio Tia charges in USD, which is a bit of a problem at the moment because the rupee registers at an all time low against the dollar. I bought my trousers before this unprecedented fall in the exchange rate, and they cost me about Rs 3000.
Currently, with prices ranging from $100+ for dresses and jumpsuits and $70+ for pants and tops, Studio Tia clothes cost somewhere between Rs 7500 for dresses to 2500 for tops. It might be too pricey for some, especially because a lot of the clothes are beach orientated. Still, even in its small collection, there are a few items that could become wardrobe staples come Summer 2019, such as this top seen below.
Priced at Rs 5000 for handwoven cotton and that boho-vibe that I love, it's no bargain but it is affordable. Though, yeah, I am waiting for the rupee free fall to arrest itself before purchasing it for myself.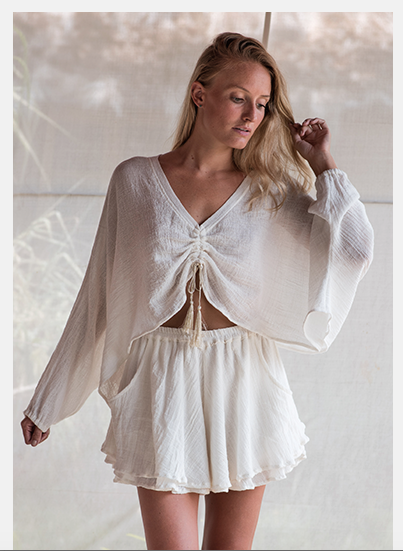 TLC Verdict 
I gotta give it up to this small brand who is efficient and clearly cares about its customers. So, I am inclined to chalk up the elastic's demise as a one-off issue, and will be going back for more of Studio Tia's creations.
Studio Tia is located at Alchemy Goa in Ashwem. The shop closes during the off season between March 31st to October. The website is, however, always open to take orders. You can also reach the Studio via their mobile: Call 090673 98812. Prices range from Rs 8000 for dresses and jumpsuits to Rs 2000 for tops. 
Note: TLC pays for its products and buys anonymously.