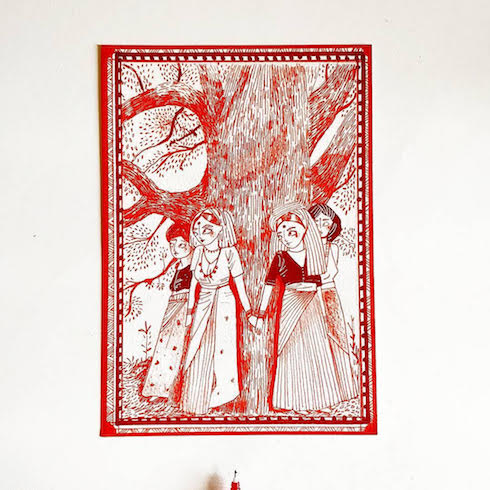 India in 2017 is rapidly modernising, and a tragic by-product is that traditional cultures, arts and crafts are dying out. In fact, we'll even go a step further and say that many potentially face extinction in the near future. Don't despair yet, though. Social media has emerged a strong counter these days, and many users are using it to revive lost arts and crafts. Among TLC's favourites taking on this Herculean task, are Uttarakhandi duo Tanya Kotnala and Tanya Singh, with their social enterprise, Bhuli.
As a design student at NIFT, artist Tanya Kotnala recalls devoting her projects to numerous indigenous arts, crafts and cultures, which later inspired Bhuli. Here, she gives a unique spin to traditional Uttarakhandi art forms to create contemporary, socially relevant art. Joined by nutritionist and food communication expert Tanya Singh, the two gave backbone to Bhuli. And we've got to say, one look at Bhuli's Instagram, which has over 9000 followers today, and we fell in love with the colourful sketches of the large-eyed Bhuli women. TLC got in touch with Kotnala for a deeper insight and here's what we found:
What inspired Bhuli and how has the journey been so far?
There was a series of events that led to the foundation of Bhuli, from failed government projects to my own village facing Palayan (migration to bigger cities in search of better opportunities resulting into abandonment of ancestral lands), lack of awareness among locals youth about the state's art/craft and food, culture, etc.
Though earlier, Bhuli was a page for illustration inspired by the arts and crafts culture of India, recently Bhuli was joined by its co-founder Tanya Singh and we were able wrought Bhuli into a local social enterprise.
The journey has been amazing ever since, after a few successful campaigns and projects in the state, such as Breastfeeding awareness, Costume Culture of India series, Space Bhuli and Nutrition week. We see a great deal of potential in Bhuli and it just keeps getting better by the day!
Why did you choose the name 'Bhuli' for the platform?
Our aim is to keep the innocence intact while being highly inventive, interactive and curious. Bhuli means "little sister" in Garhwali dialect of Uttarakhand. Most of our  projects are about rural women empowerment and child development. The name is popular[ly associated] among the locals and associates with our defined goals very well.
Would you characterise yourselves as folk art, or a revival of the same, or a tribute?
Bhuli has been experimenting with a lot of mediums and styles, we are truly inspired by the arts and crafts culture of India. Yet, we try to develop it in our own style.
Our latest Aipan series was inspired by the traditional wall/floor art of Kumaon region of Uttarakhand. Through this series, we tried to share our fascination with [the art form], and at the same time we tried to modify the style and invent a few new motifs. We believe that through modifications and considerable design innovations, artists can revive the long lost charm of the art.
Still, I find "revival" a huge tag to bear on. Yes, I do experiment with traditional art styles a lot, but would rather call it an evolution of art, not revival. Everything around us evolves and innovates to survive, including the arts/crafts culture.
Can you tell us a little more about Aipan?
Aipan is the traditional wall/floor painting of Kumaon region, Uttarakhand, specifically made by women. It is believed that these motifs evoke divine power which brings good fortune and wards off evil. Aipan of Uttarakhand has a unique identity, the painting medium being rice paste over a red/muddy background.
Typically drawn during festivities in the Uttarakhand's Kumaon region, the art form is used to decorate floors and walls at the Puja room (place of worship) and entrance of homes.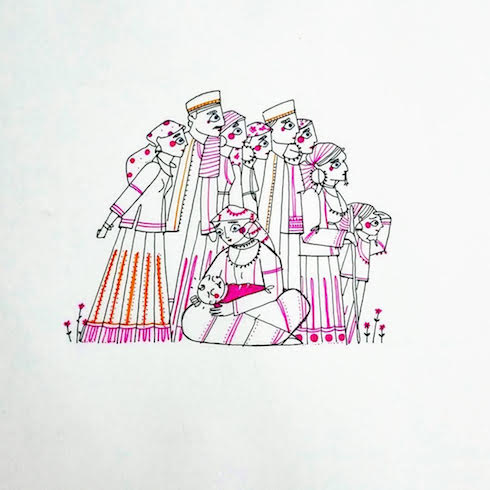 How did you become introduced to this tradition of art?
As a design student, I remember meeting a National award winner and Master Artisan Mr. Raheem Gutti, for one of my projects. It fascinated me how he dedicated his life to the traditional Batik craft of Bhairavgarh (Madhya Pradesh) and I wanted to find a similar purpose, too.
So, I started researching the local arts and crafts culture of India, and that's when I found out Aipan of Uttarakhand, and many others. What started as a sketchbook hobby (documenting my craft travels and cluster projects), later led to the foundation of Bhuli.
Name your artistic influences.
There isn't any person in particular. But yes, I am deeply inspired by traditional arts/crafts culture of India such as Ramtek Chaam of Sikkim, Madhubani of Bihar and Kalighat of Bengal and major art movements such as impressionism, surrealism, and classicism. I try to get inspirations from all the above and invent something in my personal style.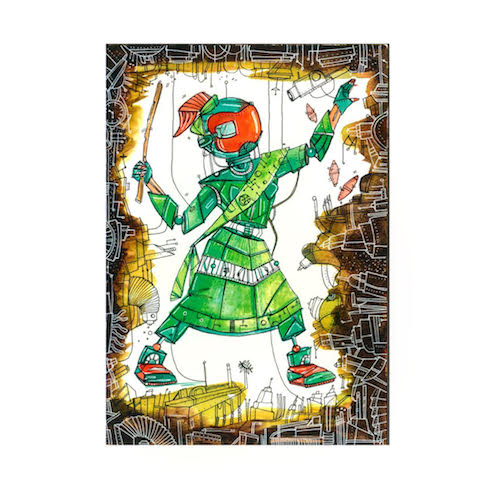 What aspect in terms of artistic skill do you find most intriguing?
Having worked as a designer and artist I have had opportunities to experiment with a lot of mediums. So, as soon as I come across an art form my first involuntarily reaction is to break down its design process — what's the inspiration? What's the concept? What's the medium? What are the tools?
What I find most intriguing about an artistic skill is when I am unable to break down the design process behind it. How did she/he create this? How did she/he achieve that texture? How was the artisan manually able to achieve such breathtaking symmetry in the art form? That intrigues me to the core!
Would you say each piece you make is different (not just in terms of subject but also patterns and strokes), and how?
Yes, definitely! For me, the design process is the most important part, even if the onlooker is unable to decipher any significant variation in it.
My artworks are usually associated with a cause, serve a defined purpose, and are spread over a novel concept/medium; if any one of these is missing, I am unable to draw.  My trick to achieve novelty is to combine two (or more) usual things to create something unusual!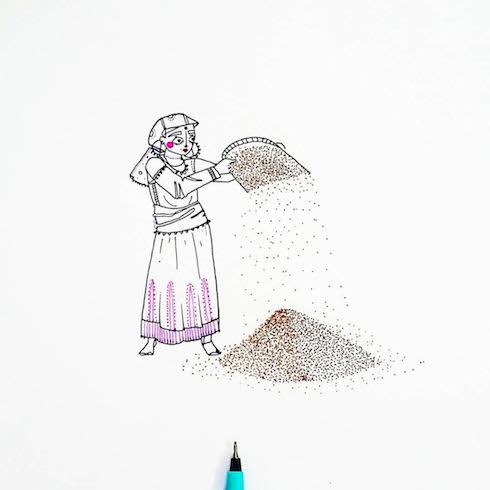 What are the major challenges you have faced popularising local culture and sustainable handicrafts and businesses?
We always felt that [lack of] innovation in design and form, and market development, have been major challenges that the handicraft industry faced to popularise itself. We are primarily working on these and trying to come up with innovative and new mediums to translate the existing knowledge into something more appealing to the masses.
To what extent has social media helped towards promoting Bhuli? Have there been any cons to using it?
Social media has helped us in a great way. It has helped us in having a greater customer engagement. We were able to build clientele in international markets and were able to get instant feedback from customers, which has helped.
The only con we have faced as of now, is distribution of misinformation, that is, when people seek content based on us through a third source instead of directly interviewing us. A few months back some people kept complaining about some of our posted content being phoney, which was circulated on WhatsApp! The content was definitely not ours and till date we are unable to find its source.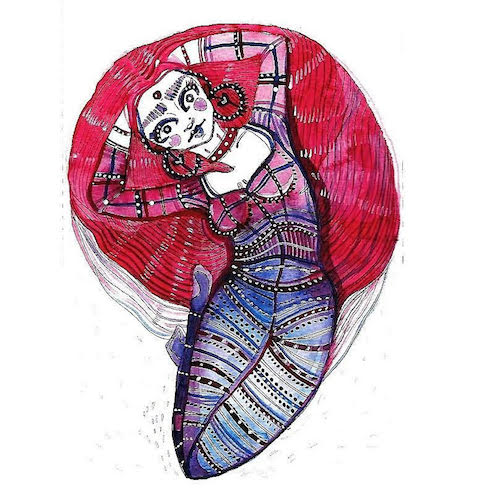 What advice would you give to other, young entrepreneurs who are promoting sustainability and localised consumption?
We believe that young entrepreneurs are the fundamental agents of change as they have the ability of pushing social issue solutions through the creation of profit making business. It is the art of perseverance and patience which counts, in the end.
Finally, what does the coming year look like for Bhuli and what do you envision for the platform in the near future?
Bhuli is a very young social enterprise! We learn as we grow. Like other states, we want Uttarakhand to be recognised for its art and craft, and cuisines, which are still uncelebrated. The coming year would definitely witness many more creative and interactive projects inspired by local culture, and through them, we would love to share our fascination for the local culture of Uttarakhand with the world.
You can follow Bhuli Art on Instagram.
Images shared with TLC by Bhuli.