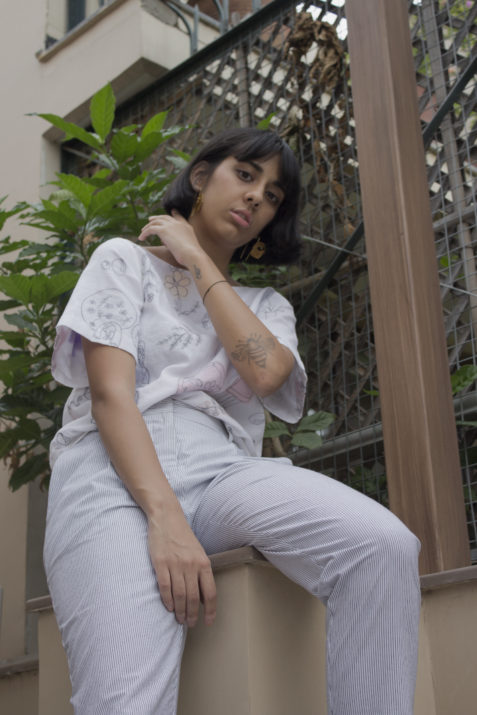 Getting a tattoo with Shreya Josh means you have to drive past a protective guard, through winding roads of an idyllic Gurgaon suburb, and make your way to her all-white bedroom on to a rouge chaise. Here Shreya, a slim, short-haired 21-year-old will smile at you in the manner that shy people do. On a wooden table next to the fainting chair, needles, tattoo paints, and iron needles await your arrival. If you didn't realize already, by now you do: this is not a typical ink experience.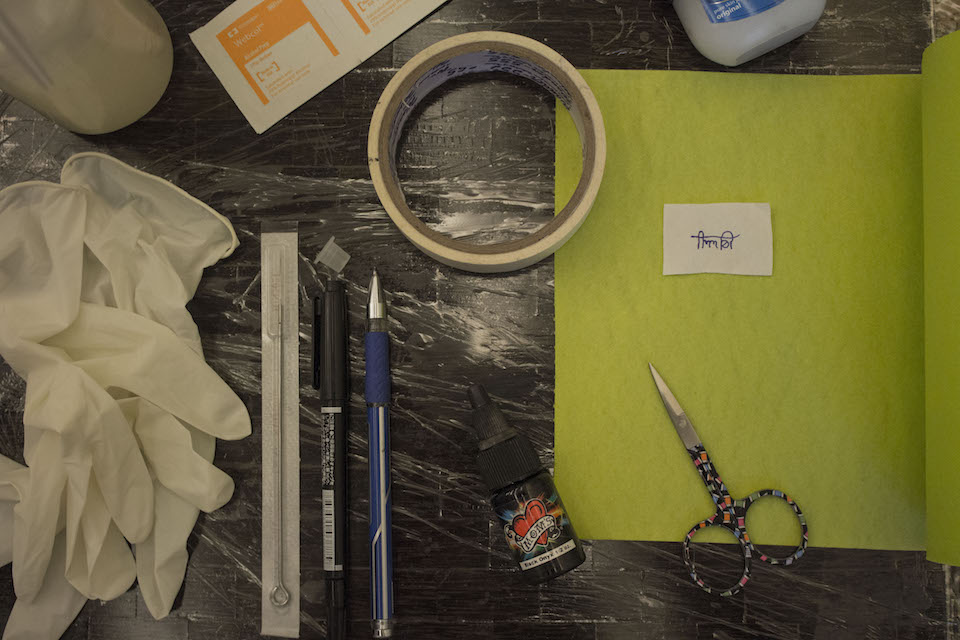 Shreya studied design at the Chicago Art Institute when she became interested in tattoo art. Her friends and roommates at the school were experimenting with stick-and-poke as a means to pass the time. She was fascinated by the do-it-yourself aspect of it all, but didn't join in because the conditions appeared "I would watch them do it, but it wasn't for me then because it was not hygienic," she explained.
Stick-and-poke is the oldest form of tattoo art, with a self-explanatory name. The artist uses bamboo or metal needles instead of the gun we see in most parlours to make by hand designs on the body. The form allows for small and delicate tattoos creation, but many people also like the authenticity of the process — not to mention the freedom from the whirring of the tattoo gun, which can be daunting.
Chicago was where Shreya's attraction to stick-and-poke began, but New York is where she started practicing her art. She started by using her body as a canvas. "I had a lot more free time to try it out. I ordered all the equipment from Amazon and saw YouTube videos and one day gave myself a tat. I'm self-taught. The first tat I gave myself was just a few dots. I was just about to turn 21," she said.
Her boss at the time was encouraging, also a fan of the process, and her next opus.
After that, there was no turning back. The do-it-yourself aspect of stick-and-poke and the simplicity of it all got Shreya hooked. At times, she would sit up at night and ink herself. "I was staying at my aunt's house, and her house is spotless and nice. And I was a little afraid to make the house messy, so it was late at night when I knew everyone was asleep so no one would come in the room. I'd been up for like, way too long because it was 4 or 5 am and that's when I have a lot of energy and feel my most confident self. I was like Yeah, Let's do this," she recalled.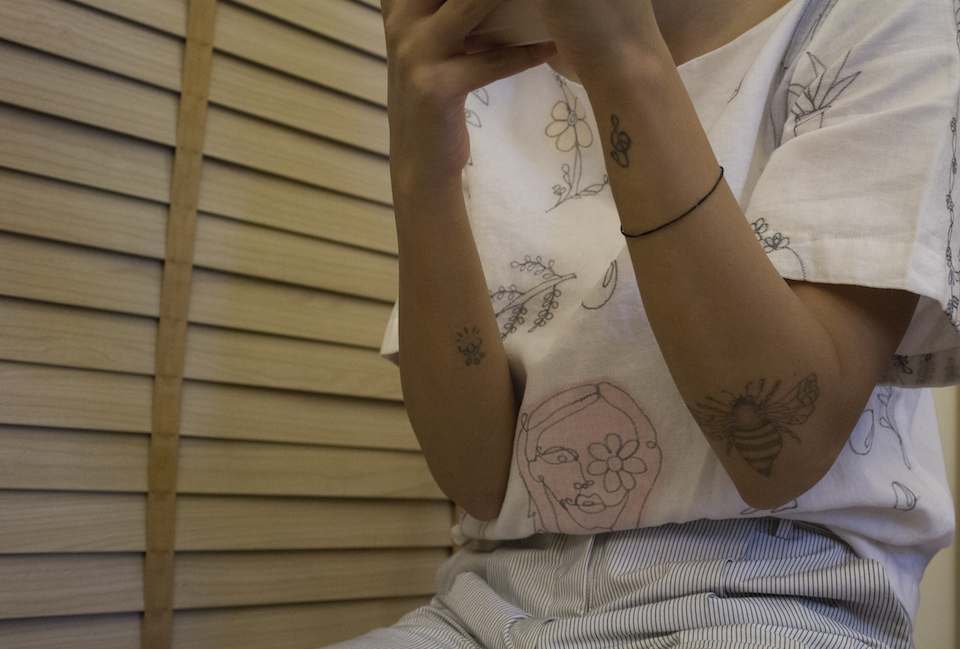 While tattooing for a living isn't part of Shreya's life-plan, after coming to India, she decided to engage more in the art form because her family and friends kept asking for her to work on them. "I was cool that they wanted to get it and try something different. So, I felt like I'm not choosing this, it's choosing me," she explained.
Since her return from NYC over a month ago, Shreya has worked on over 25-30 tattoos a month, sometimes taking two-three clients in one day. A lot of her clients are referrals from her friends and family, a fact she's profoundly aware of when working with them. Not everyone wants Shreya's particular style of tats; many want something that she would consider cheesy. However, soft-spoken as she is, Shreya said it was initially difficult to explain, comment, or even refuse people whose aesthetics didn't match her own. Eventually, she got over it. "I realise even in painting I wouldn't paint in some other style," she explained.
The people she inks leave with a permanent piece of art on their body, but Shreya, too, has a kind of experience when she works. For her, tattooing is a way to connect with people.
"I like to be involved in the tattoo process," she said, adding, "if anyone were to ask I would give them my opinion and most of the time I do design the tattoos for them."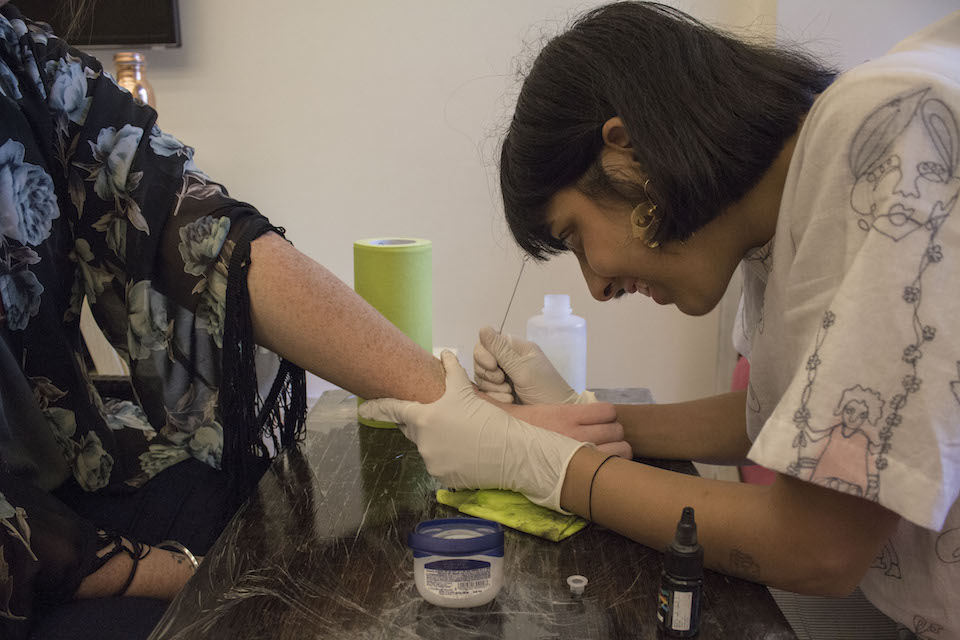 For the shy young woman, it's also a way to literally and figuratively connect with new people, and find out what makes them excited. "So much of their (the clients) opinion goes in it as well, and it's their body after all. When they are here I feel like I bond with the person," she explained.
In that sense, she said, "Tattooing is a collaborative art. My work is informed by the other person tastes, likes, and body."
Photo credits: Ishika Madaan