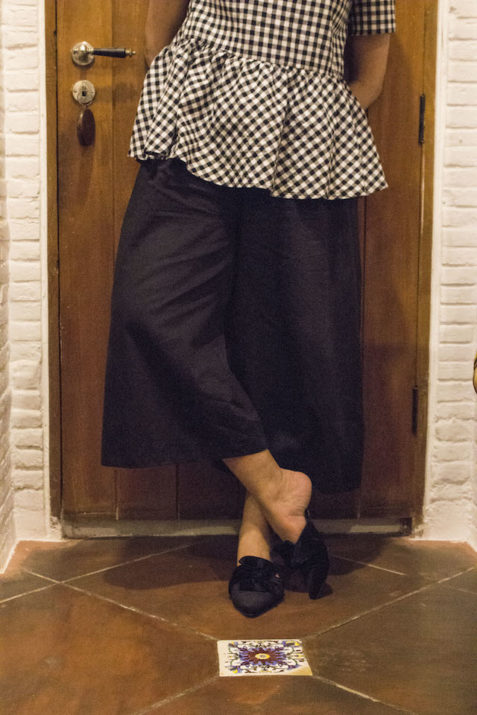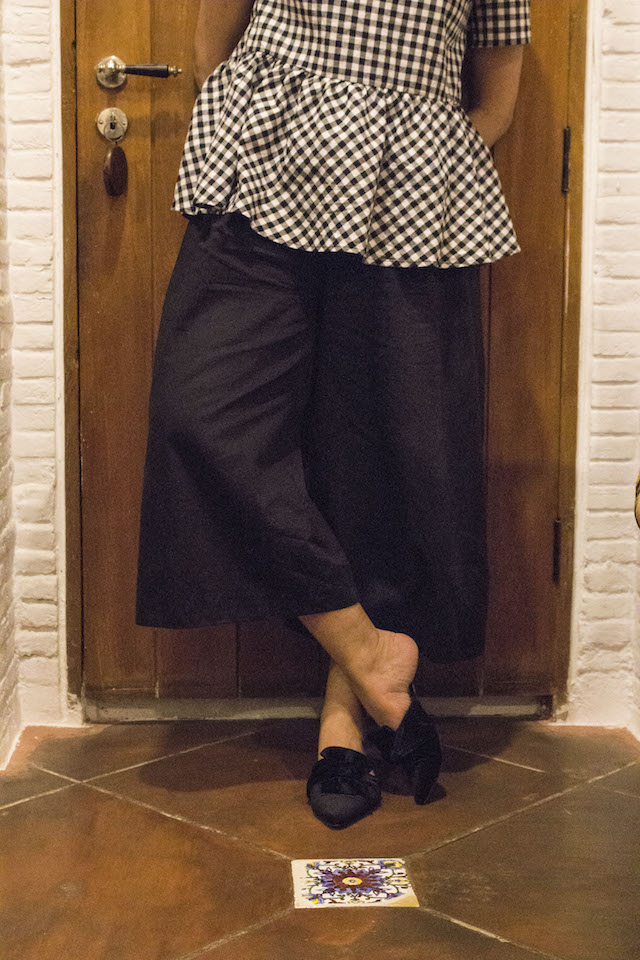 Have you ever agreed to date a person to whom you aren't that attracted but then the evening turns out to be a beautiful surprise, and you end up spending all night with them? That is how we feel about our black culottes from Tuned In Living.
Tuned In piqued the Ladies' interest when its advertisements started popping up on TLC's Instagram a couple of months ago. The label's manifesto says its products are made from natural fabrics, ethically sourced with sustainability in mind. Plus, who can resist a brand that quotes Maya Angelou on its website?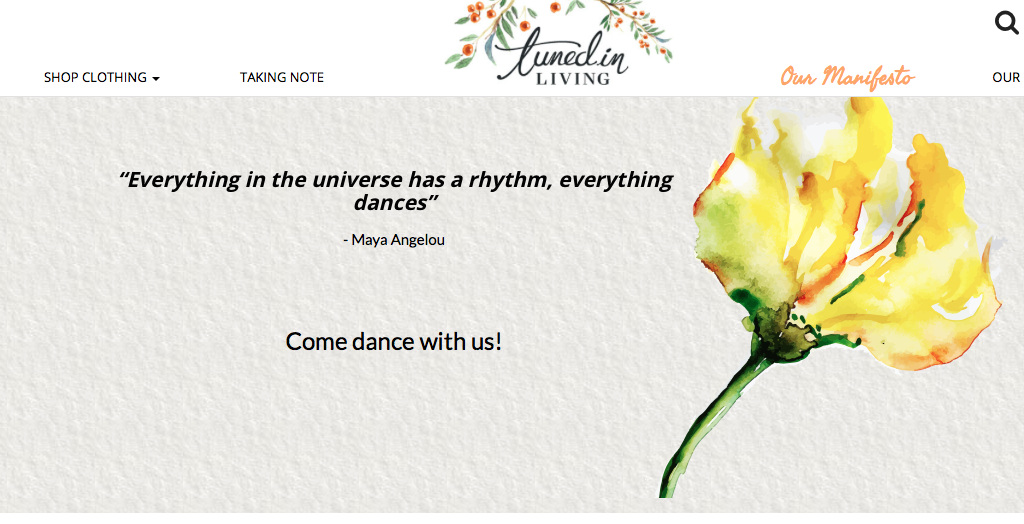 The interesting thing about Tuned In Living is that the clothes are rather trendy — the company doesn't claim to be part of the Slow Fashion movement. Many of the products could easily be mistaken for Zara or Forever21 clothing; such is the resemblance between the designs.
Some people might decry this, but TLC thinks it's an interesting insight into a consumer's psyche. Let's face it: we all like to follow trends to some extent. So, if a label can make clothing that looks like fast fashion but from organic and sustainable fabrics, we say: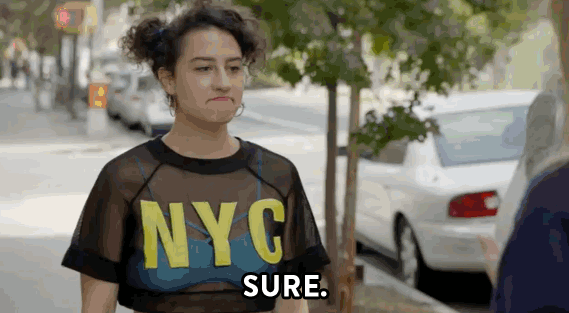 Why not?
Truthfully though, Tuned In Living's wares are a little too hip for this reviewer who prefers minimal styles. But this reviewer is an old woman as pictured below: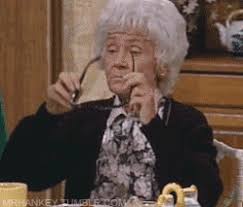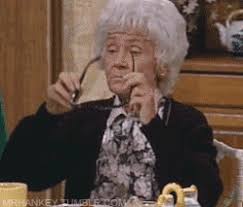 Younger shoppers may find the clothes — tops whose sleeves are as puffy as a fresh baked Parisian croissant — a welcome relief from the white dresses and beige dhoti pants that are the staple style for most Indian sustainable brands.


For the review, TLC bought a tunic and culottes set as pictured below: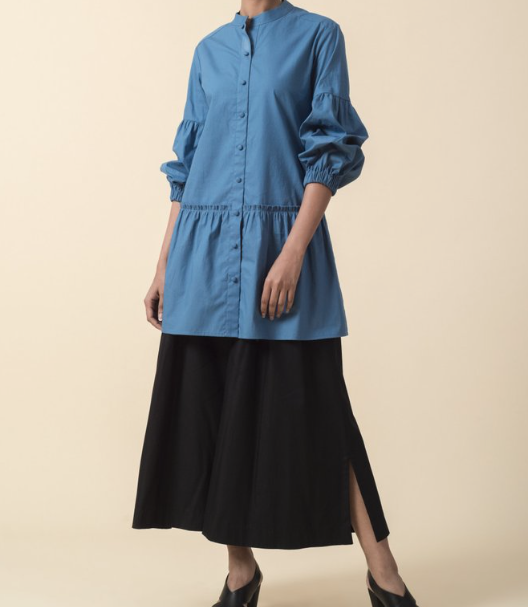 This reviewer would not wear such an outfit to work, but the purchase provided TLC with an opportunity to try out both top and bottom clothing from the label.
Full disclosure: this reviewer has never worn the tunic because she likes to eat her puff pastry not wear it on her sleeve. A younger friend who appropriated the top, wears it as a dress, and adores it.
The shirt's cotton fabric is soft and feels like butter on the skin. The stitching is sturdy, and the fit runs true to Tuned In's size guide. This reviewer ordered a size 12 UK or a large by the label's proportions.
The set also came with black culottes that have become an integral part of our wardrobe. Made from un-starched cotton, the pants fit this wearer like a dream. They have just right amount of flow. Overly billowing pants can make a person feel like they're swimming in the clothes. In these culottes, this reviewer was walking on cloud nine and got numerous compliments every time she wore the pants, which was (honestly) every third day of the week.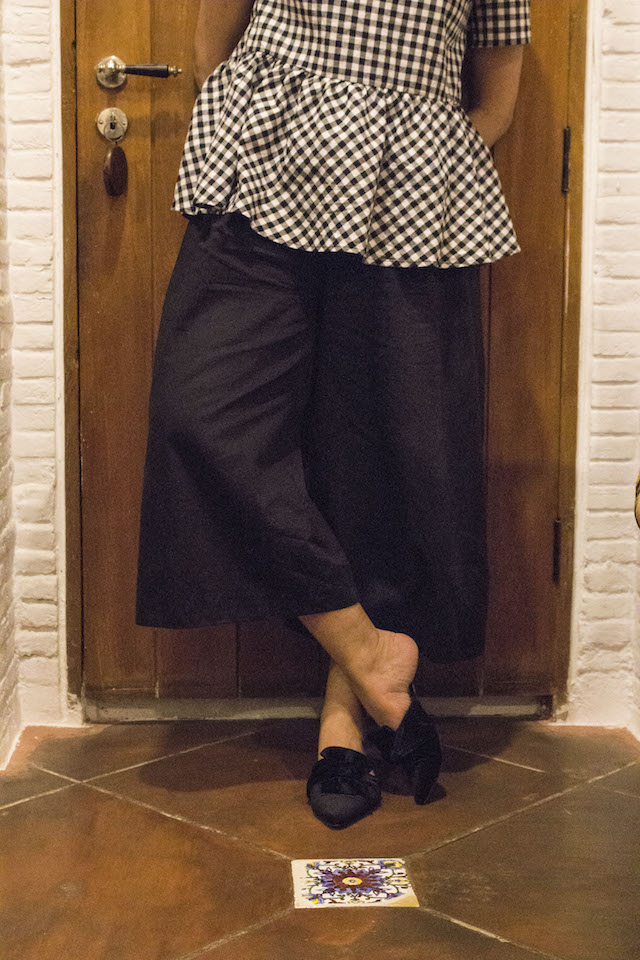 The clothes hold up well. The culottes have been through the laundry cycle more than a few times, and nary a stitch is out of place. The black didn't leak or fade, a common problem with organic dyes.
The full set, tunic and culottes, cost Rs 4000 minus GST, which we think is an acceptable and affordable price.
Verdict: Tuned In Living mimics fast fashion styles to appeal to younger consumers. Its wares may not appeal to those whose style is minimal rather than uber-trendy, but such a strategy could be a much-needed bridge between high-end, high fashion sustainable clothing and a buyer who enjoys her fast fashion styles.
Tuned In Living clothing is available the company's website. Prices range from Rs 1500 to 4000 for tops and dresses, while pants and coordinated sets are priced between Rs 2500 to 4000.
To read more #LadiesReviews, click here.
NOTE: TLC pays for our clothing and buys it anonymously
CREDITS:
PHOTOS OF PRODUCTS TUNED IN LIVING'S WEBSITE.
COVER PHOTO: ISHIKA MADAAN