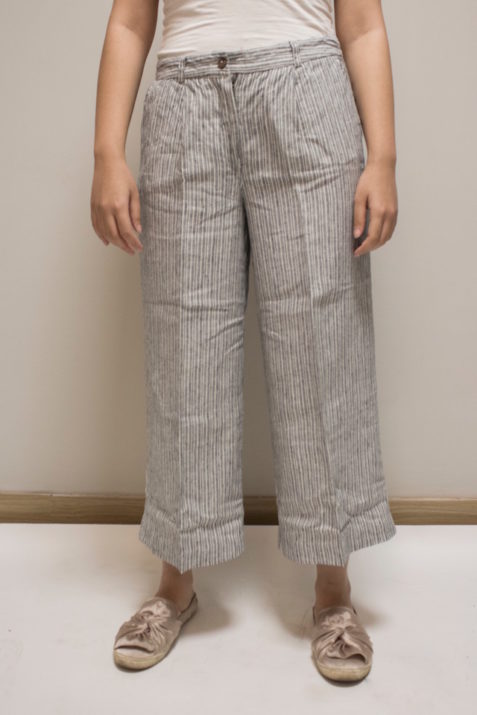 Postfold
 began, it says, with the idea that high quality does not necessarily mean high prices. The Ladies love this idea — thanks to demonetisation, money quite literally does not grow on trees. So, this reviewer chose a pair of Stripe-up Culottes because they looked like feathery formals; she loves the best of both worlds (and alliterations.)
Delivery was prompt, within a week of ordering them online, and indeed, they were a quality buy. The culottes were well tailored.
Always on the lookout for quality basics, this reviewer was glad to see that the buy could be dressed up or down; worn to work as formal wear or to a casual brunch.
The cotton fabric used to make the culottes was light, breathable, and perfect for the summer or the monsoon season. They are a well-stitched pair, except for one uneven zipper that made it seem like it was always just a little undone: not the best look for work.
Sizing was a problem. We ordered a size Small, which is usually a UK size 6-8. The culottes we received were at least a UK size 10. Sadly, they hung loosely on this reviewer, just like the potential benefits she saw herself reaping with these pants. The size guide on the website mentions that an S's waist is 29.5 in, but the label on the pants don't say either the S or the 29.5.
Postfold's sizing runs large. It is nice to see in a sustainable brand sizing up for a change. We do sometimes wonder who these pint-sized people are for whom a size Large is a UK size 10.
Still, belted and sometimes worn in a carefree, loose style with the wonky zip hidden by long shirts, this reviewer managed to put the culottes through a few laundry cycles, and the fabric remains as soft as the first day she took them out of their chic black box. The material did not leak colour, and the striped print stayed intact.
Despite the pair hangin' loose, everyone around us vocalised their fondness for the culottes and thought we were meant to float in them. We were discreet about our pant-pulling-up actions.
The culottes, cost INR 2,199, which we think is quite affordable.
Postfold clothes are available on its website. Bottoms cost between Rs 1799 to Rs 2999, while tops are buyable for upto Rs 1600. It also sells men's clothing.
To read more #LadiesReviews, click here.