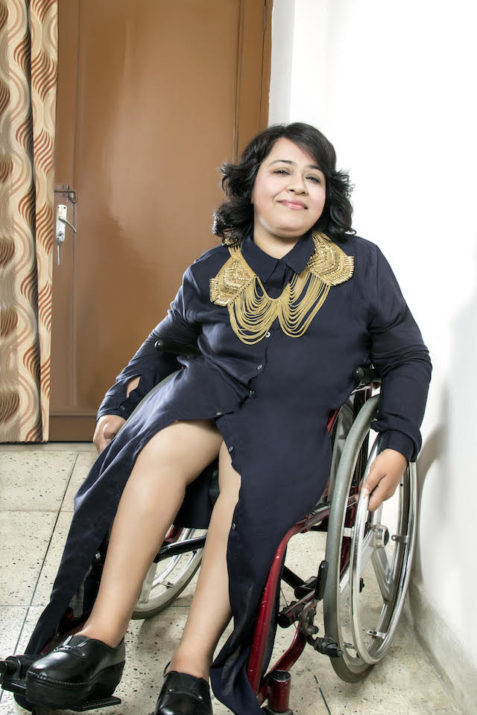 Wear What You Want Wednesday is our sartorial finger to anyone who thinks they can tell anyone else what to wear.
Misconceptions about people with disabilities often prevent them from expressing their  sexuality. Often overlooked, or avoided. Misperceptions about sexuality of disabled people could mean they may not have a fulfilled love life or sexual encounters. This has to change, and many differently abled people have spoken out about this.
With the help of Tarshi NGO, The Ladies met with two amazing women, who are killing it professionally, doing the kind of work that helps make the world better, and have love lives that we can only envy. Yes, they have disabilities, but most importantly: they're hella sexy and they want you to know it.
WAH WAH ABHA
"I didn't even dress up this much for my wedding," said Abha Khetarpal when we were primping her. A second later, she gently fluffed her hair and gave the camera a money shot. After contracting polio at the age of three, Abha has used crutches or her wheelchair to get around.
A simple woman, she was specific about how she wanted to look. "No cleavage, ok?" she insisted. One of the reasons was that her husband wouldn't like it. Abha met her husband on Facebook. He messaged her because, "I saw the work she was doing and it amazed me."
Abha is a disability-activist. She's one of the Ministry of Women and Child Development's #100 Women Achievers. After developing the first Indian mobile app for persons with disabilities, Cross the Hurdles, Abha also works on an webzine of the same name. Cross the Hurdles won her the NCPEDP Mphasis Universal Design Award in 2015. Abha is also the author of numerous handbooks that educate people about disabilities including 'Keeping You Abreast' for Women with Disabilities for their breast cancer self examination and awareness and 'Going With The Flow' on Menstrual Management and Hygiene for Women with Disabilities. She amazed TLC too.
Going on a first date was difficult because not many places in Delhi are wheelchair-friendly, but the two made it work.
Facebook flirting blossomed into a romance and the two got married four years ago. Her first sexual experience was with her husband.
What does she see in him?
"He spoils me. He massages me. It's just simple things that he does that make me feel like a queen."
CHEEKY PREETI
The first time we met Preeti at her apartment, the lights were switched off. Visually impaired since age six, she glided through her living room like a dancer and we bumped here and there in the darkness. A tall woman with an infectious sense of humour and booming laughter, Preeti has never been single too long. She's been married twice, and of her first husband she says, "Let's never talk about that."
She met her secound husband Ashwani at work. He is ten years younger than her, but that didn't stop Preeti from pursuing him. "I mean, there was this good man and single, and I thought I want him for myself so I went for it." Months into their courtship, feisty Preeti proposed marriage to Ashwani, who is quieter than his wife. He said he wanted to think about it. "Don't think too long, I don't wait," she replied. They've been married ten years now.
Preeti is a Ashoka Foundation Fellow who specialises in disability research. She heads an NGO Silver Linings, which helps empower other women with disabilities through counselling and training. She's also an aerobics instructor.
These women didn't let their disability stop them from achieving what they wanted in life — including a secure, romantic, stable sex life with a person whom they love. Let this be a lesson to any one who has misconceptions about people with disabilities. They're sexy, they know it, and now you do as well.
TLC PARTNERS
Clothing: Pause Fashion tailor-made both dresses to fit Abha and Preeti. We didn't ask them to, but the label's CEO Neha Tham also gifted them to the ladies. In the words of both ladies, "Neha, that was amazing. Thank you." You can check out Pause on their Instagram as well.
Jewellery: Both Abha and Preeti are wearing jewellery sourced from Shop Nimai, which has a flagship store in Shahpurjat and houses some of the newest, loveliest accessory designers in India. You can also check them out on Instagram.
CREDITS: