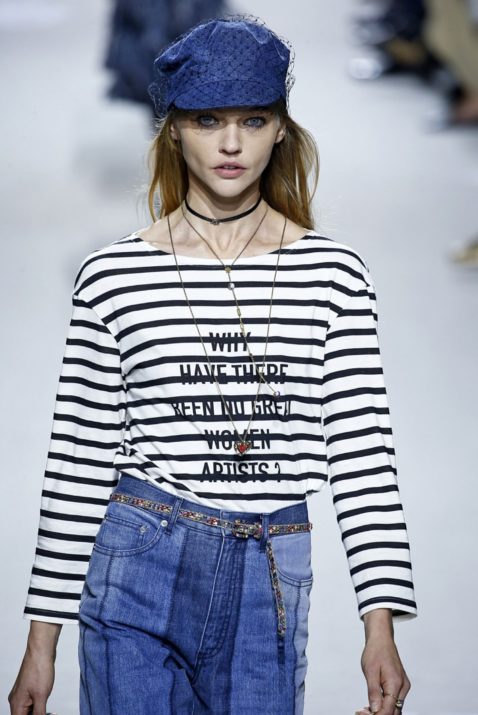 Dior's Spring/Summer 2018 fashion show took place in the Paris's revered Musée Rodin. It was Maria Gazia Chiuri's second year as Dior's fashion director. Am I #TeamChiuri? I wanted to be — she's the first woman to head this feminine brand in 70 years.
Last year, Chiuri made headlines after her collaboration with Nigerian author Chimamanda Ngozi Adichie, whose essay "We should all be feminists" adorned Dior's cotton tee shirts.
Adichie's piece is one I adore because it comes from an author whom I respect as much for her writing as for her unabashed love of fashion and all things classically feminine. Its message of all-inclusive feminism fell short when printed on a tee shirt that few women will ever be able to afford, priced as it (still) is at 700 dollars.
But, feminism is in and so are slogan tees. Plus, Dior announced it was donating proceeds from the sales of the tees to Rhianna's charity The Clara Lionel Foundation. CLF raises money to support and fund education and health programs across the world.
Fine print is as important as slogan print though, so read this carefully: Dior donated a percentage of sales for a limited period to CLF. A percentage of 700 dollars could amount to serious money for those in serious need of money, so we can let it pass. Besides, it's always fun to watch the uber-rich buy cotton tee shirts at exorbitant prices, especially so if it'll benefit those who may not have clothes on their backs.
This year, Chiuri continued her so-called bold blend of fashion and feminism by emblazoning "Why Have There Been No Great Women Artists" on striped cotton tee shirts.
The slogan is from an iconic essay written by Linda Nochlin. From Insta, I learned that guests found a copy of the art history essay on their seat. Nochlin reportedly permitted Dior to use her work, so that makes everything ok, right?
Maybe.
The 1971 essay, which has since become a cult read for most feminists who are artists or interested in art, is more nuanced than a rant on unvalued female artists. It was, still is, a tongue-in-cheek poke that raised questions about what defined "great art."
"But in actuality, as we all know, things as they are and as they have been, in the arts as in a hundred other areas, are stultifying, oppressive, and discouraging to all those, women among them, who did not have the good fortune to be born white, preferably middle class and, above all, male," Nochlin wrote in her 1971 essay.
She was responding to a conversation the art historian had with a gallery owner many moons ago.
'Why Have There Been No Great Female Artists' is a nuanced, funny, and long treatise that did not fit on a tee shirt, and so Chiuri settled for just the title. Much like one would settle for seeing the tip of a dolphin's tail because most of these sea creatures are going extinct and it's just amazing to spot even one.
In her show notes, Chuiri wrote, "it is necessary to give these different and specific artists their due for it's they who break the mould of the traditionally male discourse in art history, and in fashion."
If the essay's title on a tee shirt wasn't out of context, in the middle of a runway show filled with mostly Caucasian, pencil-thin models being watched by the crème de la crème of the world's elite, Chiuri's message fell flat and appeared tone deaf.
Then proceeded the glittering, glistening runway extravaganza replete with pleated tulle skirts through which peaked printed panties, glistening dresses in red, gold, and silver-grey. Shimmering sweaters with what looked like Godzilla embossed on them.
Cute, childish clothes that most women in most countries would not wear — not just because of the patriarchy that's prevalent across the world, but also because the outfits looked uncomfortable AF.
Chiuri took over Dior with the promise to showcase clothes for the modern woman. "if Dior is about femininity, then it is about women. And not about what it was to be a woman 50 years ago, but to be a woman today."
So here's my real gripe: what did a colour-blocked bomber and a bloomer-revealing tulle dress tell me about the issues women face today?
Today, when Saudi women have just (literally JUST) gotten a license to drive, and this small victory has been hailed as a milestone in a country that has an endless list of wrongs against women's rights.
Today, when in India, our courts are still unclear about how many times a woman needs to say No before it really means No. Today, when we're still debating whether to criminalise marital rape or not… as if it's a subject up for discussion.
Today, when women still get paid less than men and work more hours.
Today, when the Indian PM's idea of feminism is to take selfies with daughters but cut the budget of the Women and Child Ministry by half; and the American President jokes about grabbing pussy. Today… I could go on… but it is exhausting.
Did Chiuri's show tell me anything about how fashion designer's plan to dismantle present-day patriarchy? Did it offer any insight into how she plans to use her insider status to change the system? No, it presented me with the kind of clothes that I will most certainly see on very, very wealthy women who are buying them because of the label attached to them and not the message.
Feminism isn't a trend; it's not a convenient word-count friendly slogan that fits on a tee shirt. And, while I want to be #TeamChiuri, it's harder to buy into this faux feminist avatar than it will for me to buy the 700 dollar tee shirts.
There's been no announcement yet on whether the proceeds of this new collection will go to any charity. Personally, I do not think it matters. What would make me care about fashion's foray into feminism is if they bought into the idea instead of asking me to buy their overpriced tee shirts.
PHOTO CREDIT: DIOR'S WEBSITE
To read more #LadiesReviews, click here.