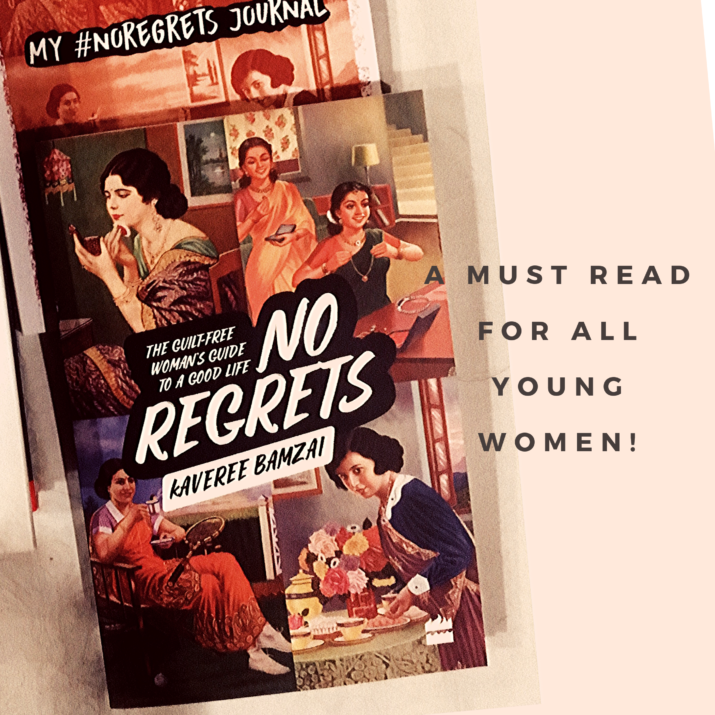 Replete with advice from successful women of all ages and in all fields, Kaveree Bamzai's No Regrets is more than a self-help book. Told in narrative style, the book beckons readers to stay true to themselves.
The Author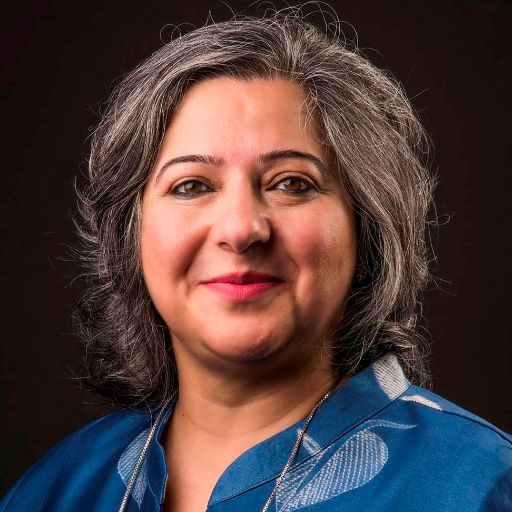 Bamzai, a journalist for Indian Express, Times of India and many leading newspapers for over 30 years, was the first woman editor of India Today — one of India's largest news magazines. A wife, and mother of two boys and two dogs, she embodies the spirit of living a guilt-free and accomplished life.
The Inspirational Women
From Naina Lal Kidwai, Arianna Huffington, Sudha Murty, Smriti Irani, Twinkle Khanna, Farah Khan and Sania Mirza, among others, No Regrets is the must read for all women. It's an engaging mixture of motherly advice and masi-like masti.
Keep reading for an excerpt from this delightful guide to life:
EXCERPT
No Regrets By Kaveree Bamzai
11. Anger and Laughter Both Leave Lines
At a recent literature festival in Pune, I was asked what makes me get up every morning. Resisting the obvious answer, which is the alarm clock, I said it was anger. Indeed, there is much to be angry with the world right now, and after the discussion, a series of young women reached out to me saying they felt the same way. One young man rushed up to me as I was leaving, introduced me to his 'life partner' (though to me they both looked severely underage) and said she was angry all the time too, but he was trying to counsel her, and indeed would spend a lifetime doing so.
Sweet child, I thought to myself, you really don't know what you're in for.
As the history of the women's movement in India and elsewhere has shown, female rage is a powerful force. It can burn us, and everyone else around us. It comes from a place deep within, from a lifetime of suppression, of not being able to express our rage.
Read more: TLC stories on and reviews of books
Actor and activist Tracee Ellis Ross expressed this beautifully in a recent TED Talk, asking women to 'acknowledge your fury, give it language, share it in safe places of identification and in safe ways'. Our fury, she went on, is not something to be afraid of. 'It holds lifetimes of wisdom, let it breathe and listen.'
Nurture your anger. Look after it. Listen to it. And articulate it. Women the world over are doing just that and India is no exception. Much of the #MeToo movement in India, as elsewhere, is powered by this silent fury, at being invisible and voiceless for so long, of feeling so powerless and so helpless, of not having enough agency or indeed self-confidence. The more I read, I find anger has been such a robust propeller of so much good. Read The Gift of Anger by Arun Gandhi, the Mahatma's grandson, who spent two years as an adolescent with his famous grandfather at his Wardha ashram. Among the ten lessons for the modern world, he lists this as number one: Use anger for good. The Mahatma would tell his young ward, 'Anger to people is like gas to the automobile—it fuels you to move forward and get to a better place. Without it, we would not be motivated to rise to a challenge. It is an energy that compels us to define what is just and unjust.' Urging his grandson to keep an anger journal, the Mahatma said, 'When we channel electricity intelligently, we can use it to improve our life, but if we abuse it, we could die. So as with electricity, we must learn to use anger wisely for the good of humanity.'
It is this anger that drove Bhanwari Devi, a so-called unlettered Dalit saathin for the Rajasthan Women's Development Programme, into protesting against her gang-rape in 1992. Women's activists and lawyers propagated the view that Bhanwari attracted the ire of her rapists solely on the basis of her work, which was advocacy against child marriage. A number of groups which championed her view filed a public interest litigation (PIL) in the Supreme Court of India, under the collective platform of Vishakha. The judgment was seen as a significant legal victory for women's groups in India even though Bhanwari Devi's own struggle for justice continues—even as two of the accused have died in the interim. Every story done on her continues to chronicle her courage and her fearlessness, even amidst social ostracism. A BBC report from 2017 quotes her husband, Mohan Lal Prajapat, as saying, 'What is there to fear? They can kill us only once.'
They can kill us only once but they can assault us repeatedly. And women in India discovered that when a physiotherapy student was gangraped in 2012, after returning home from watching a movie with her boyfriend. In protests that rocked the nation, even as she lay fighting for her life and recording a detailed statement, women were galvanised as if by an invisible bond into demanding change. A judicial committee was set up to study and take public suggestions for the best ways to amend laws to provide quicker investigation and prosecution of sex offenders. After considering about 80,000 suggestions, the committee submitted a report which indicated that failures on the part of the government and police were the root cause behind crimes against women. In 2013, the Criminal Law (Amendment) Ordinance, 2013 was promulgated, several new laws were passed, and six new fast-track courts were created to hear rape cases.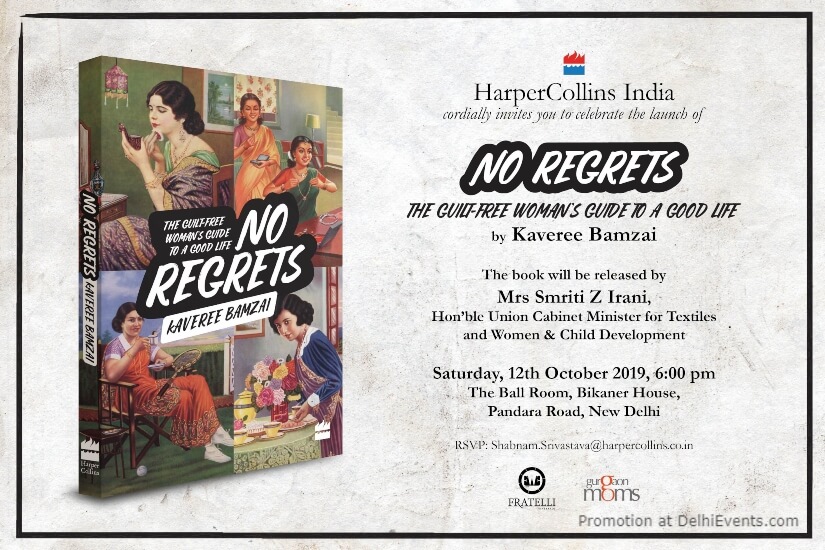 The legal system continues to be tardy but it has also empowered more women to report crimes against them. In 2018, when actor Tanushree Dutta repeated allegations of sexual harassment against a male colleague, Nana Patekar, dating back to 2008, she found many more willing to listen to her, in what has now become known as the definitive spark to the #MeToo movement in India. It wasn't easy for Dutta to speak up. As she told to me: 'I have been slapped with two legal notices. This is the price you pay for speaking out against harassment, humiliation and injustice in India … I'm being threatened to be dragged into the legal system of India, which we all know can keep a woman and her supporters as well as media silent on the pretext of matter being sub judice, but can also be further used to harass her and drain her financially. In the end, an empty shell remains, broken hopes, a life wasted, defeated. This is the age-old saga of survivors in our nation.'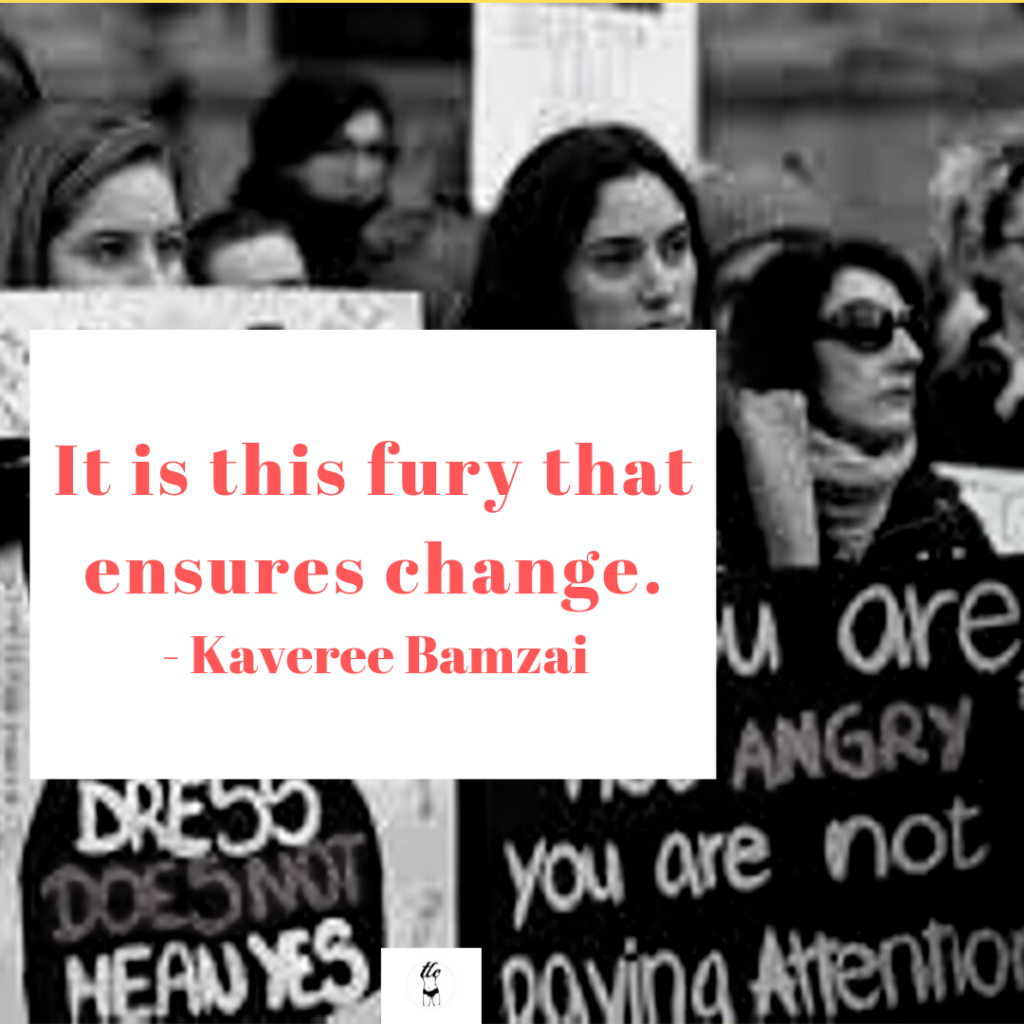 But it is this fury that ensures change. In her new book, Good and Mad: The Revolutionary Power of Women's Anger, Rebecca Traister tracks the history of female anger from suffragettes marching on to the White House to office workers vacating their buildings after Clarence Thomas was confirmed to the Supreme Court. Women's anger is condemned when they protest against the defeat of Hillary Clinton in the 2016 presidential polls despite Donald Trump's history of alleged sexual abuse or in the confirmation of Brett Kavanaugh as Supreme Court Judge in 2018 despite Christine Blasey Ford's testimony that he had sexually assaulted her. As Traister writes, 'We must come to recognize—those of us who feel anger, who have in our lives taken pains to disguise it, who worry about its ill effects, who rear back from it and try to tamp it down in ourselves for fear that letting it out will hurt our goals — that anger is often an exuberant expression. It is the force that injects energy, intensity, and urgency into battles that must be intense and urgent if they are to be won. More broadly, we must come to recognise our own rage as valid, as rational, and as not what we are told it is: ugly, hysterical, marginal, laughable.'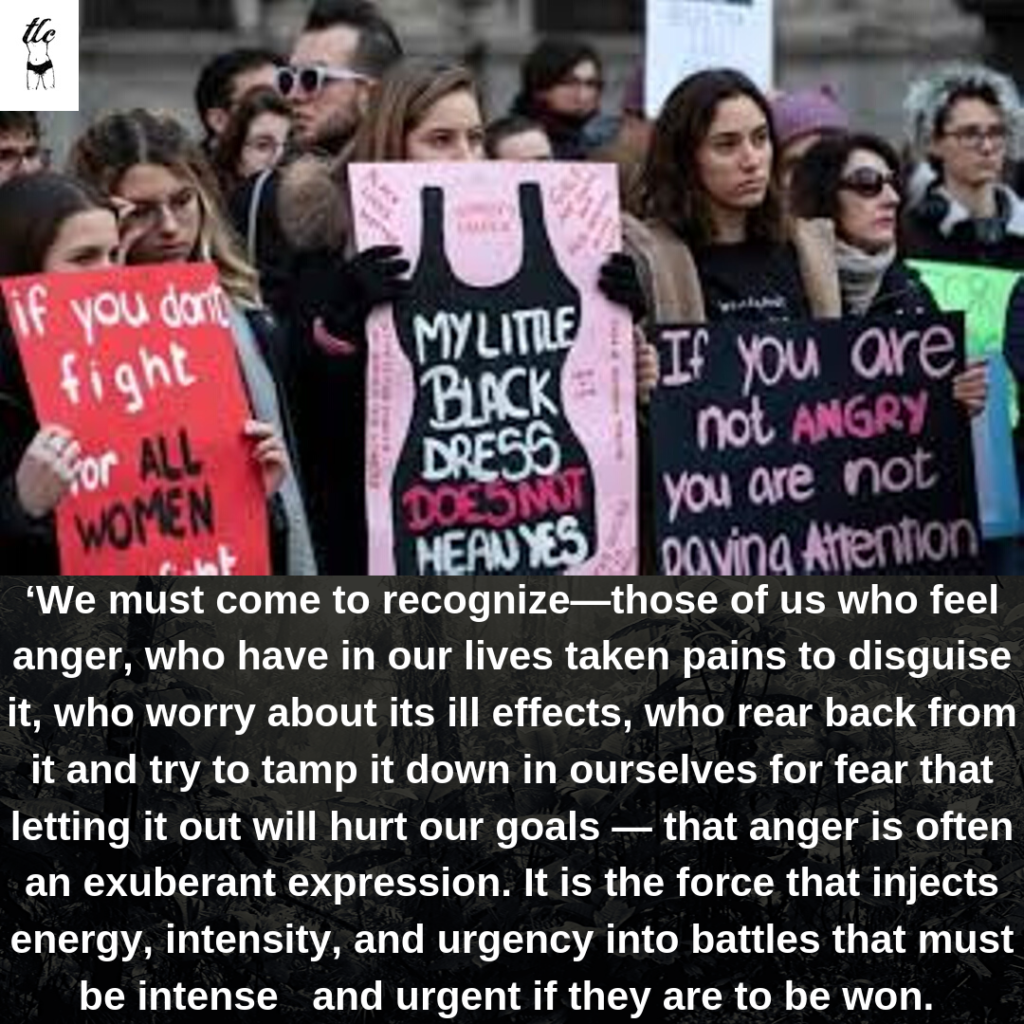 No Regrets by Kaveree Bamzai is published by HarperCollins India, and available on Amazon. The paperback is Rs 237 and Kindle version is Rs 250.